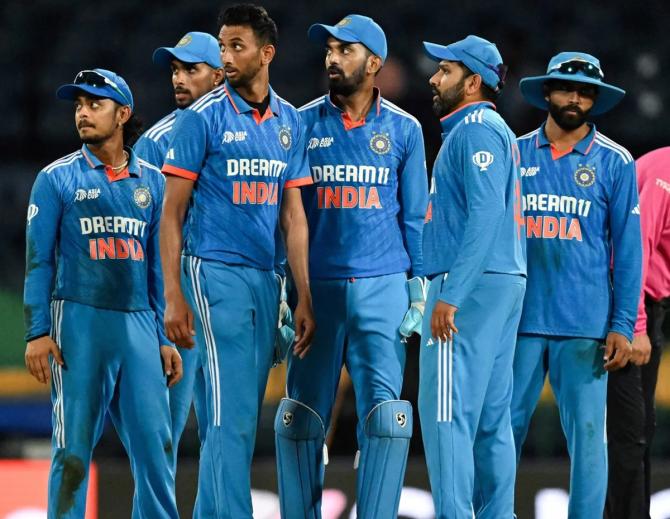 India missed a golden opportunity to claim the top spot in the ICC Men's ODI Team Rankings across formats following their defeat to Bangladesh in the Asia Cup's Super Four.
Before the clash with Bangladesh, India was positioned at No.2 in the ODI rankings with 116 rating points, just trailing Australia, who held the top spot with 118 points.
To secure the coveted No.1 spot in ODIs, two conditions had to be met: India defeating Bangladesh in the Asia Cup Super Four, and South Africa emerging victorious against Australia in their penultimate ODI of the series. While South Africa delivered a stunning 164-run victory over Australia, India fell short against Bangladesh, losing by just six runs.
This defeat not only dashed India's hopes of ranking supreme across formats but also pushed them down to No.3 in the rankings with a rating of 114, trailing behind Pakistan and Australia. Australia and Pakistan are neck and neck in the rankings, with Australia at 115.259 and Pakistan at 114.889.
Even if Australia loses their final ODI to South Africa and India clinches the Asia Cup on September 17, India still won't claim the No.1 ranking. In such a scenario, if Australia loses, it would open the door for Pakistan to ascend to the top spot.
The battle for the No.1 spot will persist as India and Australia face off in a three-match ODI series starting on September 22. This series will not only help both teams build momentum for the World Cup but also determine who will be the #1 ODI side heading into the tournament.
The top spot in the ODI Team Rankings has been fiercely contested lately, with India, Pakistan, and Australia all vying for supremacy during the Asia Cup and Australia's ODI series against South Africa. Pakistan briefly claimed the No.1 spot after their 3-0 victory over Afghanistan in late August but lost it after defeats to India and Sri Lanka in the Asia Cup.