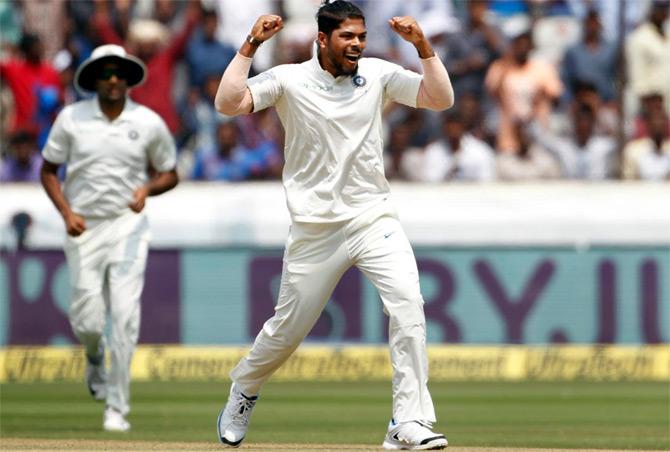 'He has got the pace, he has got the fitness levels to run in all day, picks up wickets at crucial times and he gets good bounce as well.'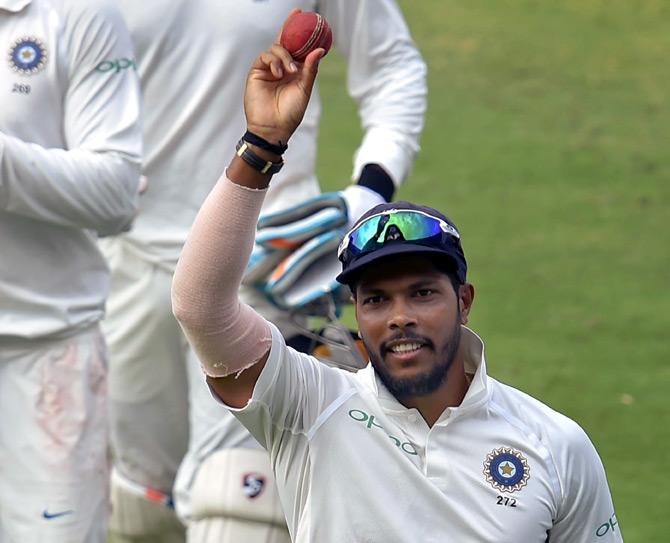 India captain Virat Kohli says Umesh Yadav's 'standout performance' has made the fast bowler a strong candidate for selection in the playing XI in the Test series in Australia.

The four-Test series against Australia begins in Adelaide on December 6.
Umesh's 10-wicket match haul on a flat track was vital in India's 10-wicket win in the second Test against West Indies, which helped them register a 2-0 series sweep.

"I think it was a standout performance in his career and something that he can build on," Kohli said after the match in Hyderabad on Sunday.

"Four Tests in Australia can be brutal because the (Kookaburra) ball does not do much like in England. So you have to come in and run in all day and hit the right area with pace. But I think from that point of view, Umesh is right up there to be featuring in Australia," Kohli said.

"Because he (Umesh) has got the pace, he has got the fitness levels to run in all day, picks up wickets at crucial times and he gets good bounce as well, so it's a great headache to have. Obviously, all four guys, when they are touching 140 and when they are taking wickets for you, it is obviously something that any captain would like to have," the India captain further added.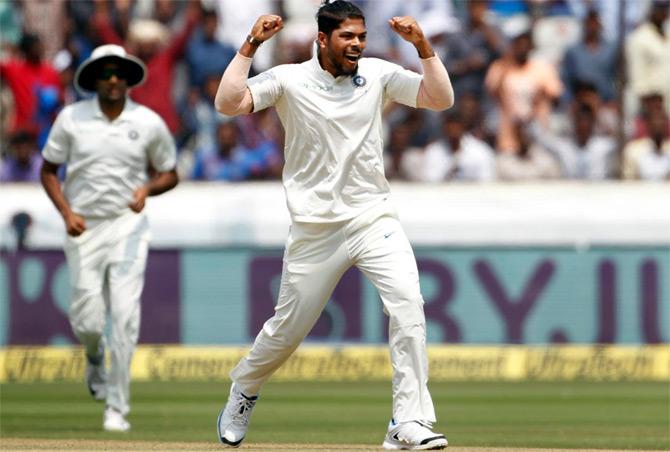 What has made Umesh's effort even more special is the fact he didn't have the support of Shardul Thakur, whose debut ended in a heartbreak due to a groin injury.

"Outstanding effort (by Umesh). I thought with Shardul breaking down very early, to bowl like that in both innings was a great effort on his part. It showed the kind of fitness levels he had, to keep running in and bowl 140 clicks throughout the game and picking wickets and not just completing overs."

Mohammed Shami and Bhuvneshwar Kumar are rated as better talents with more variations but the Indian captain rates Umesh in the same league.

"Not many people realise but he is a very, very talented bowler. He can bowl you unplayable deliveries every now and then which we experience in the nets all the time. He will just bowl a ball which you feel you couldn't have done anything else except getting out. He is gaining more confidence about his own game."

Even though it was his third Test in 2018, Kohli believes that Umesh now 'understands' bowling in longest format better than ever.

"He has come a long way. It's a great sign. Bowling is something that we need to keep as a major strength for us in order to feel that we have a chance to win series when we travel away from home as well. I think these guys (Umesh, Jasprit Bumrah, Bhuvneshwar, Shami and Ishant Sharma) are taking responsibility well."