'I think it was a magnificent hundred'
'I do appreciate seeing class and his was a classy knock'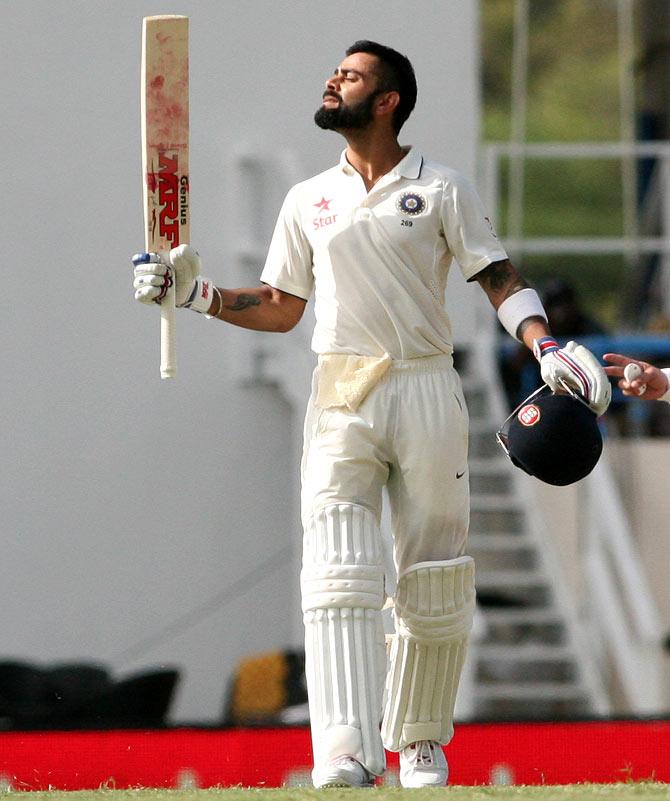 IMAGE: India captain Virat Kohli celebrates after completing his century on Day 1 of the first Test against West Indies in Antigua, on Thursday. Photograph: WICB Media Photo/Johnny Jno Baptiste.
West Indian legend Vivian Richards has heaped praise on Indian Test skipper Virat Kohli, describing his maiden double hundred on the second day of the opening Test as 'magnificent' and 'classy'.
"I think it was a magnificent hundred. To score a double hundred at Sir Vivian Richards Cricket Ground is a formidable task in terms of what he has achieved," Richards told the Board of Control for Cricket in India's (BCCI) website.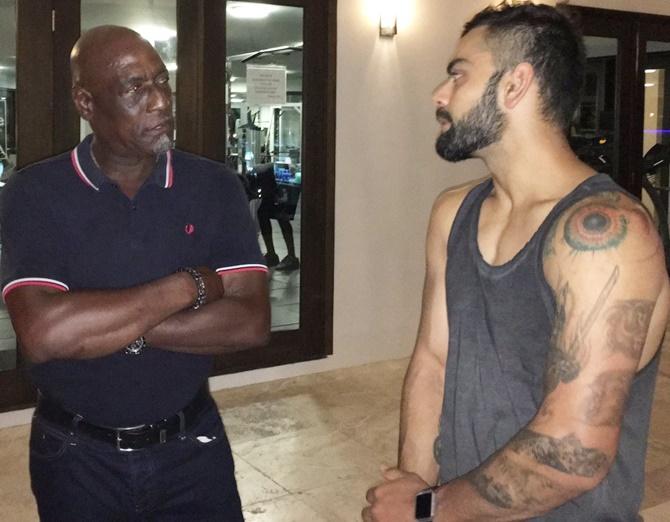 IMAGE: 'The King' Sir Isaac Vivian Alexander Richards and the 'Prince' Virat Kohli in Antigua. Photograph: BCCI/Twitter.
"I remember when I met him at the hotel (before the Test series) I did say good luck, but I didn't believe he would take it this far in terms of achieving a double. As a batsman myself, it was very pleasing to see and even though it was against the West Indies, I do appreciate seeing class and his was a classy knock," he added.
Kohli cracked 200 off 283 balls to help India pile up an imposing 566/8 along with Ravichandran Ashwin (113), who also scripted a century and Richards said he enjoyed watching the India Test skipper's innings.
"I think it's very special and for those of us here in Antigua and Barbuda (too), who appreciate seeing good knocks and seeing good batsmen perform," he said.
"Those who weren't here missed something, but I saw it and I am happy to say that it's the first time I saw (Virat) Kohli make century and to see him complete the double. I was here to speak, so I had a very good seat and I thoroughly enjoyed that."