Former Zimbabwe all-rounder and national coach Kevin Curran passed away on Wednesday morning at the age of 53.
According to a statement by Zimbabwe Cricket, he collapsed while jogging, but details regarding the exact cause of his death haven't been determined yet.
He was coach of the Zimbabwean franchise Mashonaland Eagles team and was in Mutare preparing for Wednesday's T20 match against Mountaineers.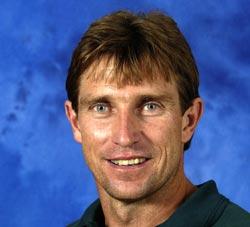 Curran played for Gloucestershire and Northants in England at county level in the 1980s and 1990s.
"We are still in shock, Kevin was the epitome of health and we've yet to make sense of this tragic loss," Zimbabwe Cricket managing director Wilfred Mukondiwa said.
Curran played 324 first-class matches, scored 15,740 runs and took 605 wickets.
He played in two World Cups for Zimbabwe, prior to the country being conferred Test status in 1992, and topped a thousand runs in a season in the English league five times.
He replaced Phil Simmons as Zimbabwe coach in 2005, and held the post till 2007, when he took up coaching Mashonaland Eagles.
Indian cricket fans will remember Curran for the manner in which he reduced a formidable Indian batting line-up to 17 for 5 at Turnbridge Well in the 1983 World-Cup. The match saw Kapil Dev score 175 not out as India clinched a 31-run victory.
Curran top-scored for Zimbabwe with 73.
The club's chief executive officer Vimbai Mapukute said: "I have yet to meet a man more passionate about cricket in this country.
"KC had put his heart and soul into developing our franchise and had great plans for our high performance gym and other facilities.
"His passing will leave a huge void at Mash Eagles and I feel that I have not only lost a key business ally but a friend as well."
Photograph: Clive Mason/Getty Images