India coach Duncan Fletcher has flown to Cape Town, South Africa to attend the funeral of his mother, who passed away earlier this week.
The Indian team's media manager Dr R N Baba informed that Fletcher, who left last night, will rejoin the Indian squad in Birmingham, just ahead of their last ICC Champions Trophy group B league match against Pakistan on June 15.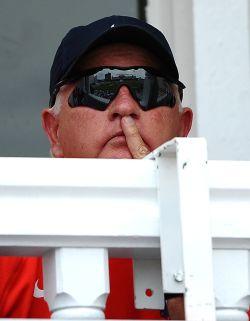 The Zimbabwean's mother had passed away on Sunday.
India are already in the semi-finals while Pakistan are out of the tournament after two defeats.
Fletcher joined as India coach on a two-year contract after Gary Kirsten guided India to the 2011 World Cup. The BCCI, in April this year, extended Fletcher's contract by a year.
Photograph: Laurence Griffiths/Getty Images