Australia batsman David Warner was dropped from the team's Champions Trophy match against New Zealand following an alleged physical altercation with an England player, Cricket Australia said on Wednesday.
The flamboyant left-hander, set to open the batting for Australia in back-to-back Ashes series against England, starting in July, was reported for breaching the code of behaviour.
"Warner...was allegedly involved in (an incident) with an England player in the early hours of Sunday morning following the ICC Champions Trophy match between the teams in Birmingham," the governing body said in a statement.
"Team management have stood down Warner pending the outcome of the hearing, meaning he will miss Australia's match against New Zealand in Birmingham tonight (Wednesday)."
CA said it would make no further comment until the hearing, the time and date for which had yet to be confirmed.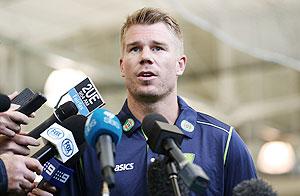 The England player involved in the incident was young batsman Joe Root.
"The England and Wales Cricket Board confirms that David Warner initiated an unprovoked physical attack on a member of the England team in a Birmingham bar following England's 48-run victory over Australia," the ECB said.
"Warner has admitted behaving inappropriately and has since apologised to the player involved who has accepted the apology.
Following a full investigation the England team management has concluded that the England player was in no way responsible for nor retaliated to the attack."
NO ISSUE
England captain Alastair Cook said he had no issue with his players being out in a bar in the early hours.
"You don't often get to win international games and when the schedule allows you, as long as it's within certain parameters which we set as a team...," Cook told a news conference ahead of England's match against Sri Lanka on Thursday.
"We didn't have training for a couple of days," he added. "Clearly if it was a back-to-back game it's a very different issue.
"It's very important they do sometimes let their hair down because celebrating wins also builds team spirit."
Cook said Root did not suffer any injury.
"He seems fine," he said. "No physical injury or anything like that. He's trained very well and he just wants to get the matter buried.
"He's here to play cricket," Cook added. "He's an excellent young man and he's been excellent since he's come into the England cricket team."
The manager of the 'Walkabout' bar where the incident took place said England and Australia players had been in the VIP area between 0130 and 0230 on Sunday.
"None of the group seemed to have been drinking to excess and were just having a good time," John Creighton told Sky Sports.
"There was a small altercation between Warner and Root. This was dealt with very amicably and quickly by the rest of the group and both were calmly chatting to each other immediately afterwards. They all left a short while later and a small bar tab was picked up by David Warner."
Creighton said Warner was a regular visitor to his bar.
"Our bar staff are quite familiar with David's face and he's never caused us any problems," he said.
The 26-year-old Warner was fined A$5,750 ($5,400) last month by CA for a Twitter outburst against two journalists.
Australia were already without regular captain Michael Clarke, who has not recovered from a back injury, for Wednesday's group match against their trans-Tasman rivals which they need to win to retain a chance of reaching the semi-finals.
Australia play Sri Lanka in their final Group A game at The Oval in London on Monday.
Image: David Warner
Photograph: Mark Metcalfe/Getty Images