'He would definitely play a more prominent role as a batter.'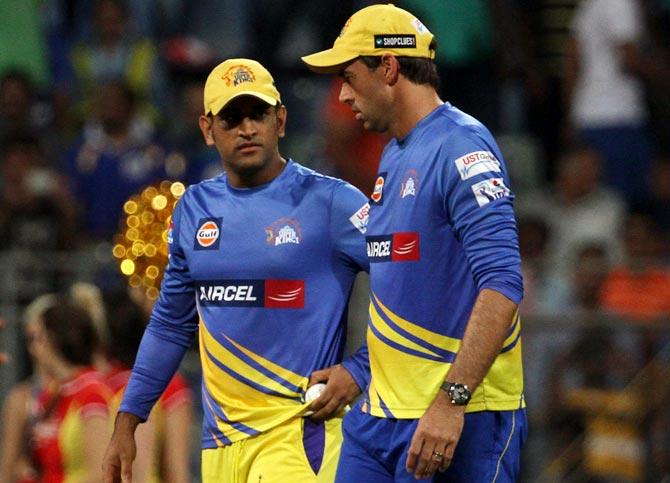 IMAGE: CSK coach Stephen Fleming, right, with captain Mahendra Singh Dhoni. Photograph: BCCI
Chennai Super Kings head coach Stephen Fleming said that captain Mahendra Singh Dhoni would play a 'more prominent' role as a batsman in the upcoming Indian Premier League by batting 'relatively high' in the order.
"MS (Dhoni) will be relatively high. The time that we choose may depend on the match situation as well. He would definitely play a more prominent role as a batter," Fleming said when asked about the CSK captain's probable batting position.
"Ahead of him there are some good picks, Kedar Jadhav, Ambati Rayudu, (Ravindra) Jadeja, (Dwayne) Bravo, Harbhajan (Singh) fits in there as well, Karn Sharma, they can all hit. So again, looking at our sides, there a lot of multi-skilled players. There is a lot of options there," he added.
Fleming harped on the team's versatility and said there were a number of multi skilled players.
"One of the key things of the squad is the versatility.. combinations are important.. both Indian and overseas."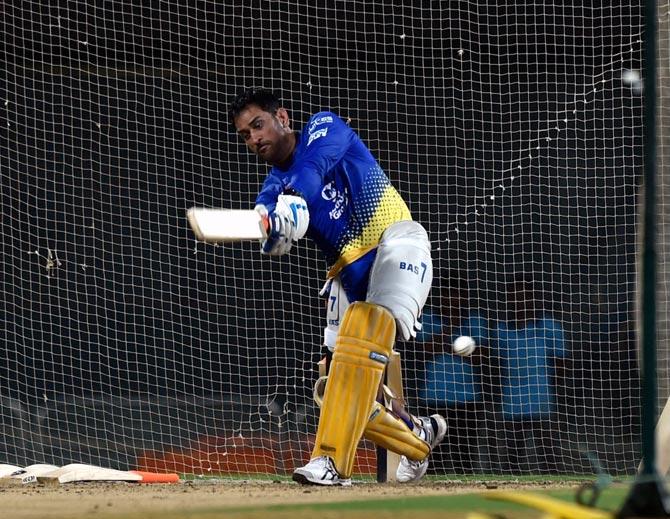 IMAGE: Mahendra Singh Dhoni during a CSK training session. Photograph: PTI

Fleming said they had not decided on the opening combination yet adding there were quite a number of players who could do the job.
"We are not sure yet. It depends on the combination and conditions. We have got a number of options that have been pencilled down. (Dhruv) Shorey, Faf (du Plessis), (Shane) Watson, Rayudu, (Sam) Billings, (Murali) Vijay...We have got six of them.
"Shorey is a top-order batsmen, Sam Billings has played a lot of top order stuff. The combination is not just for opening, for the rest of the side as well," he added.
The CSK head coach said he expected pacers Mark Wood, South Africa's Lungi Ngidi to fill the role played by the likes of Ashish Nehra and Albie Morkel in the past.
"(Mark) Wood and Ngidi have got good pace. We have Indian quality in (Shardul) Thakur. Our strong component is spinners. Wood has a got a nice skiddy trajectory and pace."
He heaped praise on veteran spinner Harbhajan and said the Punjab cricketer would play a key role this season.
"Excited to have Bhajji here. I have always rated him high. He will play a big part in the season. It will be different than bowling at the Wankhede (stadium). The bounce and top-spin he gets is more suited to the ground here."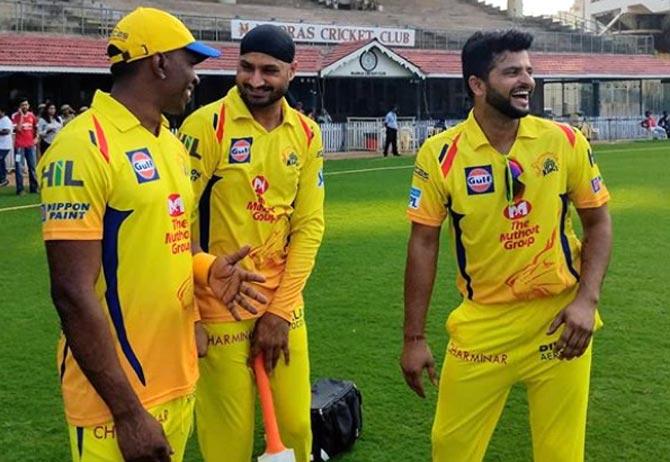 IMAGE: Dwayne Bravo, Harbhajan Sinh and Suresh Raina. Photograph: Kind Courtesy, Chennai Super Kings/Instagram

Fleming also pointed out that Harbhajan had played some good knocks against the teams he has been involved in and said he even batted up the order in one of those.
"Yeah, he (Bhajji) has been very annoying. He has played some good knocks against the teams I have been involved in. He has played some good knocks in IPL as well. It will be nice if he can recreate some of the form. He batted up the order in one of the games as well."
On the replacement for New Zealander Mitchell Santer, who is out due to injury, Fleming said there is no rush to do so.
"That was almost a luxury position. We looked at versatile players and Santner was one of the form players. We haven't rushed for the replacement. We need to be a bit smarter about whether we need a replacement. If things go well in the tournament, we might not name a replacement," he added.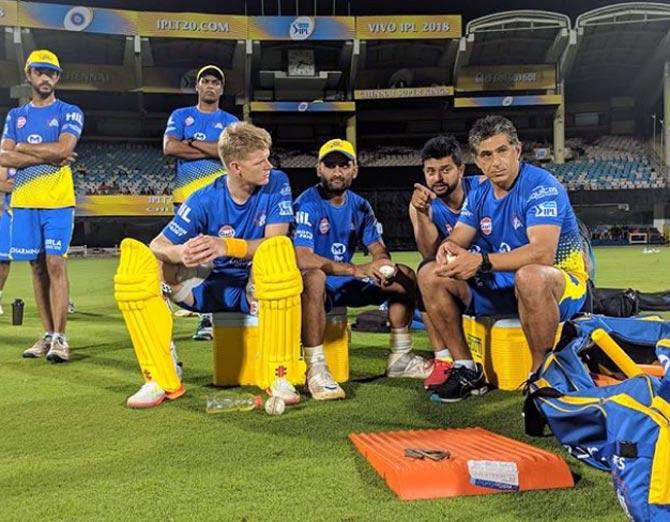 IMAGE: CSK's players during a training session. Photograph: Kind Courtesy, Chennai Super Kings/Instagram
To a question if CSK would use the yo-yo test for its players, Fleming said 'no' and added there are other things to get right.
"The yo-yo test.. No. It is very much into personal fitness. It is not the focus of the side. There is so many other stuff to get right. We have Greg King from South Africa, who is an outstanding trainer. All we ask for is continuation of the professionalism. We don't ask to up the ante or drop it down," he said.