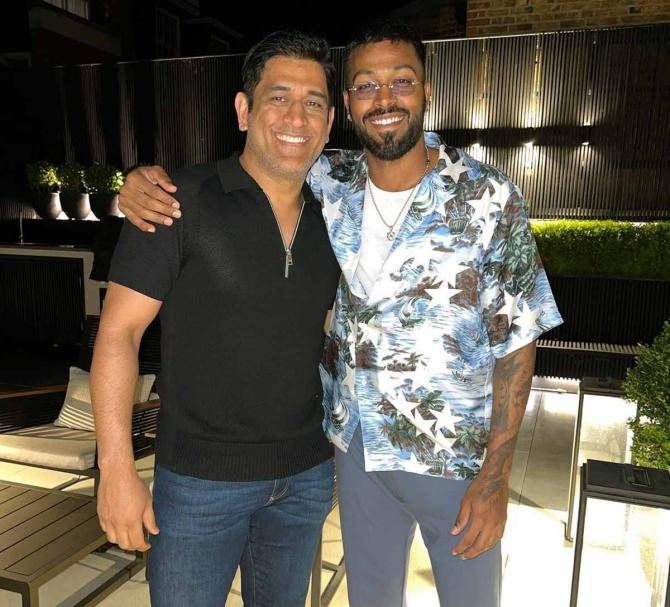 Hardik Pandya said he is looking forward to emulate former captain Mahendra Singh Dhoni by taking up more responsibility with the bat in white ball cricket.
India's T20 captain stated that he is open to taking up new roles for the sake of his team, even if it means sacrificing his natural attacking style of batting.

"In that way, maybe I have to get my strike rate down. Taking new opportunities or taking new roles is something I have always looked forward to. I don't mind coming in and playing the role which somewhere down the line Mahi (Dhoni) used to play.
"I think at that time, I was young, and I was hitting all around the park, but now since he has gone, all of a sudden that responsibility. It has naturally come to me, and I don't mind it. We are getting the result we want and it's okay," Pandya said after India thrashed New Zealand by 168 runs in the third match in Ahmedabad on Wednesday to claim the T20I series 2-1.

Pandya said though he loves hitting sixes he has taken to batting more responsibility as the leader of a young team in T20 cricket.

"I have always enjoyed hitting sixes, but I have to evolve and that is life. I have to take the other part where I have always believed in partnerships. I want to give my team and the other person more calmness and the assurance that at least I am there. I have played more games than any of those guys out there. So, I have known the experience and more than the experience part, it's where I have batted, and I have learnt how to accept pressure and I have learnt how to swallow kind of the pressure and make sure the team and everything are calm," he explained

The all-rounder, last featured for India in a Test match against England in Southampton in 2018, said he is not in a hurry to return to Test cricket.

"I will come (back) when I feel its the right time to play Test-match cricket. Right now, I am going to focus on white-ball cricket, which is important, and if time is right and body is fine, I will give (Test cricket) a try."