Former president Ehsan Mani has backed the International Cricket Council's decision to persist with the Decision Review System, saying it has helped in reducing umpires' mistakes.
"There are only minor issues now related to the technology use in the DRS, but they are not serious enough to warrant suspending the use of the UDRS," he said.
Mani, a Pakistani settled in the United Kingdom, insisted that the DRS will only get better with time.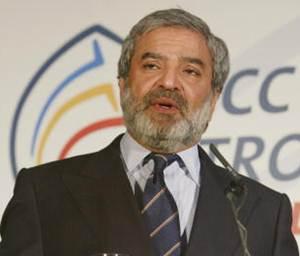 "Overall, you look at the results produced by using the DRS, it has improved the accuracy of umpiring decisions by around 95 per cent which is a huge step forward," he said.
India opposes the use of DRS in any series involving them, stating that the system is not effective in its current form.
In the recent Ashes series and this year's Champions Trophy, the accuracy of the DRS came under the spotlight after hotspot technology and snickometer came up with errors.
But Mani, who is visiting Pakistan to supervise the bidding process by the Pakistan Cricket Board for the sale of broadcasting rights of the upcoming home series against South Africa and Sri Lanka in the UAE, said any new technology needs to be given time to settle down.
"Countries should not oppose the DRS at this stage when the ICC is now keen to make its implementation more widespread. Even in other sports technology is being used to assist the umpires and referees," he said, adding even though he too is not entirely satisfied with the existing technology being used, it should not be stopped.
"The ICC should act proactively to improve it further."
He also brushed aside concern from some quarters about heavy costs involved in using the system.
"Cricket is now generating lot of money for the ICC and member boards and the better the image of the sport the more the sponsors will come in. Plus it makes the sport more interesting and intriguing for the viewers and spectators."
Referring to the Board of Control for Cricket in India's reservations about the DRS, he said: "I think the ICC being the governing body of the sport globally must not allow member countries to decide on the use of technology; the ICC should now formulate a plan to implement its uniform use."
Image: Ehsan Mani
Photograph: Paul Gilham/Getty Images