Amid tensions over incidents along the LoC, the BCCI has told to its Pakistani counterpart that unless the Indian government gives a green signal, it cannot clear Faisalabad Wolves' participation in the Champions League Twenty20 to be held next month.

The Pakistan Cricket Board has, therefore suspended the process of seeking visas for the Faisalabad Wolves, at least for the time being.
"The BCCI has put the ball in the Indian government's court. The Indian cricket board has said that it can clear the Faisalabad team's participation in the Champions League only after getting the clearance from its government," a PCB source said.
"Given the uncertain situation prevailing right now between the two countries, the PCB has decided not to send the players' passports for visas to the Indian High Commission," the source added.
The Faisalabad team, led by national team skipper Misbah-ul-Haq, was invited to play in the qualifying rounds of the Champions League T20 in India, starting on September 17.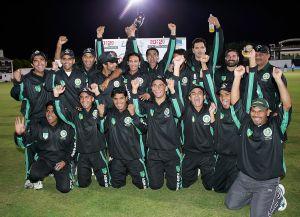 Faisalabad team's participation in the CLT20 was confirmed until the LoC issues arose and that led to tensions between the two countries.
Last year, the BCCI had invited Pakistan to send its domestic T20 champions -- Sialkot Stallions -- for the Champions League, which was held in South Africa.
The Sialkot Stallions, however, failed to qualify for the main round.
This year Faisalabad Wolves, by virtue of emerging as the national T20 champions, had earned the honour of representing Pakistan in the Champions League.
A senior player of the Faisalabad team said it would be disappointing if the team could not get permission to participate in the CLT20 as some players had cut short their county and league contracts to play in the lucrative event.
Image: Faisalabad Wolves team
Photograph: Michael Steele/Getty Images