The political tension between the two nations notwithstanding, Pakistan captain Misbah-ul Haq is hopeful that Faisalabad Wolves will be allowed to compete in the Champions League Twenty20 tournament in India next month.

The participation of the team, which is led by Misbah, has come under a shadow after the tension at the Line of Control rose between the two countries. The Faisalabad team is due to play in the qualifying round of the event from September 17.
- Should Pakistan's Faisalabad Wolves be allowed to play in CLT20 in India?

"I hope we are able to play in the league because it is a great opportunity for our new players who don't have international exposure to play against the top players," he said.

Misbah reiterated that budding players in Pakistan are suffering due to lack of international cricket at home.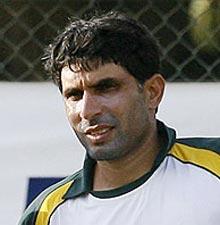 "Other countries have established their own T20 professional leagues and their players are getting a chance to gain experience against the top players and they are sharp," he said.

Misbah said Indian cricket has benefited a lot from the Indian Premier League -- the biggest T20 franchise-based league in the cricket world.

"The IPL has allowed India to not only find new players but also groom them and put them in the national team."

He urged the Pakistan Cricket Board to also launch its own professional franchise T20 league.

"Even if we can't have this league at home because of the ensuing problems we should have it in Dubai. We need to have our own league to give our players more competition and exposure and good earnings at a time when there is no international cricket in Pakistan," he added.

The PCB had planned to hold a Super T20 League in March this year with the participation of foreign players but the event could not take place due to time constraints.