Harish Kotian speaks to the folks behind Mahendra Singh Dhoni's Rs 210 crore deal.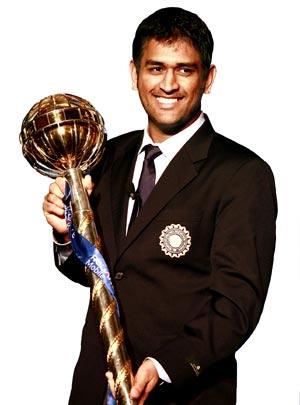 It seems there is no stopping India's captain cool.
Mahendra Singh Dhoni has conquered almost every cricketing frontier that he has encountered. Now he rules the sponsors game too.
Not many in cricket can pip the legendary Sachin Tendulkar, but Mahi Dhoni left SRT trailing by snapping up a whopping Rs 210 crore -- that is Rs 2.10 billion (about $42 million) -- endorsement deal with Rhiti Sports Management Private Limited and Mindscapes.
Rhiti Sports, founded six years ago by Arun Pandey, was almost unknown despite handling some of Dhoni's contracts. Pandey is a former Ranji Trophy cricketer who played for Uttar Pradesh.
Founded in 2007, Rhiti Sports is based in New Delhi and has offices in Mumbai and Varanasi.
On Tuesday, the company hit the big league by signing up the Indian captain in partnership with Mindscapes, a deal which gives it access to Dhoni's long list of endorsements and brand associations, corporate profile, patents and digital rights, images, visibility on social networking sites and merchandise for a three-year period.
Sangeet Shirodkar, marketing president for the Rhiti Sports-Mindscapes joint venture, pointed out that the minimum guarantee amount is Rs 210 crores for three years. Depending on the endorsements he signs up Dhoni could end up earning much more than that sum.
"The minimum guarantee amount is Rs 210 crores for 3 years which is Rs 70 crores (Rs 700 million) per year, but it can go up," he told Rediff.com
He said the deal underlined Dhoni's growing brand value. Since making his international debut in December 2004, the son of a retired work supervisor at Hindustan Steel has sprinted his way to the top on the back of his swashbuckling batting and his phenomenonal success as India's skipper.
Tendulkar's three-year deal with sports management firm Iconix, which was signed in 2006, was worth Rs 180 crore (Rs 1.8 billion). The batting legend's earlier contract was worth Rs 100 crore (Rs 1 billion); a five-year deal with WorldTel, signed in 2001.
Last year, Dhoni made $10 million (Rs 500 million/50 crores); $8 million (Rs 400 million/Rs 40 crores) of which came from endorsements. Leading financial magazine Forbes named him the world's highest-paid cricketer.
"This deal puts Dhoni's market value similar to Tiger Woods, who also earns around $17 million per year," Shirodkar added.
We are not sure what measure Shirodkar is using to calculate Tiger's worth since Forbes last year reported that the master golfer was 'Sports' First Billion-Dollar Man'.
Asked if the company is confident of recovering its money and making some, Shirodkar replies: "Absolutely! We will be handling all of Dhoni's endorsements and brand associations so we will be looking to create more business around him and monetise it to the maximum by getting more endorsements, brands tied up with him."
Dhoni reportedly charges up to Rs 6 crore (Rs 60 million) an endorsement a year and is associated with 24 leading brands like PepsiCo, Reebok and Godrej. An agency gets up to 30 per cent of the total endorsement amount its celebrity client makes.
Shirodkar, who handled Harbhajan Singh before joining Rhiti Sports-Mindscapes, revealed, "Harbhajan is not on board yet, but we hope to finalise a deal with him soon."
Before Dhoni signed up, Rhiti Sports had one other cricketer on its roster: UP pacer Rudra Pratap Singh.
Dhoni had a long-running deal with sports management firm Gameplan Sports Private Limited before he quit in 2008. Earlier this year, Dhoni filed a case against Gameplan for allegedly cheating him of a reported Rs 10.5 crore (Rs 105 million).
Mindscape One, owned by Pratik Sen -- formerly one of the owners of Mindscape Maestros -- is a celebrity management firm, which was set up in June 2008 with Dhoni as its star client. Dhoni and Yudhajit Dutta -- who incidentally set up the first date between Dhoni and Sakshi Rawat, now the skipper's missus -- apparently opted out of the venture last year.
The firm also manages actor John Abraham -- the only celebrity guest at Dhoni's wedding last week -- and cricketer Rohit Sharma as also the marketing of the IPL team Chennai Super Kings, which Dhoni captains, and the Kolkata Fashion Week.
ALSO READ: The Boy from Ranchi