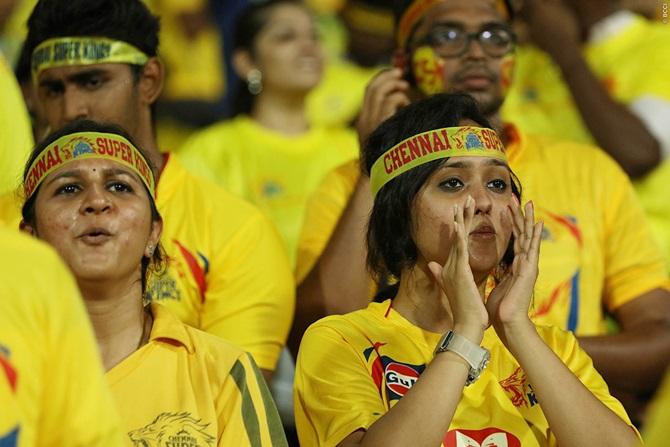 Chennai Super Kings may not be playing its home matches at the M A Chidambaram stadium in Chennai anymore, but they will not be short on support, as fans are travelling to Pune to cheer them in Friday's Indian Premier League match against Rajasthan Royals.
Watch Below: CSK fans have a gala time aboard the special train. Video: Kind courtesy, Chennai Super Kings/Twitter
About 1,000 CSK fans left for Pune from Chennai on Thursday morning by a special train to attend the match in Pune, thanks to an arrangement made by the franchise.
CSK's home matches were moved out of Chennai due to security concerns after protests by pro-Tamil groups on the Cauvery issue leading to the first home game against KKR on April 10.
"It is entirely an initiative taken by CSK fans and it was taken forward by the CSK management," a CSK official said.
CSK official fan club joint-secretary A R R Sriram said fans from across the state and Bengaluru left for Pune on Thursday morning.
"We just put in a request to the management if any arrangement could be made for our (fans') travel to Pune. And they have come up with this effort. We can't thank them enough," he added.
As a goodwill gesture, the franchise also arranged complimentary passes for the match along with free food and accommodation in Pune, Sriram said.
Saravanan Hari, a diehard fan of Mahendra Singh Dhoni, known for painting his body during CSK's matches, who is also on board the train, said he was thrilled beyond words to be part of the supporters' group to watch the game in Pune.
Prabhu Damodaran, a textile professional, said the move by CSK to take fans to Pune showed how the franchise cares for its supporters.
The fans will return to the city on Sunday.
CSK returned to the IPL after serving a two-year suspension following the spot-fixing scandal and played its first match at the M A Chidambaram stadium after May 2015.