'We did a lot of very good things. Just couldn't quite get over the line'
'He's (Hameed) an unbelievable player, pushing me closer to retirement'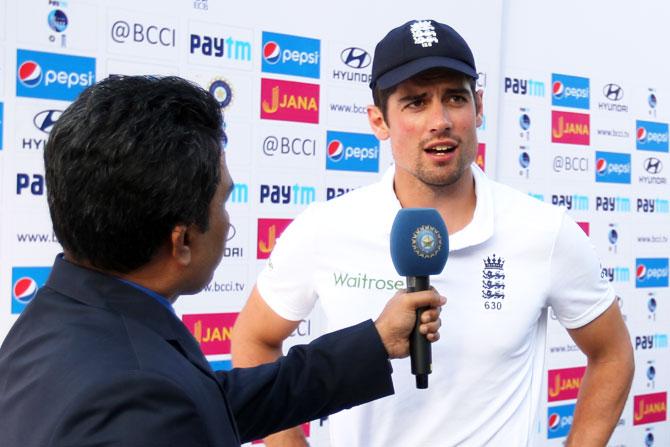 IMAGE: Alastair Cook speaks at the post-match presentation after the first Test in Rajkot on Sunday. Photograph: BCCI
Having come close to taking a 1-0 lead in the five-match series, England captain Alastair Cook expressed his disappointment with the drawn result in the opening Test against India in Rajkot but defended his decision of declaring only after lunch on day five.
- Captain Kohli helps India escape with a draw in Rajkot
- PHOTOS: England frustrated as India hold out to draw Rajkot Test
"It's been a good five days, a hard five days. Not quite as humid as Bangladesh, but a tough Test match, put everything on the line. Four hundreds (from his side), spinners bowled well, seamers were outstanding on a slow wicket. We got into a position to try to force a result. Disappointing we didn't quite get over the line. Good Test and everyone should be proud with the way we played," said Cook who notched up his 30th Test hundred to set India an improbable target to chase.
"We proved to everyone else that we can play. I said at the beginning of this tour we have some very talented players. Ben Stokes, Moeen Ali, Joe Root -- all world-class players. We got 530, showed the character. It was very pleasing, 160 overs of hard graft to keep India below us. We did a lot of very good things. Just couldn't quite get over the line," he rued.
He defended the timing of his declaration, that came 36 minutes after lunch.
"The reason behind it is we didn't want to give India a sniff. Batting just to survive is a lot different than chasing 260, 270. On the same wicket we were 180 for nought.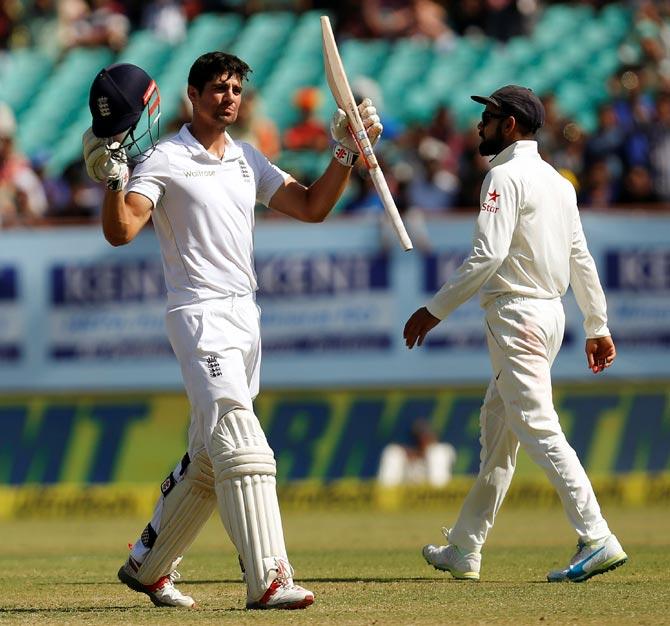 IMAGE: Alastair Cook, left, celebrates his century as Virat Kohli looks on. Photograph: BCCI
"It wasn't a minefield. The odd ball did a bit. Maybe a braver person would have set them 240, but I thought it was a fair declaration, especially for the first game of the series.
It was strange, because of a lot of balls were turning quite big but weren't taking that many wickets. Credit to the guys for how they played the spin. What we thought we'd get. Good to start with, then turned more. Got to play well enough to be in it towards the end, and we were in it.
"It's nice to score a few, maybe because you don't get too many nicks here. Ones you do get don't carry. At the top of the order, if you get in -- you saw in the (double century) partnership between (India's Murali) Vijay and (Cheteshwar) Pujara (in the first innings), if you get through the first 30 or 40 balls, there are big runs here. Luckily my record here is okay," he said modestly after becoming the first visiting batsman to score five hundreds.
"You're always going to be slightly nervous on the first day of a big series. Second innings was quite hard work, (Ravindra) Jadeja bowling into the rough with a brand new ball, some at 60mph.
"(I) haven't been in the greatest form. Not had that rhythm in the nets, didn't have it in Bangladesh, nor had it over here. After drinks wanted to push on -- freed me up a bit and helped my game. Nice to score runs when you're not at your best," he added.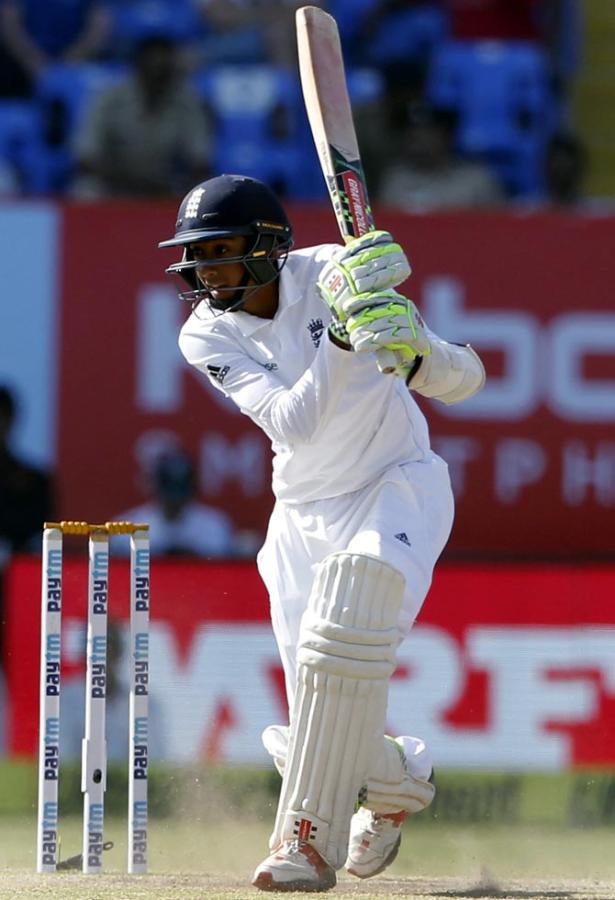 IMAGE: Haseeb Hameed bats on Day 5. Photograph: BCCI
He was also pleased with his spinners' show all of who were less experienced than the Indian trio in these conditions but still came off better.
"(It was) a brilliant performance all-round, especially our three spinners who came into criticism on turning wickets. (This) was a flatter wicket (than in Dhaka) and they bowled a lot better. (It's) great to have Saqqy (ex-Pakistan offie Saqlain Mushtaq) here (as spin bowling consultant)."
Cook praised the performance of debutant opener Haseeb Hameed who made 31 and 82 and showed good character and all rounder Ben Stokes who came up with knocks of 128 and 29 not out.
"He's (Hameed) an unbelievable player, pushing me closer to retirement. A 19-year-old outscored me… He's a find, isn't he? We said before the game we had no doubt he could play. He's certainly a good player," he said about the Indian origin debutant.
"He's our golden player. He balances the side, allows us to play three spinners, three seamers and bats at six on turning wickets - probably his last (ultimate) challenge. He has worked incredibly hard," he gushed about Stokes.