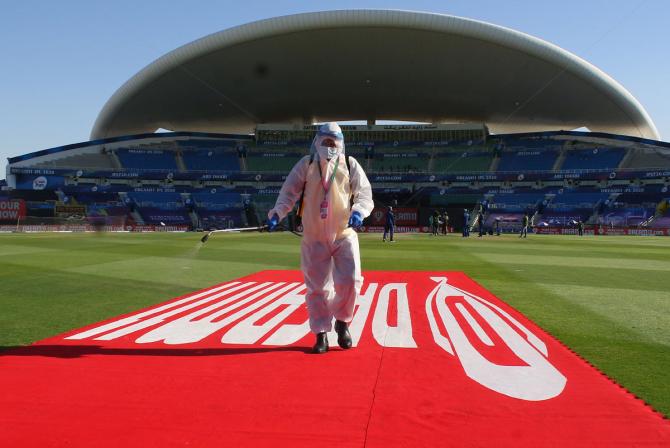 Moved out of India due to a surge in COVID-19 cases, the 13th edition of the world's biggest T20 league was held in the three venues of Dubai, Abu Dhabi and Sharjah in the UAE.
The upcoming 53-day edition is by far the longest in the history of the league.
The schedule was expected to be out in the last week of August but the announcement was delayed after 13 personnel of the Chennai Super Kings (CSK) camp tested positive for the dreaded virus.
Also, due to different quarantine rules in Dubai and Abu Dhabi, IPL's operations team took time to finalise the schedule.
This year's IPL was originally scheduled to be held from March 29 to May 24 but was postponed barely two weeks before the start of the tournament due to the coronavirus outbreak.
Then, as the number of cases increased, the league was indefinitely postponed but the postponement of the T20 World Cup cleared the decks for the league to take place in the September-November window.
Schedule: Indian Premier League 2020
Match

Day
Date
IST
UAE
Venue
Home
Away
Play-off stages:
Qualifier 1
Thu
5-Nov-20
7:30PM
6:00PM
Sharjah
Mumbai Indians
Delhi Capitals
Eliminator
Fri
6-Nov-20
7:30PM
6:00PM
Abu Dhabi
Sunrisers Hyderabad
RCB
Qualifier 2
Sun
8-Nov-20
7:30PM
6:00PM
Abu Dhabi
Delhi Capitals
Sunrisers Hyderabad
FINAL
Tue
10-Nov-20
7:30PM
6:00PM
Dubai
Mumbai Indians
Delhi Capitals
Match No.
Day
Date
IST
UAE
Venue
Home
Away
Group stages:
1
Sat
19-Sep-20
7:30PM
6:00PM
Abu Dhabi
Mumbai Indians
CSK
2
Sun
20-Sep-20
7:30PM
6:00PM
Dubai
Delhi Capitals
Kings XI Punjab
3
Mon
21-Sep-20
7:30PM
6:00PM
Dubai
Hyderabad
RCB
4
Tue
22-Sep-20
7:30PM
6:00PM
Sharjah
Rajasthan Royals
CSK
5
Wed
23-Sep-20
7:30PM
6:00PM
Abu Dhabi
KKR
Mumbai Indians
6
Thu
24-Sep-20
7:30PM
6:00PM
Dubai
Kings XI Punjab
RCB
7
Fri
25-Sep-20
7:30PM
6:00PM
Dubai
CSK
Delhi Capitals
8
Sat
26-Sep-20
7:30PM
6:00PM
Abu Dhabi
KKR
Hyderabad
9
Sun
27-Sep-20
7:30PM
6:00PM
Sharjah
Rajasthan Royals
Kings XI Punjab
10
Mon
28-Sep-20
7:30PM
6:00PM
Dubai
RCB
Mumbai Indians
11
Tue
29-Sep-20
7:30PM
6:00PM
Abu Dhabi
Delhi Capitals
Hyderabad
12
Wed
30-Sep-20
7:30PM
6:00PM
Dubai
Rajasthan Royals
KKR
13
Thu
1-Oct-20
7:30PM
6:00PM
Abu Dhabi
Kings XI Punjab
Mumbai Indians
14
Fri
2-Oct-20
7:30PM
6:00PM
Dubai
CSK
Hyderabad
15
Sat
3-Oct-20
3:30PM
2:00PM
Abu Dhabi
RCB
Rajasthan Royals
16
Sat
3-Oct-20
7:30PM
6:00PM
Sharjah
Delhi Capitals
KKR
17
Sun
4-Oct-20
3:30PM
2:00PM
Sharjah
Mumbai Indians
Hyderabad
18
Sun
4-Oct-20
7:30PM
6:00PM
Dubai
Kings XI Punjab
CSK
19
Mon
5-Oct-20
7:30PM
6:00PM
Dubai
RCB
Delhi Capitals
20
Tue
6-Oct-20
7:30PM
6:00PM
Abu Dhabi
Mumbai Indians
Rajasthan Royals
21
Wed
7-Oct-20
7:30PM
6:00PM
Abu Dhabi
KKR
CSK
22
Thu
8-Oct-20
7:30PM
6:00PM
Dubai
Hyderabad
Kings XI Punjab
23
Fri
9-Oct-20
7:30PM
6:00PM
Sharjah
Rajasthan Royals
Delhi Capitals
24
Sat
10-Oct-20
3:30PM
2:00PM
Abu Dhabi
Kings XI Punjab
KKR
25
Sat
10-Oct-20
7:30PM
6:00PM
Dubai
CSK
RCB
26
Sun
11-Oct-20
3:30PM
2:00PM
Dubai
Hyderabad
Rajasthan Royals
27
Sun
11-Oct-20
7:30PM
6:00PM
Abu Dhabi
Mumbai Indians
Delhi Capitals
28
Mon
12-Oct-20
7:30PM
6:00PM
Sharjah
RCB
KKR
29
Tue
13-Oct-20
7:30PM
6:00PM
Dubai
Hyderabad
CSK
30
Wed
14-Oct-20
7:30PM
6:00PM
Dubai
Delhi Capitals
Rajasthan Royals
31
Thu
15-Oct-20
7:30PM
6:00PM
Sharjah
RCB
Kings XI Punjab
32
Fri
16-Oct-20
7:30PM
6:00PM
Abu Dhabi
Mumbai Indians
KKR
33
Sat
17-Oct-20
3:30PM
2:00PM
Dubai
Rajasthan Royals
RCB
34
Sat
17-Oct-20
7:30PM
6:00PM
Sharjah
Delhi Capitals
CSK
35
Sun
18-Oct-20
3:30PM
2:00PM
Abu Dhabi
Hyderabad
KKR
36
Sun
18-Oct-20
7:30PM
6:00PM
Dubai
Mumbai Indians
Kings XI Punjab
37
Mon
19-Oct-20
7:30PM
6:00PM
Abu Dhabi
CSK
Rajasthan Royals
38
Tue
20-Oct-20
7:30PM
6:00PM
Dubai
Kings XI Punjab
Delhi Capitals
39
Wed
21-Oct-20
7:30PM
6:00PM
Abu Dhabi
KKR
RCB
40
Thu
22-Oct-20
7:30PM
6:00PM
Dubai
Rajasthan Royals
Hyderabad
41
Fri
23-Oct-20
7:30PM
6:00PM
Sharjah
CSK
Mumbai Indians
42
Sat
24-Oct-20
3:30PM
2:00PM
Abu Dhabi
KKR
Delhi Capitals
43
Sat
24-Oct-20
7:30PM
6:00PM
Dubai
Kings XI Punjab
Hyderabad
44
Sun
25-Oct-20
3:30PM
2:00PM
Dubai
RCB
CSK
45
Sun
25-Oct-20
7:30PM
6:00PM
Abu Dhabi
Rajasthan Royals
Mumbai Indians
46
Mon
26-Oct-20
7:30PM
6:00PM
Sharjah
KKR
Kings XI Punjab
47
Tue
27-Oct-20
7:30PM
6:00PM
Dubai
Hyderabad
Delhi Capitals
48
Wed
28-Oct-20
7:30PM
6:00PM
Abu Dhabi
Mumbai Indians
RCB
49
Thu
29-Oct-20
7:30PM
6:00PM
Dubai
CSK
KKR
50
Fri
30-Oct-20
7:30PM
6:00PM
Abu Dhabi
Kings XI Punjab
Rajasthan Royals
51
Sat
31-Oct-20
3:30PM
2:00PM
Dubai
Delhi Capitals
Mumbai Indians
52
Sat
31-Oct-20
7:30PM
6:00PM
Sharjah
RCB
Hyderabad
53
Sun
1-Nov-20
3:30PM
2:00PM
Abu Dhabi
CSK
Kings XI Punjab
54
Sun
1-Nov-20
7:30PM
6:00PM
Dubai
KKR
Rajasthan Royals
55
Mon
2-Nov-20
7:30PM
6:00PM
Abu Dhabi
Delhi Capitals
RCB
56
Tue
3-Nov-20
7:30PM
6:00PM
Sharjah
Hyderabad
Mumbai Indians
*CSK: Chennai Super Kings, RCB: Royal Challengers Bangalore, KKR: Kolkata Knight Riders, Hyderabad: Sunrisers Hyderabad