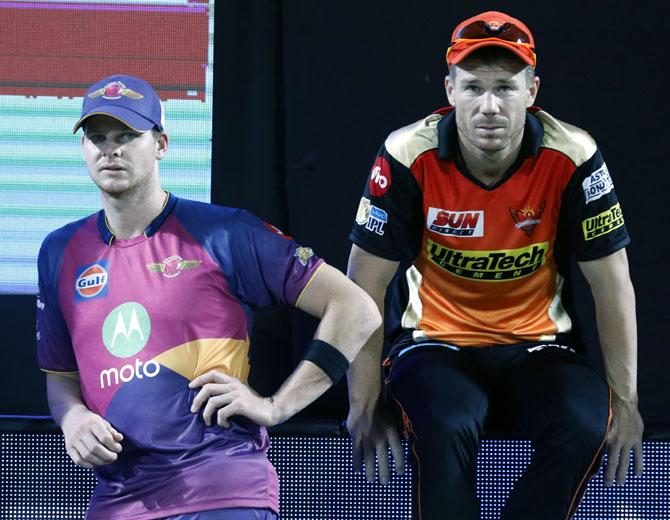 IMAGE: David Warner, right, with Steve Smith. Photograph: BCCI
The BCCI on Wednesday barred Steve Smith and David Warner from IPL 2018, PTI reported.
Smith and Warner were supposed to captain their respective franchises Rajasthan Royals and Sunrisers Hyderabad in this edition but had stepped down in the wake of the scandal and CA's sanction paved the way for BCCI to ban the duo.
"They (Cricket Australia) have banned two players and we are also barring these two players from this year's IPL," IPL chairman Rajeev Shukla told reporters on Wednesday.
"We wanted everything in our own hands. First, we waited for ICC's decision, after that Cricket Australia and then we decided on the matter.
"We have decided to bar them from this season. The replacements will be made available to the two teams. We did not take any decision in haste, it was a well thought out decision," he added.
Earllier, Smith and Warner were reportedly banned for one year, ruling them out of the home series against India, while Cameron Bancroft was handed a nine-month suspension as Cricket Australia came down heavily on the errant trio which disgraced itself in the ball-tampering scandal in South Africa.
Tim Paine will captain Australia in the final Test match in Johannesburg with reinforcements in middle-order batsman Glenn Maxwell along with openers Joe Burns and Matt Renshaw scheduled to arrive tomorrow.
Earlier, Warner stepped down as IPL franchise Sunrisers Hyderabad skipper days after Smith gave up his captaincy of the Rajasthan Royals.
Media reports stated that the three players have a week to appeal against the sanctions.