With speculation on that Sachin Tendulkar may be rested for the next match, former India captain Sunil Gavaskar on Wednesday suggested that the veteran batsman should not miss any of the One-Day Internationals in the ongoing CB tri-series in Australia.
Tendulkar looked in good touch as he scored 48 before being bowled by Angelo Mathews but it is still not clear whether the senior batsman would play the next match or not.
- PHOTOS: Ashwin takes India to victory against SL
The team management has opted for rotation policy as Virender Sehwag was rested in the first match against Australia and Gautam Gambhir in today's match.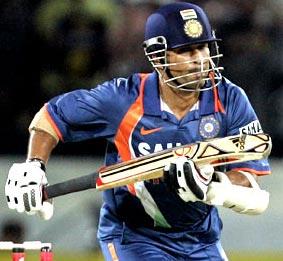 "I think Sachin should be playing in all the matches. If you want to use rotation policy then it should be used to rotate and field all the players. I believe that Tendulkar, Gambhir and Sehwag should play and may be one among Rohit Sharma or Suresh Raina has to sit out," Gavaskar told NDTV.
"When you are choosing a squad of 16 and then you have to select the most balanced side. If someone is not performing then you should change him. But one needs to be upfront about it that you are dropping a player and not resting him. If someone is not performing he can be dropped and that's a fair call."
Gavaskar praised man-of-the-match Ravichandran Ashwin's temperament. The Chennai player took three wickets and then came up with a crucial unbeaten 30-run cameo in India's chase.
"Ashwin looked to be back at his best. The bouncy strip at the Perth also helped his bowling. He looked to be back to an easy action. I am glad that he is the man of the match as he showed a lot of courage during batting and also ice-cool temperament," Gavaskar said.
- Wish Yuvraj Singh a speedy recovery
While terming that Sri Lanka lacked a " slow bowler", he lauded Virat Kohli for his knock of 77.
"Virat is a quick learner. Today, he ran for a non-existent single but from next time he would realise that if he has pushed the ball that hard, he wouldn't like to take risk," Gavaskar added.