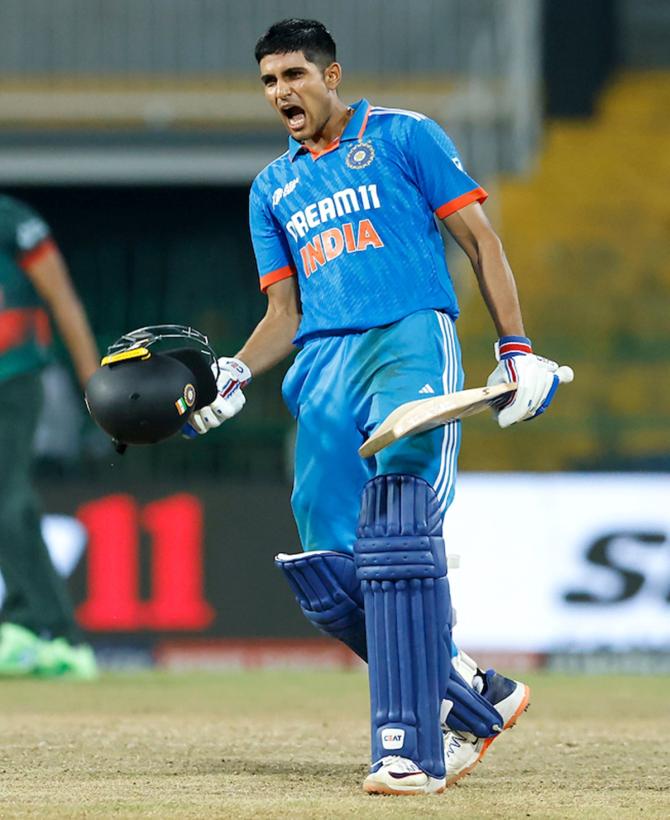 India's batters, barring centurion Shubman Gill, struggled against Bangladesh's spinners on a pitch that offered turn and grip during the six-run defeat in the Asia Cup Super Fours match, prompting the opener to say the team is working on skills to master such tracks.
Gill said it was important to pay attention to the area in view of the approaching World Cup, and Asia Cup final against Sri Lanka on Sunday.
"It is definitely an area that we are trying to improve on. We had a camp in Bangalore before coming here (Sri Lanka), and we were practicing on similar wickets," said Gill, during the post-match press conference after India failed to chase down 265.
"World Cup is such a long tournament; as we go deeper into the tournament the wicket tends to get slower."
He said India's batters are trying to minimise the dot balls by increasing the strike rotation.
"It is not easy for batsmen who are coming in to rotate the strike and minimise those dot balls. As a batting unit, we are looking to work on it."
On their approach against Bangladesh's spinners at the Premadasa stadium, Gill said India's batters were trying to play late.
Taking singles was not easy on this wicket so we were trying to let the ball come to the bat, because we get more runs square of the wicket on slow wickets. So we were trying to play the ball late," he added.
Gill felt he should have stayed back and taken India past the finishing line, but termed the chase as a good learning experience.
"Sometimes there is so much adrenaline when you are batting, you miscalculate. It was a miscalculation on my part.
"But when I got out and there was a lot of time left, and if I would have batted not that aggressively, we should have gotten over the line. But these are learnings, and fortunately this game wasn't the final."
Axar Patel had coped a bit of beating on his right hand during the match against but Gill allayed any concerns.
"I don't think there is anything wrong with Axar. I think that was temporary and nothing to worry about."
He also defended India's decision to rest five frontline players -- Virat Kohli, Hardik Pandya, Jasprit Bumrah, Kuldeep Yadav and Mohammed Siraj -- for the Bangladesh match.
"The reason why we gave rest to all the bowlers is because they played continuously for three days against Pakistan and then Sri Lanka. The bowlers needed a bit of rest so that they can come back fresh for the final."