Moeen Ali fined 25 per cent of match fee for spraying drying agent on bowling hand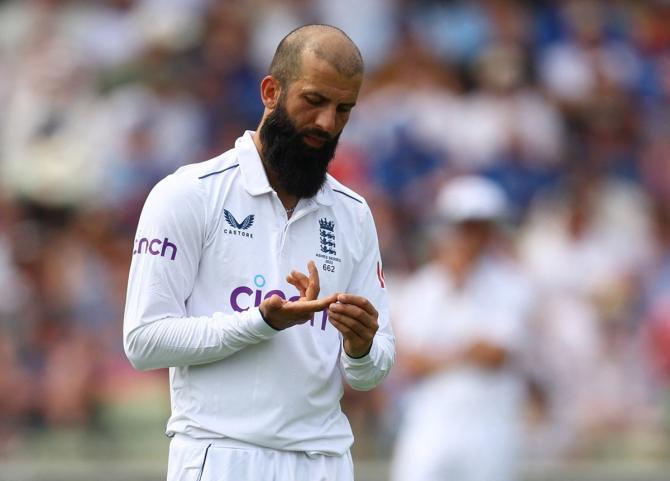 England player Moeen Ali has been fined 25 per cent of his match fee for "spaying a drying agent" on his bowling hand on day two of the opening Ashes Test against Australia.
"Ali was found to have breached Article 2.20 of the ICC Code of Conduct for Players and Player Support Personnel, which relates to displaying conduct that is contrary to the spirit of the game," said the ICC in a statement.
In addition to this, one demerit point has been added to Ali's disciplinary record, for whom it was the first offence in a 24-month period.
The incident occurred in the 89th over of Australia's innings, when Ali sprayed a drying agent on his bowling hand at the boundary line before coming on to bowl the next over, thus defying the umpires' pre-series instructions about not using anything on their hands without prior approval.
Ali admitted the offence and accepted the sanction proposed by Andy Pycroft of the ICC Elite Panel of Match Referees, so there was no need for a formal hearing.
In reaching his decision to sanction the player, the Match Referee was satisfied that Ali had used the spray only to dry his hands.
The spray was not used as an artificial substance on the ball and consequently it had not changed the condition of the ball, which would have been in breach of clause 41.3 of the ICC playing conditions – Unfair Play – The Match Ball – Changing its Condition," the statement added.
On-field umpires Ahsan Raza and Marais Erasmus, third umpire Chris Gaffaney and fourth umpire Mike Burns levelled the charge.
Level 1 breaches carry a minimum penalty of an official reprimand, a maximum penalty of 50 per cent of a player's match fee, and one or two demerit points.