S Sreesanth tells Rediff.com's Harish Kotian why he believes he can play a big role in India's maiden Test series triumph in South Africa.
Shantikumaran Sreesanth's wild dance to celebrate hitting a six off Andre Nel was clearly the highlight of India's last tour of South Africa, in 2006.
The Kerala speedster says the chances of him repeating that spectacle on the tour which begins this week are remote. He wants to let his bowling do the talking this time.
The last couple of years have been tough for Sreesanth with a spate of injuries before he made a successful comeback in the Test series against Australia, followed by a good showing against New Zealand.
Not only has he changed his attitude by curbing his aggression, he is trying to sport a new look by growing his hair. "I want to have the retro look of a fast bowler," he reveals, with a smile.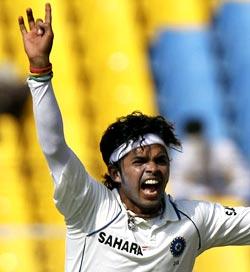 He was India's best bowler on India's last tour of South Africa with a tally of 18 wickets in three Tests, including a match-winning haul of 8/99 at the Wanderers in Johannesburg.
You have wonderful memories of your last tour to South Africa in 2006. That spell of yours (5/40) in the first Test at the Wanderers saw South Africa collapse for 84 and inspired India to their first Test win in Soth Africa.
Do you recall that performance?
Obviously, I do. When you play for your country, you remember all your performances, starting from the Under-19 days. It was very special for me playing in South Africa, especially meeting Allan Donald because he is my all-time favourite bowler along with Dennis Lillee.
I remember that meeting with Donald at the start of the Test. I was struggling with my rhythm so I approached him. He helped me with my bowling. He asked me to focus on something which I did, and it helped me at that point of time.
I remember doing the simple things and it worked for me. I am still doing the same now.
Will you repeat that dance again?
It was not a dance, it was more like taming a horse than dancing. It was more an expression (to Nel) that you are being tamed.
Would you repeat it?
As long as my bowling does the job and I score a few runs and take a few catches and I am humble in my process, I should not worry about all that.
So, no more 'taming'... :-)
I won't. As long as they don't trouble me much, I would not be worrying about that. I am only focussed on making my bowling do the talking rather than me talking.
I don't think I will be speaking much on the tour. I want my performances to speak. I want to focus on things which are very simple.
I don't want to complicate things.
How much has Sreesanth changed since that trip in 2006?
I haven't changed. Everybody talks about this big change in Sreesanth. To be honest, I am not 19 or 20 anymore. I am 27 and soon will turn 28, so that is the only change.
But you have mellowed down?
Yes, because maturity comes in with age and experience. It is my sixth year in international cricket and I am enjoying it.
You have a good record in South Africa. Does that give you confidence ahead of this trip?
I had 16 wickets in 2 Tests. I could manage only two in the last match else that record would have been even better. I would like to better that performance.
God has been extremely kind. I am in good rhythm and I want to continue that. I am looking forward to every match and every net session. More than the match I want to focus on my training sessions.
If I sweat out and train hard in the nets it will help improve me further.
I don't want to live on my past performances and say that I did well then. I want to do well even today.
Coach Gary Kirsten and bowling coach Eric Simons are from South Africa. Will their inputs prove to be a major difference, especially for our fast bowlers?
They have been of great help not only to me, but the entire team. I really appreciate the work Eric Simons has done with me in this series and before. He has really helped me with my technique and my strength. Paddy Upton has been of great help along with coach Kirsten.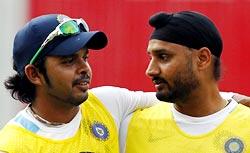 I also want to point out the contribution of Ramesh Mane 'Kaka'. I do the meditation every day with Kaka and our new yoga instructor Manoj Kumar. It is a very professional unit now.
We get the proper training, proper time for recovery and it really helps to give your best shot.
I think when you get the best facilities you don't have to worry about anything. You just thinking of running in hard and giving your best.
Do you think this Indian team can end the Test series jinx in South Africa, where we have won just one Test out of the 12 we have played in 18 years?
I was lucky to be a part of that victory. Hopefully, we will win more matches this time. I don't want to comment on the result because I am doing my job. I am only focusing on the process rather than the result.
As Gary Kirsten always says, 'We should always be humble in our process and we should focus on things that we can control rather than the result.'
There will be good days, there will be bad days, but we can't keep worrying about that.
I have come out of a stress fracture, so I have seen bad days. Everyone goes through bad days, but that does not mean you should stop enjoying the good days.
You should look to give your best shot and not worry about the results because if you work hard, the results will take care of themselves.
Do you believe this Indian team, ranked number one in Tests, can triumph in South Africa?
I believe we can fly.
You bowled a lot of overs during the Test series against New Zealand, and performed well on pitches that were good for batsmen. Would you say you have got your rhythm back and are back to your best bowling form?
I think so. I had a very big injury lay-off for 18 months, then I played against Sri Lanka. Then I went to England to play county cricket which really helped. I interacted a lot with Allan Donald at Warwickshire. That county stint really helped me a lot to improve as a bowler.
But unfortunately, I once again missed out because of swine flu. Then I made a comeback but it was playing only Test matches. Now in this ODI series against New Zealand I made it back to the one-day side. I think I did a good job.
So thank you to the injuries. It has shown me a new way. I am looking forward to playing every game for India.
I don't want to miss even a single game now because I had a long holiday of 18 months, staying away from the Indian team. Now I just want to keep playing as long as I can.
Being a fast bowler and trying to bowl at more 140 kmph every time I am sure there will be more injuries in the future. But I cannot worry about that and look to preserve myself.
I can even slip while walking in my house or hotel so I cannot worry about injuries.
South Africa have a number of top batsmen in its side -- Graeme Smith, A B de Villiers, Hashim Amla and Jacques Kallis -- all in top form. Any particular batsman you would like to target during the series?
It is a very good thing that they are all in top form. It will be a good challenge and I love challenges. If no one is in form, then what is the fun?
I want to target the whole team of eleven players, who are out in the field. I want to run in and give my best for the country. I am not worried about the opposition.
As you embark on the South African tour, is the World Cup also on your mind. A good showing against the Proteas will ensure your World Cup berth.
To be very honest, it is not even at the back of my mind. I am not trying to be diplomatic or politically correct when I say that.
My success today is only because of focusing on the present and not worrying about the future. This thing I learnt in county cricket because when you play in England, you learn to play professional cricket.
So as a professional cricketer, you focus on only giving your best today.
Are you happy that the Kochi IPL team has survived?
It feels great that my hometown team will play in the IPL. I hope they will purchase me in the auction because I would love to play for Kerala.
But my main job right now is to play for India. I will only think of the IPL after the World Cup.
Even if they don't buy me, I am okay with that because I will give my best for whichever team I play for.
For me, playing for India is much bigger and important than playing in the IPL.
You also launched a music band recently. What is the latest on that?
My band S36 is doing a couple of shows in Dubai and other cities. We are making a World Cup theme song and we are working on that now. I am doing the lyrics and also composing the song.
We are working out plans with a couple of music directors and that thing is still going on.
It is a very peppy motivational number and I am sure people all over the country will love it. I am also doing the singing part, I am rapping a few lines.
I am also excited for my brother Dipu's first movie. He will be making his debut in the Malayalam movie Kaanakombathu with Shankar Narayanan and Vinod Krishnan in the lead. I am sure the movie will be a big hit.
ALSO READ: Harish's interview with Harbhajan Singh, pictured above with Sreesanth: 'This is the beginning of a new Harbhajan'