'Tendulkar got out early, we lost a few more wickets and everyone lost hope.'
'As I was walking out to bat after Tendulkar's wicket I could see people leaving the stands.'
'From that situation to win the game, it was something I will cherish forever.'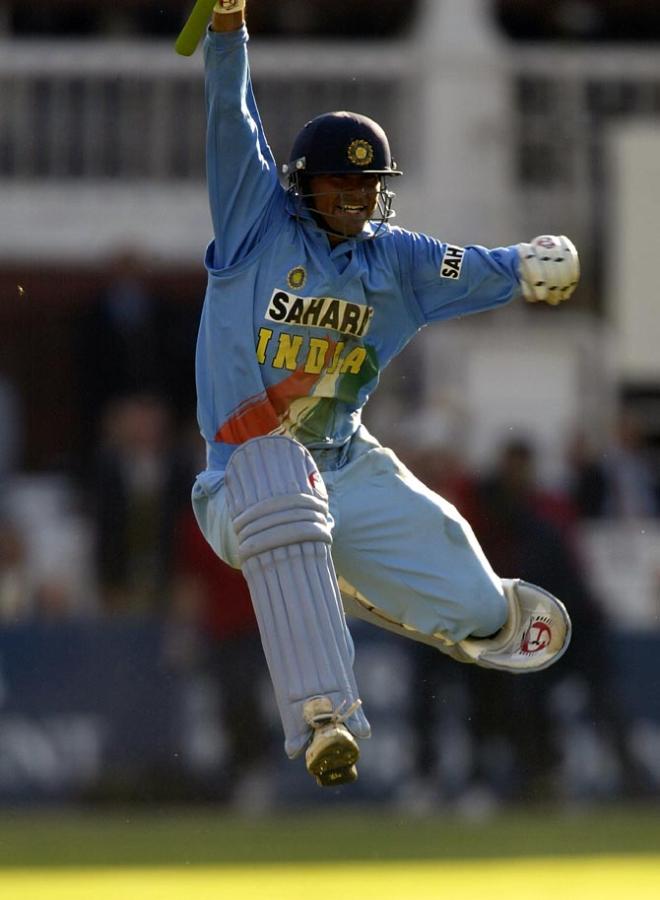 The NatWest series title victory in 2002 was a path-breaking moment in Indian cricket as two youngsters stole victory from the jaws of defeat against England in a thrilling final at Lord's.
A young Mohammad Kaif achieved instant stardom for his match-winning 87 as he and Yuvraj Singh scripted one of Indian cricket's most memorable triumphs.
"That match was one of the turning points for Indian cricket," Kaif tells Rediff.com's Harish Kotian.
You retired 16 years to the day when you scored that match-turning 87 in that Natwest final in 2002. How special is that innings for you?
That was very special for me personally. It was the first final for me after coming into the Indian team.
At that point my place in the team was not secure, Rahul Dravid was keeping wickets for India then and for players like me and Yuvraj Singh, we had to do something special to keep our place in the team.
And it was very special because chasing a target of over 300 is not easy.
India used to struggle back then while chasing targets and till then no team had ever chased over 300 at Lord's.
In that final, Sachin Tendulkar got out early, we lost a few early wickets, and everyone had lost hope.
My family also lost all hope and went out to watch a movie.
As I was walking out to bat after Tendulkar's wicket I could see people leaving the stands.
From that situation to win the game, it was something I will cherish forever.
That match will go down as one of the best matches in Indian cricket history and I am very happy to have been a part of it.
What gave you and Yuvraj the belief that you could win against all odds when everyone had given up?
Our hard work for many years, our passion, our commitment, and our never-say-die attitude worked for us.
Importantly, we knew that if you had to play for India you had to come up with something special.
It was not easy, but we never gave up. We kept fighting.
In those times, there were so many good players around and it was difficult to break into the batting order.
Therefore, you had to make it count when you got the opportunity.
Before that, I think it has rarely happened that No 6 or No 7 batsman had won matches for India.
We had so many legends like Sachin, Sehwag, Ganguly, Dravid and also Yuvraj in that team, but I was determined to make a mark.
I kept telling myself that you will never get a better opportunity to deliver for the country and that is what spurred me on.
Our first plan was to run hard and keep the scoreboard moving with ones and twos.
We had to be mentally strong because there was so much pressure and we had so much to prove.
Yuvraj is a natural strokeplayer. He kept getting boundaries regularly and that allowed me time to settle down.
At the start, I was looking to give him support and build the partnership. Get my eye in and look for the boundaries later on.
We decided we would take the game till the very end and then decide how to approach it in the last 5 to 10 overs.
Knowing Yuvraj well helped because we had been playing together from the junior level and we knew each other's game well which helped us build the partnership.
That match was one of the turning points for Indian cricket as far as limited overs cricket was concerned.
The Indian ODI team went from strength to strength from that point onwards and made it to the World Cup final a year later.
Some times just one match is enough to turn the tide.
For me, it was like breaking free of all shackles, getting rid of all the pressure and announcing myself at the highest level.
We were a great side -- but on paper -- and we had to do something special and prove ourselves.
That match happened to be a game changer for all us.
You can't doubt the abilities of greats like Sachin, Sehwag, Ganguly and Dravid, but before that Lord's final, coming back to win a match like this, chasing a huge total overseas, that had never happened before.
We had the ability, but we were never able to step up a level, but I think from that point onwards we were able to get rid of that.
That victory made us believe that nothing was impossible if we played to our potential.
That match also helped us come together as a team and take Indian cricket forward.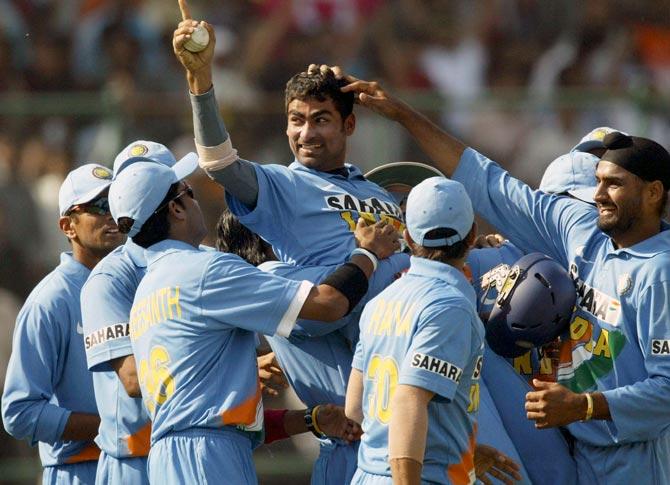 While people talk about that Lord's innings, you also played a crucial innings against Pakistan in the 2003 World Cup.
You came in at a crucial stage, facing a hat-trick ball from Waqar Younis, and put on 102 runs with Sachin Tendulkar to take India to safety.
How memorable was that victory?
An India versus Pakistan match is never easy and it goes up a few levels if it is a World Cup game.
I came out to face the hat-trick ball and was up against the two best fast bowlers of our generation -- Waqar Younis and Wasim Akram.
Sometimes, the supporting role is as important as scoring a century.
My role was to stand my ground and give Sachin the belief that I will be there with him.
Sachin was going for his shots, he was batting aggressively, but if I had lost my wicket, then maybe he would have had to change his approach.
So, my support -- just being there with Sachin at the other end -- proved crucial.
Some times it happens in examinations you know, even the passing marks of 35 proves to be a life saver for a few.
So that innings was like passing marks for me and I was able to pass the test.
And then you were part of the Indian team which beat Pakistan in Pakistan in the ODI series in 2004. How high do you rate that triumph?
I was part of that historic trip. I was in the ODI team and played all the five ODIs.
Those were all high scoring games in excess of 300 and the fans enjoyed it a lot.
For India, it was our first trip of Pakistan after a long time. We were very excited, but also nervous at the same time.
Playing Pakistan in front of their home fans was a challenge, but we had the belief and were able to win the ODI series.
India was playing on a different level after the 2002 Lord's final, the players were much more confident.
Pakistan had some very good players at that point of time so winning the series made it extra special.