There are too many preconceptions about subcontinental conditions, says JACQUES KALLIS. 'Good cricketers, whatever their specialist skill, can succeed.'
The last couple of days have been an interesting reminder that we should all expect the unexpected during this tournament. Or, at least, we should try to be prepared for the unexpected.
Perhaps there are too many preconceptions about subcontinental conditions, even amongst those players who live here and play the majority of their cricket here. One of the oldest truths about this game is that good cricketers, whatever their specialist skill, can succeed no matter what the conditions.
Good fast bowlers will never be ineffective just because the wicket is slow or there is no bounce; Dale Steyn has already proved that for us and the Australian pace trio have done the same in their two matches. Likewise, good spinners will prosper with different skills if the ball isn't turning. And even when there is plenty of turn available, that is no guarantee that they will take wickets.
Team targets are also going to be under constant review. In other parts of the world it is easier to predict what a good or 'par' score might be because there will generally be something to encourage bowlers throughout the match and conditions won't change too significantly.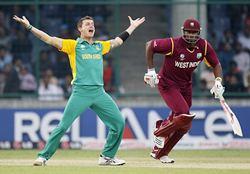 In India specifically, however, there can be nothing in it for the bowlers for the entire 100 overs or, particularly later in the tournament when the pitches are drier, we could see conditions change dramatically in the second half of the match.
With the greatest of respect to England who are a very talented team with excellent batting depth, I don't think too many people thought they would get close to India's 338 on Sunday night. But a tie! What a game. Expect the unexpected a bit more often as the tournament goes along.
A couple of days ago we visited the Taj Mahal, which was every bit as inspiring as we had hoped. In the old days it used to take hours and hours to get there, but now, with the new highway, it was a lot quicker and much less arduous travelling there. The guys who haven't spent much time in India loved the experience. Thank goodness we are able to get and about, even just a little bit.
Like most teams, I expect, we have our fair share of Playstation junkies who don't mind in the least staying in the hotel for a couple of days at a time but that might change a bit as we hit the fourth, fifth and sixth weeks on tour. It is important to keep the mind as fresh as the body and we still have plenty of entertainment options to do that.
We have had a couple of little injury worries in the last two days but nothing serious. Perhaps we'll have to reconsider our preferred warm-up routines of soccer and touch rugby as the tournament nears the knockout stages! 
- HAWKEYE COMMUNICATIONS/CHIVACH SPORTS