South Africa all-rounder JACQUES KALLIS says a packed VCA Stadium will bring out the best in the Proteas when they take on India in the?crunch Group B match on Saturday.
I still remember that experience of the 2003 World Cup with packed stadiums for all of South Africa's matches and an almost overwhelming flood of messages of good luck from thousands of people we had never even met.
South Africans love their sport and they were desperate for us to do well. There really was a feeling of desperation, too, with people almost pleading for us to win the next match and 'make the nation proud'.
There were certain politicians and administrators who went over the top with statements about how we were 'certain' to win the tournament and that it was our 'destiny'. They made the team sound a bit over-confident, to be honest, which we weren't. But it all made our jobs that bit harder.
But whatever extra pressure we felt on home soil was nothing, I'm certain, to what the Indian team is feeling. I know many of them are superstars and are used to the spotlight but, even so, I am reminded of the 'certainty' people had that we would win eight years ago. That same certainty exists now about India -- only a hundred times stronger!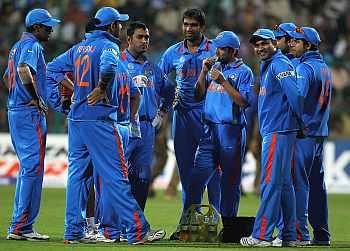 As far as we are concerned, it's another occasion to relish the challenge and enjoy the atmosphere of a packed stadium -- a magnificent stadium, too. Personally I would have been disappointed if we weren't in India's group. The bigger the crowd, the greater the excitement.
The last couple of days have been excellent in training. All the little things which are so important in preparation have clicked into place and we're raring to go. The only upset of the week was the news that Imran Tahir has a small fracture in his left thumb.
It's only his left thumb, though, so he doesn't need it for anything! It's easy for me to joke, but there are serious medical implications. If he gets hit on the same place then it could become much worse.
Imran has made such an exciting impression from the start of the tournament that it's no surprise he is insisting that he can play. He even had a bat in the nets to try and prove his fitness. I have no idea whether he will be passed fit. Perhaps it might be sensible to let the thumb heal - apparently it won't take long - and make sure he is fit for the later stages.
I'm quite sure India will cope with all the 'extra' baggage that comes with playing a World Cup at home. My old friend Gary Kirsten was also involved in the 2003 edition so he'll be able to chat to those players who might feel the pressure. As far as we are concerned, I'm quite sure a packed VCA Stadium will bring out the best in us.
- HAWKEYE COMMUNICATIONS / CHIVACH SPORTS