The Vidarbha Cricket Association, host of the World Cup match between India and South Africa, apologised for the inconvenience caused to cricket fans during ticket sales on Tuesday.
"We are extremely sorry for inconveniences to cricket fans who had turned up in large numbers for the lower denominations tickets," VCA president Sudhir Dabir said in Nagpur.
"We had made adequate arrangements for the smooth ticket sale but the situation went beyond our expectations," he said.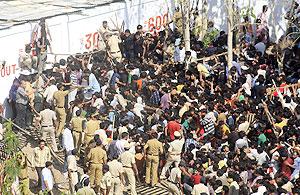 Denying reports of 'cane charge' by police, Dabir said all the arrangements for the ticket sale were made as per guidelines of top police officials.
"Policemen, besides private security company guards and volunteers and bouncers were also deployed," he said, adding that about 15,000 tickets of East and West stand of Rs 300 and Rs 600 denomination were sold out completely.
Earlier, police used force on cricket fans at the old VCA stadium in Civil Lines on Tuesday morning following a melee to grab tickets for the match on March 12.
A large number of enthusiasts had gathered at the site since last night to purchase tickets for the match.
When counters for sale of tickets to the general public opened, there was a mad rush and some fans broke barriers and a compound wall to reach the counters, resulting in a melee, police said.
Photograph: Reuters