Former India captain ANIL KUMBLE says young leg-spinner Piyush Chawla has shown lot of character and there is no harm if Dhoni plays him against South Africa too.
This is the real test for the Indian team. A lot has been said about their performances against the Associated nations, with many of their fans feeling that the five-wicket wins against Ireland and the Netherlands weren't convincing enough. It's time now to get the doubters back on their side, because going forward, India need form, confidence, momentum as well as support with them.
After the tie against England, India had what was generally considered two straightforward matches against two of the lower-ranked teams. While the manner of the victories could have been more emphatic, there is no denying that they got the job done, picked up the four points from those two ties and secured qualification to the quarter-finals.
That, however, is history now. It's time to look ahead, not back, and I firmly believe that Saturday will set the tone for India for the rest of the tournament; it will set the proper course for MS Dhoni and his boys.
A lot has been said in the last few days about Piyush Chawla, and not all of it complimentary. I think Piyush has shown a lot of character through this difficult phase, and there were promising signs against the Netherlands, even though many might say his spell came against a team not totally proficient against spin bowling in general, and wrist spin in particular.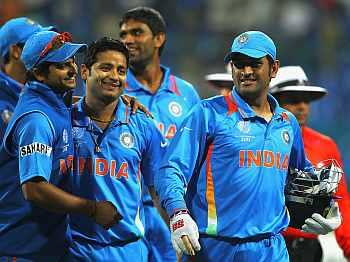 It's good that Dhoni has backed the young man through it all, and it will be interesting to see how the skipper handles the situation now. Having stood by him for the last three matches, there will be no harm at all if Dhoni plays him against South Africa also, because that will send a message out to Piyush that his captain has the confidence that he can deliver the goods even against the stronger teams.
South Africa have all the ingredients to be a world-beating side, but Chennai last week, when they lost from a winning position to England, once again exposed their propensity to succumb under pressure. The South Africans still have to do a lot to erase the tag of 'chokers' that they have attracted over the years.
It's not a nice label to carry and I am sure Graeme Smith and his men will be hurting every time they hear that word, but while they have the talent, they have shown signs of frailties, and they must find a way past those shortcomings to be a consistently feared side.
The performances of Jacques Kallis, perhaps more with the bat than the ball, will be crucial if South Africa entertain visions of their first World Cup victory. Hashim Amla is ranked the number one one-day batsman, he scores rapidly and has had tremendous success against India in the last one year or so. He seems to relish the Indian attack, and scores briskly without resorting to crude methods. His will be a key scalp.
Of course, Dale Steyn and Morne Morkel are a class act with the new ball. They can also use reverse swing to devastating effect. India will have to be wary of this twin threat, even though they possess a fantastic batting line-up.
- HAWKEYE COMMUNICATIONS / CHIVACH SPORTS