England defending 170 against South Africa was, says JACQUES KALLIS, another tremendous and exciting game of cricket!
What a fantastic World Cup so far! India's tie against England, Ireland's amazing win against England and then England defending 170 against South Africa. What entertainment, what drama. Fantastic!
That's not just being 'polite'. That's absolutely genuine. The Ireland game was terrible from the perspective of our personal lives because wives and girlfriends were gradually ignored as the match entered the last hour and a half.
And although we lost to England, it was another tremendous and exciting game of cricket. Obviously, I think, we should have won, and I'm as fed up as I would have been 16 years ago when my international career began, but life has taught me many lessons over the last decade and a half and I'm happy to see the positives from the game.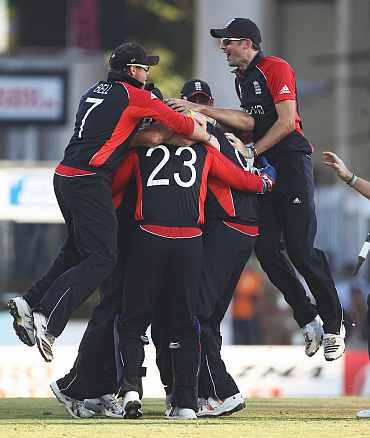 I am playing in my fifth World Cup but 11 of our squad of 15 have never experienced one before. Even really experienced first-class players like Morne van Wyk and Faf du Plessis have no experience of the unique experience of World Cup cricket and they have learned so much, so quickly, from their experience.
Cricketers can have a new experience at the age of 21 and forget it three months later, but Faf and Morne both had chances to win the game (in very difficult circumstances) and, at the age of 27 and 30, they have absorbed everything they learned and will be ready if we encounter similar circumstances again. Or, when we do!
There will be more pitches like that and, as a team, we will be better prepared for them. The senior guys know we should have done the job. We knew exactly what was happening and we knew how we needed to play.
Enough about us. England were desperate to win and their performance reflected that. They deserve great credit -- it's a little boring and disrespectful when people continually talk about our performance whenever South Africa lose a close game. Presumably there is nothing wrong with focussing on how well our conquerors played?
There are many things which I remember from the previous four World Cups I've played in, but chief amongst them is the way really confident teams are able to focus on the next game after a defeat. That is, when there IS another game. No point being wise after a quarter or semi-final loss.
We have three more qualifying games to go. We are batting well and we are bowling well. Thankfully, we are fielding and catching well, too. I cannot see a reason to be worried after losing a wonderful game of cricket to England. It was brilliant entertainment.
HAWKEYE COMMUNICATIONS / CHIVACH SPORTS