Yoga, wellness, meditation, Ayurveda, software and toothpaste -- Sri Sri Ravi Shankar has successfully merged business with spirituality, reports Nikita Puri.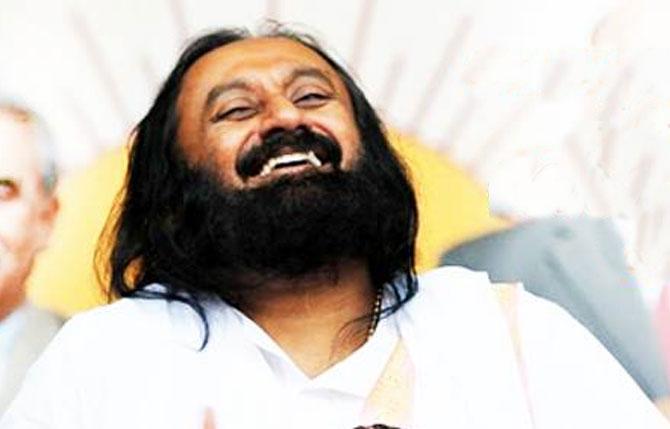 IMAGE: Art of Living now offers courses for those battling diabetes, hypertension, depression, anxiety and asthma. Photograph: Kind courtesy Art of Living
The World Culture Festival, held by the Art of Living Foundation on the expansive Yamuna floodplains in Delhi last month, gave much heartburn to environmentalists and the National Green Tribunal extracted a penalty of Rs 5 crore (Rs 50 million).
But that didn't stop national leaders, including never-on-the-same-page rivals Prime Minister Narendra Modi and Delhi Chief Minister Arvind Kejriwal, from showing up at the event and showering fulsome praise on Art of Living and its founder, Sri Sri Ravi Shankar.
If their presence was acknowledgment of Sri Sri's clout (over 370 million across 155 countries subscribe to his vision of a violence- and stress-free society; Sri Sri has 1.43 million followers on Twitter, though he follows nobody), the scale of the event showcased his organisation's financial firepower.
It is estimated that 3.5 million attended the function to see 37,000 artistes from across the world perform over three days. Top-notch contractors were hired first to put up the mini-city and then to dismantle it. It was a grand show by any standard.
The festival is estimated to have cost Art of Living Rs 25.63 crore (Rs 256.3 million). Entry was free, there were no sponsors; it was all money spent on a cause.
Then, recently, readers in Delhi woke up to a full-page advertisement for Ojasvita, a malt drink from Sri Sri Ayurveda, in The Times of India, easily the most expensive real estate in the country. It was an announcement for Bournvita and Horlicks to watch out.
It takes a confident man to challenge the likes of Mondelez (earlier Cadbury) and GlaxoSmithKline. Analysts have started to talk of Sri Sri Ayurveda as the new disruptor in the market after Baba Ramdev's Patanjali Ayurved.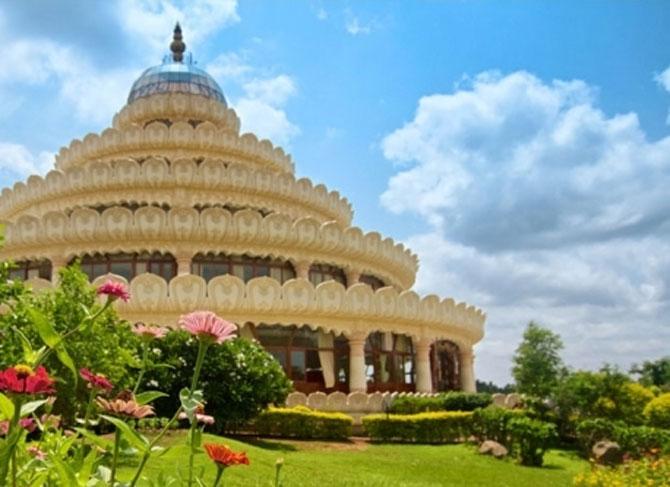 IMAGE: Vishalakshi Mantap, a five-tiered, lotus-shaped edifice named after Sri Sri's mother. Photograph: Kind courtesy Art of Living
Sri Sri's headquarters, the Art of Living International Centre, is located at Udayapura in the hilly terrain outside Bengaluru. The ashram, spread over 65 rocky and verdant acres, is surrounded by a wall, but its gates are open for all.
The security is tight: Private guards keep a sharp eye on visitors. Men in white robes, with long hair and beards, lookalikes of their leader, move around busily.
Near the entrance is an amphitheatre that can seat 20,000 people. Lions sculpted in white marble watch over a lake that has a family of swans swimming in it. Well-tended pathways intersect the campus like abstract lines on a canvas.
A short distance away is Vishalakshi Mantap, a five-tiered, lotus-shaped edifice named after Sri Sri's mother. It has a glass dome, which Art of Living claims at 15 feet and three inches is the tallest kalash in the whole of Asia, and its white marble floor has red cushions placed here and there.
This is where most Art of Living courses take place. It's these courses that keep the ashram running. According to documents filed by Art of Living's American chapter, the foundation earned $5.5 million nine years ago, out of which $3.5 million came from course fees alone.
The number of participants has increased manifold since then, especially with the introduction of programmes suited to contemporary lifestyle: Art of Living now offers courses for those battling diabetes, hypertension, depression, anxiety and asthma.
IMAGE: Prime Minister Narendra Modi greeted by Art of Living founder Sri Sri Ravishankar on the opening day of the three-day long World Culture Festival on the banks of the Yamuna in New Delhi. Photograph: PTI
The Living Well course is organised in batches of 15 to 20 for eight days, and costs upwards of Rs 21,500, depending on accommodation choices. For corporate houses, Art of Living offers to enhance skills at the workplace under its APEX (Achieve Personal Excellence) programme. Reliance Industries, Wipro, JPMorgan and Google are some of the companies that have participated in it.
Lately, the law of perfect competition seems to be catching up with Sri Sri: Swami Sukhabodhananda's Prasanna Trust, Sadhguru Jaggi Vasudev's Isha Foundation and Yogi Ashwini's Dhyana Foundation too now offer wisdom on how to ratchet up the spiritual quotient at the workplace.
Just the way his guru Mahesh Yogi copyrighted Transcendental Meditation, which won him followers from all over (including The Beatles), Sri Sri has patented Sudarshan Kriya, a breathing technique. This is at the core of most of Art of Living courses, including the most-recommended Happiness Programme. Depending upon room-sharing options for a three-day stay, it can cost Rs 3,600 per person.
Options for other courses, such as the silence and various yoga programmes, start from Rs 2,700 if you pick dormitories for your stay in the ashram.
On an average, at least 1,000 people stay in the ashram for weekly programmes, says a teacher in the ashram. Some courses also give you the flexibility to commute daily from the city. Over the years, millions from India and abroad have come to the ashram to attend the various courses on offer; these courses are also offered across the globe at different centres.
Apart from healing troubled souls, Art of Living offers a whole range of FMCG products: Candy, ghee, toothpaste, beverages, tea, hair oil, shampoo, gel, cream, soap and spices.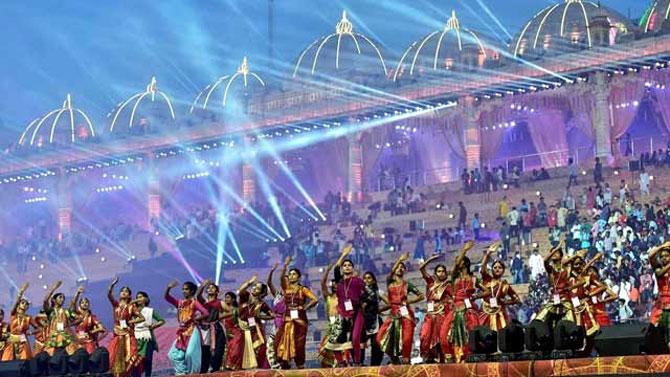 IMAGE: Artists rehearse on the eve of the World Peace Festival in New Delhi. Photograph: PTI
It started when Sri Sri Ayurveda was formed in 2003 to make Ayurveda products. Sri Sri has passionately advocated Ayurveda's health benefits for long. Six years ago, he had claimed that it can cure swine flu: five or six dashes of Shakti Drops, two Immugen tablets, and two tablets of Pranda Gutika, all made inside the ashram, could do the trick when combined with meditation.
Ayurveda got a booster shot when Ramdev's Patanjali burst into the FMCG market, selling everything from biscuits, ghee, toothpaste and choco flakes to namkeen, instant noodles and juices. Indians, who have always valued traditional and natural products, gleefully lapped it all up. The big players could only squirm with unease as Ramdev with yogic dexterity snatched the market away from them.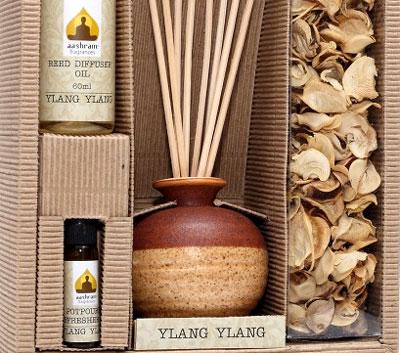 A reed diffuser set. Photograph: Kind courtesy Art of Living via Facebook
Sri Sri was quick to join the bandwagon. "They've stepped up on marketing in the last six months. Whatever they have done in 13 years (since Sri Sri Ayurveda's inception), they want to do four times of that in one year," says Abneesh Roy, author of a new report on Sri Sri Ayurveda by Edelweiss Securities.
Sri Sri Ayurveda's strategy is akin to that of Patanjali. Thus, its choice of products, and their positioning, looks similar to Patanjali's, though its products are priced at a slight premium to Ramdev's brand.
Sri Sri was not available for comment. Art of Living office-holders chose to answer a few questions via email. They claim that the ingredients for Sri Sri Ayurevda's herbal products are sourced from areas 'best suited for cultivating specific herbs.'
Its chief marketing officer, Tej Katpitia, says: 'The brand (Sri Sri Ayurveda) is synonymous with authenticity, efficacy and novelty.'
According to its website, employees 'meditate daily to ensure that products are developed in the most positive and energetic atmosphere ever.'
Is it working? On Amazon, customers have found Sri Sri Ayurveda's sunscreen to be 'non-sticky, with a pleasant fragrance.' On Art of Living's official online portal, Sattvastore.com, customers have praised its chyawanprash for its 'honey-taste.' All reviews indicate the products' appeal lies in their Ayurveda formulation.
Just like Ramdev leveraged the Aastha television channel to good effect, Anandam Active, a Dish TV channel that showcases Sri Sri's teachings, can be effectively used to advertise Sri Sri Ayurveda products, says the Edelweiss report. Available at Rs 59, Anandam Active reaches a large spiritually-inclined audience, even in the remotest part of India, it adds.
The key difference is distribution. Every yoga camp held by Ramdev serves as an outlet for his brands, suggests brand analyst Harish Bijoor. Ramdev's products have been available in small-town groceries for long.
And last year, he tied up with Kishore Biyani, the king of modern retail, to sell his products. This has given him a huge lead, though Biyani has recently expressed his interest to sell Sri Sri Ayurveda products too.
To close the gap, Sri Sri Ayurveda plans to more than quadruple its stores from 600 now to 2,500 by 2017. One such store is located behind Vishalakshi Mantap at the ashram.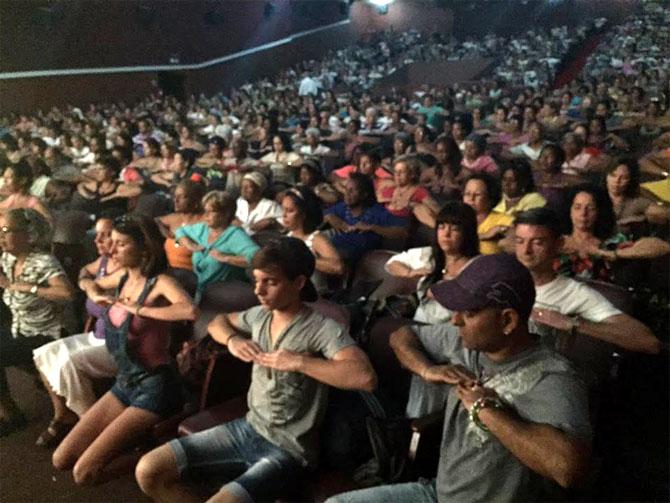 IMAGE: From just yoga courses, the organisation now offers spiritual guidance. Photograph: Kind courtesy Art of Living via Facebook
Young and old Art of Living followers, many of them Portuguese, huff and puff as they negotiate the steps on the hill that lead to this store that is roughly the size of a badminton court. While Sri Sri Ayurveda's offline stores are usually called Divine Stores, this one is called Sattva Store, a name reserved for its shopping portal, Sattvastore.com
As the eye moves across the store, it gives a quick overview of Art of Living's prosperity over 35 years: From just yoga courses, the organisation now offers spiritual guidance via tapes, consumer goods, and Art of Living-themed gift articles. There's also a book of stories from Sri Sri's childhood in comic format from Sri Sri Publications Trust, the publisher and distributor of Art of Living's media content.
Also in the store are clutches, coffee mugs, telephone directories, kurtas and T-shirts that carry slogans about 'fixing the world, peace by peace.' Among incense sticks, floating aromatic candles and organic seeds, there are calendars with Sri Sri's pictures for all 12 months of the year. Key-rings with his picture come for Rs 25; the bigger, framed pictures can cost up to Rs 3,500.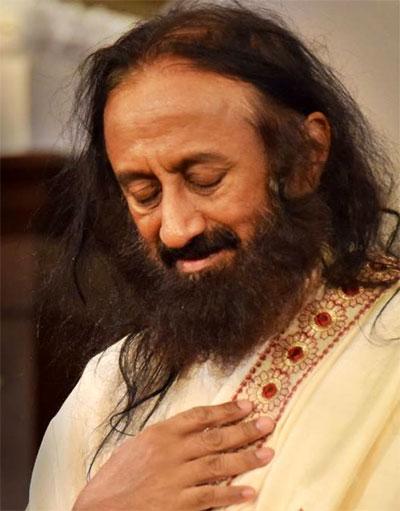 When Sri Sri begins the satsang with a quick round of meditation, all else at the ashram comes to a standstill. Photograph, courtesy: Art of Living
At the ashram, where all conversations begin and end with Jai Guru Dev (or JGD, if you are texting or are on Facebook), there's a mandap for weddings conducted under Art of Living Matrimony services. There's a fee for the service, but you could get a discount if you have taken one of the Art of Living courses on offer.
Annually, 60 to 75 weddings take place at the ashram. "People from several countries including Iran, Pakistan, Brazil, Argentina and America have chosen to marry at the ashram," says an Art of Living office bearer. Alongside weddings, the Vaidic Dharma Sansthan Trust conducts puja at homes.
A majority of Art of Living's FMCG products are made by Sumeru Ayurveda. It is a part of the Sumeru group of companies with N Arvind Varchaswi, Sri Sri's nephew, at the helm. Varchaswi's mother Bhanumati Narsimhan, or Bhanu Didi, as she is popularly called, is Sri Sri's sister.
Harish Ramachandran, the CEO of Sumeru Software Solutions, was once a full-time teacher with Art of Living, and took up the IT business only because he "realised the company's objective was to support Art of Living's service initiatives."
Apart from software, it provides information security and has of late started making apps and service suites for political parties, sales stalwarts and retail stores.
With customers in more than 40 countries, Sumeru Software is responsible for Art of Living's digital presence, Ramachandran says. Sumeru's dedication to Art of Living is visible on its website too; thus, Sumeru Holidays, which offers packages (flights, cabs, hotels) across the globe, even had special packages for the World Culture Festival.
And with an office at the entrance of the ashram, Sumeru Travels offers cab services from the city to the ashram. Sri Sumeru Realty, which started in 2005, seeks to 'improve the quality and economy of Art of Living's construction projects and to translate its values into a tangible lifestyle option.'
In addition, Art of Living runs a spread-out network of educational institutes with free schools as well as regular educational institutes.
It's sundown at the ashram. Residents wave flags of their countries as they wait for Sri Sri. Soon, Sri Sri floats on to the stage, holding two long-stemmed roses. Behind him, Vishalakshi Mantap, lit from inside, lights up the dark sky. And when Sri Sri begins the satsang with a quick round of meditation, all else at the ashram comes to a standstill.