India is the most vulnerable to changes like punitive offhshoring taxes and tighter visa quotas
All engineering products and pharma could be under the gun
IT and pharma indices may see wild swings.
Devangshu Datta highlights the silver lining for the long-term investor.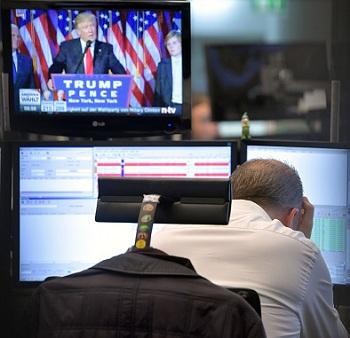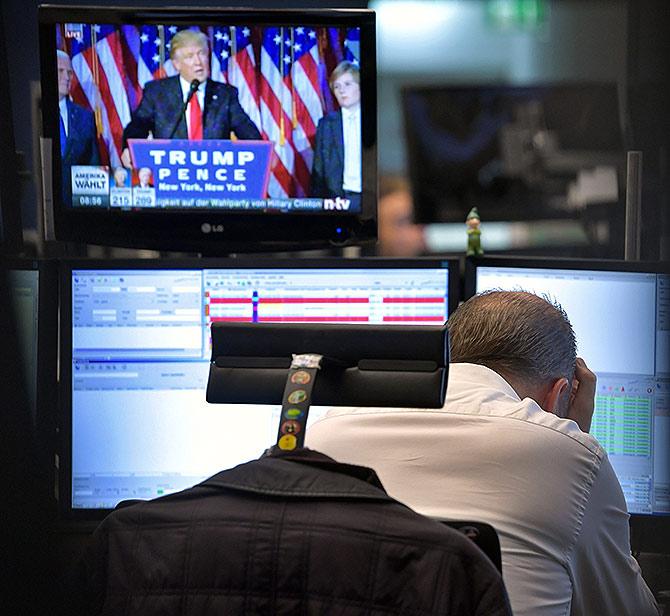 IMAGE: A stock exchange trader after Donald Trump's election. The Trump era will be especially disruptive and not necessarily in a good way. Photograph:

Thomas Lohnes/Getty Images

.

The installation of a new US President is always cause for some tension. The US is the largest economy in the world. It's a major source of global investment and demand, as well as the world's largest centre for innovation. Moreover, it has huge geopolitical influence.
The Donald Trump era is likely to be especially disruptive and not necessarily in a good way.
The campaign messaging was exceptionally protectionist, to the point of racism.
Trump wants to bring manufacturing back to the US. He is obsessed about outsourcing of jobs to Mexico, in particular. Even prior to his inauguration, he has publicly bullied companies with plants in Mexico and threatened to impose taxes on imports as well.
Trump has also said he intends to overhaul the health care sector and threatened to tighten quotas for H1-B visas, which are the life-blood of the information technology (IT) services sector.
The Indian IT and pharmaceuticals industry are both openly apprehensive about the implications of Trump's presidency.
Overall changes to trade policy would affect India's trade in a major way.
India exported a little over $40 billion in merchandise to the US in 2015-2016 and that was about 15.4 per cent of all merchandise exports in FY16.
Between April 2016 and October 2016, India's exports to the US were $24 billion, about 16.2 per cent of total exports in FY17.
Merchandise exports to the US are up slightly, whereas total exports are down this financial year.
The gems & jewellery segment ($8.6 billion in FY16, $6.4 billion in FY17) is the largest contributor and pharma is No 2, with $5 billion exports to the US in FY16 and $3 billion in the first seven months of FY17.
Textiles contributed $4.5 billion in FY 16 to US exports and steel products ($1.2 billion in FY16), automobiles ($1.4 billion in FY16) and electrical equipment ($1.1 billion in FY16) are other large contributors.
All the engineering products and pharma could be under the gun if the Trump administration follows through on campaign stances.
The IT services and BPO industry logged $108 billion in exports in FY16. It also registered $35 billion worth of domestic business. Close to 60 per cent of exports came from the US.
India is the most preferred offshoring destination for American firms. That means India is also the most vulnerable to changes like punitive offhshoring taxes and tighter visa quotas.
In a more general way, the protectionist policy will lead to a stronger dollar and higher inflation.
The American labour market is tight and wages are high. So, more jobs will mean inflation. The Federal Reserve anticipates this and is looking at calibrated hikes of the policy interest rate.
As the yield on US debt increases, so will the currency's strength. We have already seen these trends -- a stronger dollar and higher US yields -- taking hold.
Indian pharma and the IT industry have both seen more cautious guidances.
The valuations of listed companies have also fallen.
The broad Nifty is up by about 4 per cent in the past month and the Nifty is up 15 per cent year-on-year (y-oy).
But the pharma industry index is down by 1 per cent in the past month and by about 7 per cent y-o-y.
The IT index is down 1.5 per cent in the past month and 6.75 per cent in the last year.
The valuation situation is interesting.
The Nifty was trading at a price-earnings multiple (PE) of about 20 a year ago and it is at 22.4 now.
The pharma index has always been very high-value. Pharma traded at a PE of 56.5 a year ago. It is now at 38.8.
The IT Index has seen valuations down from PE 19 in January 2016 to PE 16.25.
Both sectors are now valued at well below respective long-term median valuations.
At what stage do IT and pharma valuations become interesting?
This is a tough question to answer, since much depends on the new administration's policies. We could see wild swings before both indices settle down. The long-term investor should get interested if there are further declines.
There are excellent reasons why these sectors penetrated the US economy so effectively. Those reasons won't go away, whatever Trump does.