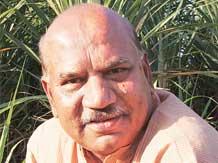 Biksham Gujja contributed to major global initiatives such as the World Commission on Dams, World Water Commission and World Water Forum.

Vikram Akula, the poster boy of India's microfinance sector, is scripting a comeback. And, Biksham Gujja is helping him reclaim his relinquished throne.

Gujja is known for his contributions in the fields of agriculture and water management.

From 1993 to 2010, he worked with the World Wildlife Fund, starting a freshwater programme—an initiative to protect freshwater ecosystems.

As a senior policy advisor, Gujja contributed to major global initiatives such as the World Commission on Dams, the World Water Commission and the World Water Forum. He was also involved in projects related to high-altitude wetlands and lakes in the Himalayas, traditional water management systems and river dolphins.

Many in the microfinance industry say he is a close friend of Akula. The two had worked together in the Deccan Development Society, a non-profit organisation involved in food security, ecological agriculture and alternate education in rural Andhra Pradesh. Akula is also a director in AgSri Agricultural Services, a company founded by Gujja.

"Gujja and Vikram have been friends for many years. I'm not surprised he (Gujja) wants Vikram back in SKS," said the chief executive of a Hyderabad-based microfinance company, requesting anonymity.

Recently, Gujja, in his capacity as chairperson of the trustee of SKS Trusts, had written to SKS Microfinance asking the micro-lender
to reinstate Akula on its board. A few days ago, SKS Trusts had increased its stake in SKS Microfinance to 12.6 per cent, becoming the company's largest shareholder.
"SKS Trusts is the founding promoter and largest shareholder and we would like to help the company achieve its goal of promoting financial inclusion, while also enhancing long-term shareholder value. In line with this, and as an initial step, the trusts have urged the board to induct Vikram Akula, its nominee, immediately. The appointment could be regularised at the ensuing annual general meeting," Gujja's letter to SKS Microfinance said.
Akula, who founded SKS Microfinance as a non-profit organisation in 1997, had to step down as chairperson in 2011; the micro-lender did not offer any explanation over Akula's resignation. It is believed a conflict between Akula and other board members over the running of SKS led to his ouster.
"Vikram started these trusts. He has unique understanding of the microfinance industry and this is reflected in the positive response his nomination to the board has evoked from the markets and diverse stakeholders," Gujja told
Business Standard
, explaining why Akula was nominated to represent SKS Trusts on SKS Microfinance's board.
Industry analysts and senior microfinance executives, however, believe Akula's road to regaining a leadership role may not be easy, despite the backing of Gujja and SKS Trusts.
The company is just recovering from the microfinance crisis and is aiming to return to profitability. The board may not be too keen to make changes in senior leadership positions at this point.