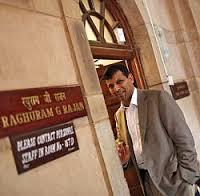 The next announcement from the Reserve Bank of India about its monetary policy will be on September 30.

In spite of Governor Raghuram Rajan's repeated concerns about inflation, many think there may still be a loosening of stance.

For the first time in several years, credit growth fell below 10 per cent recently, as Table 1 shows; deposit growth, meanwhile, is holding firm several percentage points higher.

And, concerns about growth persist. As Table 2 shows, the index of industrial production had earlier shown signs of revival, but has dropped since, in an inverted-U shape over the past few months.

But, as Table 3 shows, headline consumer price index-based inflation is still stubbornly high, nudging 8 per cent.

And even the Index of Industrial Production can be read as optimistic, for Table 2 also shows that basic goods have shown steady growth.

Meanwhile, the wholesale price index showed a steep fall, to a five-year low, as shown in Table 4; manufacturing inflation has been steadily below 4 per cent anyway.

But the WPI's descent may owe much to an equally steep decrease in its food component, as shown in Table 5; no such decrease is visible in the CPI's food component.

The steep fall in crude oil prices seems to have had a moderating influence on wholesale inflation; some might question how long low inflation can be sustained, given that crude oil prices are generally volatile.