'If the RBI blesses us with a banking licence, we would like to launch a successful bank,' Sachin Bansal tells Bibhu Ranjan Mishra.
Illustration: Dominic Xavier/Rediff.com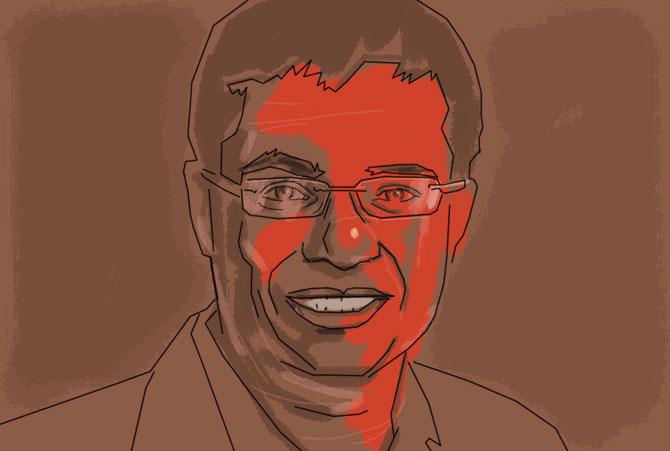 It might just be a coincidence, but both of us reach the venue for our lunch -- the Biergarten Brewery & Kitchen in Koramangala -- at the same time.
Being a Monday afternoon, the restaurant, located in a plush locality in Bengaluru's start-up hub Koramangala, doesn't appear crowded.
As there is no seating arrangement, the ground floor is empty, but for two people -- a security person and one receptionist, who seem to know my guest, Sachin Bansal, quite well.
As we take the elevator to the second floor and from there, a staircase to where we would be seated for lunch, I tell an unusually sprightly Bansal that he must be getting a lot of free time now to spend on himself, and that perhaps is the reason he looks much slimmer than his Flipkart days.
He agrees.
His Flipkart days were really hectic.
Staying up in office until the wee hours was common.
He adds quickly that things might not be very calm for very long: "We are getting into another phase of hyper activity in the next couple of months, but hopefully, I would be able to give the same amount of time to myself then," says India's most well-recognised start-up entrepreneur, as we settle down at a corner table.
From where I am sitting, I can see the floor below, which is teeming with youngsters, a bunch of whom have just arrived with cakes and bouquets in hand, probably to celebrate a special occasion.
After deciding to exit Flipkart in April 2018, Bansal spent the next four months figuring out his next course of action.
He read up a lot, mostly on the economy, various industry sectors and technology, and met a whole lot of people.
One thing he knew for certain was that he was "too young to retire" and that he had to be very careful about how and where to invest the money he had earned from the sale of his stake in Flipkart.
Bansal identified three sectors where people spent most of their money -- health care, education and financial services.
But he was sure he wasn't going to start another e-commerce venture, Bansal says as we pause a bit to order the beverages.
Bansal has already decided what to drink, even without looking at the menu card, and suggests I try that as well -- a glass of hot virgin toddy, a good way to warm up for the discussion.
"I think I was done with e-commerce, and also, today, it requires a lot of capital. The table stakes have gone up. You need to be a Reliance to be able to think about e-commerce," says the 38-year old, who continues to be referred to by the media as 'the poster boy of Indian e-commerce'.
Much has been written about the turn of events that led him to quit the company he co-founded with his IIT-Delhi junior Binny Bansal.
I prod him to go back to those days... why not hear it from the horse's mouth once! "Frankly, I had not thought about it (leaving). It was not planned. I would have loved to continue but circumstances were such that it made sense for me to leave," he says matter-of-factly, after a brief pause.
"But the opportunity for Flipkart is still huge..."
We decide to order the main course quickly because Bansal has to rush for another meeting, just down the road.
I tell him I am a vegetarian a couple of days in the week and this is one of those days.
The health-concerned Bansal makes it clear he loves non-vegetarian food, especially fish and chicken.
He picks a tawa chicken quesadilla, which is basically grilled chicken pieces stuffed inside a tortilla, and a grilled salmon with saffron butter.
I settle for a vegetarian Caesar salad, and a helping of fried rice with Manchurian dumplings.
As he scoops out spoonfuls from his favourite fish and chicken dishes, Bansal says there are many reasons why he picked up financial services as his next area of focus.
First, it is a big space.
This is also a sector where the penetration of technology is minimal and is thus waiting for a big round of disruption.
Financial services, he reasons, is the underlying layer of everything.
It enables e-commerce, payments and vendor financing.
"And also I found whenever technology adoption has happened in financial services, it has transformed several other sectors."
Look at the way UPI has transformed payments.
"A similar transformation can happen in adjoining areas such as lending, insurance, asset management and many others."
The success of PhonePe, a business Flipkart acquired when the payments firm was still in its infancy, is a case in point.
PhonePe, which Bansal was been closely associated with, is the country's first unified payments interface app.
"I saw the growth of the company from scratch."
His IIT-Delhi batchmate Ankit Agarwal, who had by then spent 10 years in the banking space working with Deutsche Bank and Bank of America post an MBA at IIM-Ahmedabad, endorsed his views.
Bansal and Agarwal were not just batchmates, they had also stayed in the same hostel at IIT-Delhi.
They had been in touch all these years, and once they firmed up their plans for BAC Acquisitions after Bansal's exit from Flipkart, Agarwal shifted to Bengaluru in December 2018.
"Shared values are very important for co-founders to go ahead together," says Bansal.
"It is the single biggest thing and the rest can be worked out."
He makes it clear he wouldn't comment on how his relationship with Flipkart co-founder Binny Bansal soured after that great start.
"The concept of shared ownership plays a huge role in success," he says.
Recalling the early days at Flipkart, Bansal says, when they were in discussion for funding, (VC firm) Accel, one of the early investors, wanted to know how much of an ESOP pool would they like to create.
And they were surprised that Flipkart was mulling an ESOP pool of 20 per cent when others in the industry were talking of 5 per cent at best.
"We were conscious of the fact that we weren't successful yet, and that we didn't have a lot of money to give as salary. But since people were taking a lot of risk by joining us, they needed to be compensated."
One of the reasons some early employees of Flipkart earned millions when Walmart acquired the company in 2018.
Bansal will also not invest in start-ups.
The few companies he has invested in, people or the team behind the idea, is the reason for taking a bet, besides the market opportunity.
"I invest in markets and people than exactly which stage a company is at at this time. It can be a late stage one like Ola or an early stage one like Ather."
Bansal says there's nothing called early mover advantage.
A company, he says, might start early but if it stops continuing to be the best, it can lose that advantage quickly.
There were at least 10 other e-commerce companies in India when Flipkart started out.
"Eventually, the winner will be the one who has the best service and the best cost of operations rather than someone who started first, second or tenth," he says.
Bansal realises the banking and financial services sector, which is highly regulated, is fraught with risks.
"Banking is a huge responsibility -- because you are dealing with other people's money. Hence, the regulations are bound to be much more stringent," he says.
He feels Indian regulators -- especially banking regulator the Reserve Bank of India and telecom regulator Telecom Regulatory Authority of India -- have done astoundingly well in their respective fields.
"My interactions with the RBI so far have been very good. They are forward thinking."
Bansal is of the view that India needs many more banks and cites a recent Business Standard article which said that the market share of PSU banks will likely come down to 10 per cent by 2030 from 70 per cent now.
"This means that by 2030, 90 per cent of the banking will be done by private banks, but it can't be done by the existing private ones alone. There will have to be new players."
While an application by Navi Technologies, the holding company owned by Bansal, for a universal banking licence is under the RBI's consideration, he knows that eventually he would like to have a presence in the broader financial services space -- be it microfinance, insurance or mutual funds.
And that would consume a lot of the time he now devotes to his family and to himself -- reading books (he does not like to read e-books), playing video game (he loves to play Fortnite) or doing cardio sessions.
"Our success in the next five years will be determined by our ability to make a mark in the lending space, either microfinance or digital lending. If the RBI blesses us with a banking licence, we would like to launch a successful bank."
"Of course, five years is too short a time for a bank to show what it can do, but by and large if we can have a good start, we will be successful."