Sachin Bansal says he is now going to exclusively invest his time and resources in financial services, in areas like microfinance, mutual fund, insurance, and also end-to-end banking.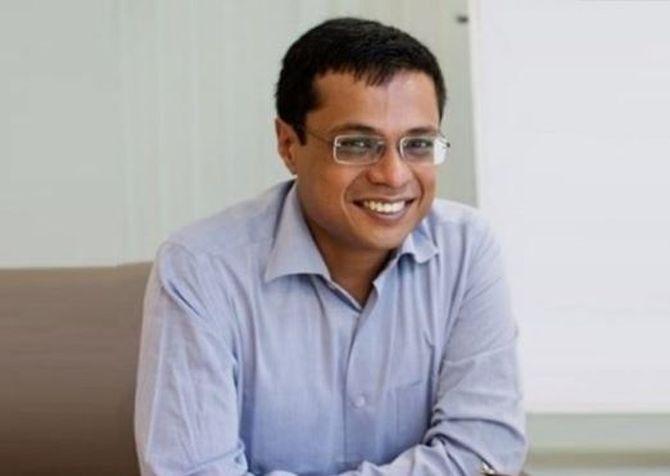 After seeing huge success in e-commerce, Sachin Bansal, co-founder of Flipkart, is determined to put all his bets in the financial services space which, he believes, is craving for digital technologies to boost efficiency.
The poster boy of Indian e-commerce says that while he did a few investments in start-ups such as Ola and Ather Energy, now he is going to exclusively invest his time and resources in financial services, in areas like microfinance, mutual fund, insurance, and also end-to-end banking.
"Now I am going to completely focus on financial services. Along with IFC (International Finance Corporation), I am also going to be putting most of (the capital) whatever I have in it," Bansal told Business Standard in an interview.
Earlier this month, IFC, the investment arm of the World Bank, announced investing around $30 million in Navi Technologies.
Navi, which also functions as a holding company owned by Bansal, is driving all his investments in financial services. It has also applied for a universal banking licence, which is waiting for approval from the Reserve Bank of India (RBI).
Speaking of his plans for the financial services entity for the first time, Bansal said, "It will be a lot more digital than traditional banks. Smartphone experience will be at the centre of banking … We are creating a financial services ecosystem of lending, mutual funds, insurance and overtime life insurance and banking."
Ahead of its planned banking play, Navi Technologies has inducted Nachiket Mor, a former RBI board member and country head at the Bill & Melinda Gates Foundation, into its board.
Besides, the company has roped in former HDFC Bank deputy managing director Paresh Sukthankar as advisor. Four months after exiting Flipkart in May 2018, Bansal had set up BAC Acquisitions, later renamed Navi Technologies, to invest in and support start-ups. Over the years he studied investment areas and zeroed in on financial services.
This process culminated in him acquiring around 90 per cent in Bangalore-headquartered Chaitanya India Fin Credit, a microfinance firm, in September last year.
Chaitanya operates as a subsidiary of Navi, which has also struck deals to buy Essel Mutual Funds (Securities and Exchange Board of India approval awaited) from Zee Group, and DHFL General Insurance (from Wadhawan Global Capital) while it has recently acqui-hired tech-consulting business MavenHive to beef up engineering.
Navi, while being a holding firm, is also a technology-cum-operating company, and is helping create a digital product suite on top of Chaitanya's micro-finance portfolio.
The app will also help Chaitanya digitise its operations and reduce operating costs. Some of its applications may look at empowering field agents with smartphones or even bringing down cash usage among customers using digital payments on the app. The app may also serve as a point to collect customer data for credit profiles.
"We bring some technology thinking and scale it faster," said Bansal, without divulging the timeline of the roll-out of the app, or other products.
In the next phase, Bansal says Chaitanya, which was predominantly present in Karnataka and Maharashtra with around 176 branches and 400,000 customers, all of whom are women, is expanding into Bihar, Chhattisgarh, and Uttar Pradesh. "They (Chaitanya) had a lot of capital constraints earlier, which is something we solved for them. Now, they are now going to expand faster, and we want to take it national over time."
Bansal says Chaitanya will tap external funding for its capital requirements, but only through debt, while he will continue to completely own the microfinance firm.
"I am not doing it for the next five or 10 years. I am thinking about the next 15 or 20 years. So we have a long horizon and want to keep the maximum flexibility with us to drive the goals and objectives," Bansal added.