The traditional art of making herbal ittar(fragrance) is gradually getting replaced with chemical-based, not so labour-intensive perfume industry, finds out Shaheen Mansuri/Rediff.com.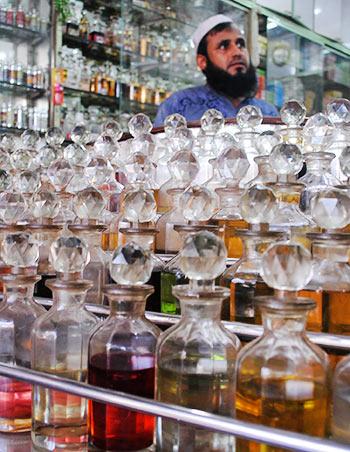 Image: Mukarram Ansari who owns an ittar shop at Bhendi Bazaar sells around 500 types of fragrances. Photograph: Reuben NV/Rediff.com
Amid the hustle and bustle of Bhendi Bazaar, you can never miss an old-fashioned charm that still prevails here - a busy south Mumbai junction. You also can't miss the traditional businesses that are run by the third or perhaps the fourth generations today.
Be it the masala, plastic or cloth market, all have been flourishing in the vicinity for not less than 5 decades or may be even more.
One such business is that of ittar (fragrance) which has certainly evolved with times, say the ittarwalas (perfumers).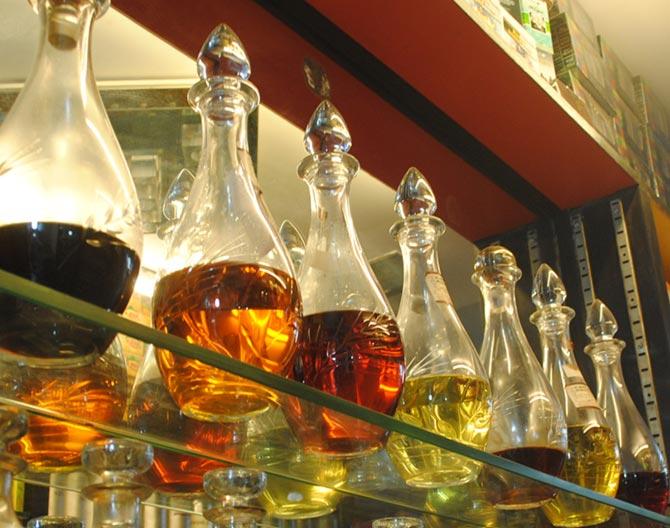 Image: Ittar is a type of natural perfume extracted from flowers, herbs, spices and barks. Photograph: Reuben NV/Rediff.com
A few shopkeepers with whom Rediff.com spoke to, shared amazing information about this unique business which they have inherited from their ancestors - one of the oldest businesses which has thankfully not died down.
Apart from Bhendi Bazaar, wholesale shops are also at Dawa Bazaar near Princess Street, Chakala and Ittar Galli, all in the vicinity.
But the most prominent and the oldest ittar market is situated at Bhendi Bazaar.
These together do business of around Rs 8,000 crore or Rs 80 billion(40 per cent domestic and 60 per cent exports, mostly to the Gulf region) according to rough estimates provided by the dealers association.
Mukarram Ansari from France & Co tells Rediff.com, "Ours is a 40 year old shop and we have a 50-staff strong distillery in Kannauj, Uttar Pradesh where different kinds of ittars are made and then brought to the city for retail sales." Kannauj was and is still the ittar capital of India, he tom-toms.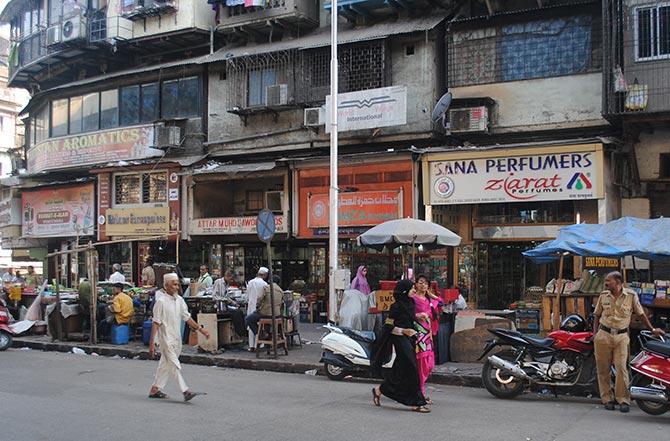 Image: A busy street at Bhendi Bazaar that houses the oldest ittar market in Mumbai. Image: Reuben NV/Rediff.com
Mukarram further says, when his grandfather Badru Zaman Ansari was alive things were different. Desi ittar was the flavour throughout.
But since the past 15-20 years customer preferences gradually started changing and most are are now keen on foreign brands like Burberry, Azzaro Loris, Escada and Lomani.
Not to be left behind by competition, ittarwalas also started experimenting with chemicals which are imported from France.
Mukarram rues that during his grandfather's time, ittar was chemical free, but today chemical is the most important ingredient in the entire process of making the fragrance.
In ancient times, dabbing ittar was a luxury that was enjoyed by the royal family of Kannauj alone, today the art of ittar making has become a mainstay in the region.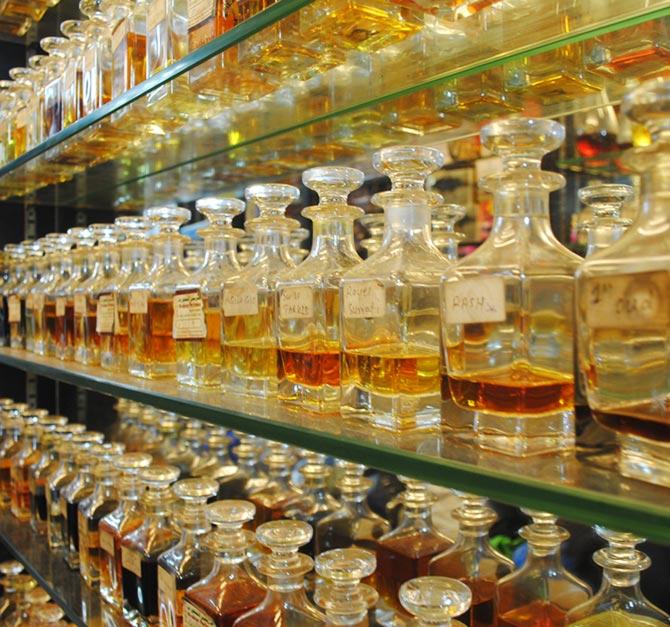 Images: In olden days ittar was made from herbal extracts which is gradually getting replaced with chemical-based perfumes. Photograph: Reuben NV/Rediff.com
Prepared with the essence extracted from Aquilaria (Agar) tree, Oudh ittar was the most exotic fragrance.
Considered as one of the most expensive perfumes in the world, Oudh costs anything between Rs 1,000 and Rs 20,000 for a 10 gm bottle.
Agarwood chips available is Assam cost anything between Rs 40,000 and Rs 50,000 (for every 100 gm) out of which only a tiny amount of Oudh fragrance can be extracted.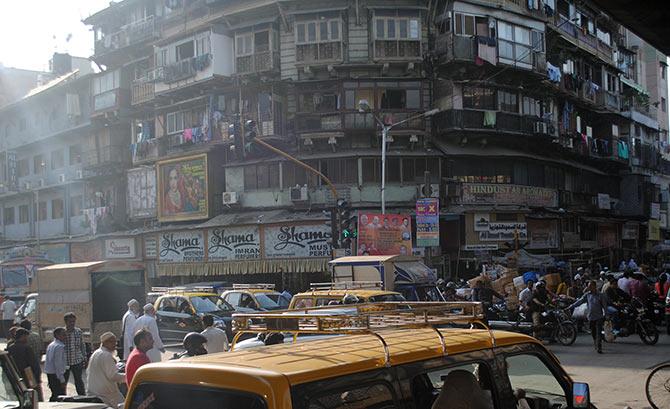 Image: String of perfume shops across the Bhendi Bazar junction do brisk business throughout the year. Photograph: Reuben NV/Rediff.com
Beside Oudh, few other traditional ittars are available in both the domestic and overseas markets.
Shamama, Khush, Mogra, Genda, Zafran, Rose and Janat-ul- Firdaus all have a rich heritage and are of premium quality, though they cost around 40 per cent less than Oudh.
These are also made from the extract of botanical ingredients sourced from different parts of the country.
As I come out of France & Co, I met an elderly gentleman dressed in kurta-pyjama and a skull cap.
Sitting on a plastic chair adjacent to his stall lined with small bottles of ittars and mehendi, he was attending a customer.
Image: France &Co is one of the oldest ittar shops in Mumbai. Photograph: Reuben NV/Rediff.com
Though he looked little stern, was very approachable and gave me an interesting low down on how ittar actually came into existence.
"Aajkal milavat ka zamana hai. Pehle waali baat kaha," (Today it is rare to get original stuff, most fragrances sold in the markets are chemical based) he says.
Bade Miyan as people on the street fondly call him is disgruntled with the choices people make while buying ittar these days.
There are around 500 varieties of ittar available in the market today varying from Hugo Boss, Charlie, Calvin Klein, Cigar, El Paso and Red Door -- yes you have read it correctly, these foreign brands also have ittar avatars, which are actually copies of the original perfumes.
These 'copies', 10-gm bottles of which cost around Rs 100-120, sell like hot cakes and are made from aromatic chemicals, essentials and natural oil.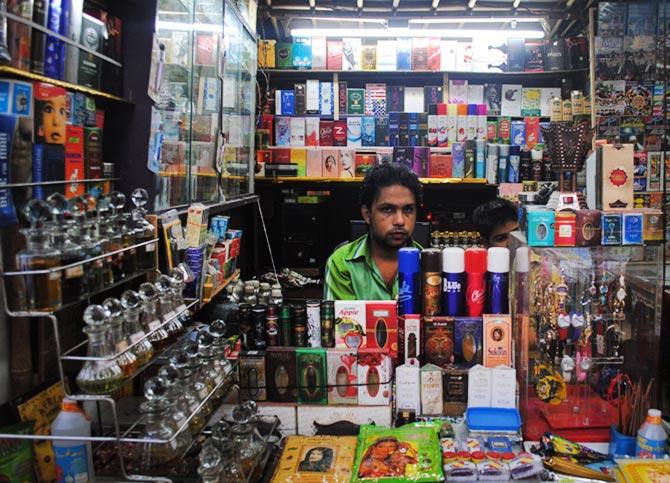 Image: A 10 gm bottle of chemical-based ittar costs anything between Rs 100-120. Photograph: Reuben NV/Rediff.com
In spite of stiff competition there is a market for both pure fragrance and the ones that are chemical-based. Unfortunately, clientele for pure fragrrance is shrinking by the day.
Bade Miyan is a dejected man today. Fifteen years back, he said, there were close to 600 distillaries in Kannauj.
Today the number has shrunk to a mere 150-200.
"Due to the flourishing business of chemical-based perfumes, the demand for herbal or desi ittar is dying down and hence even distillaries are gradually shutting down," he laments.
Also, the high cost of production and increasing popularity of chemical alternatives which are cheaper and not at all labour intensive are killing the industry.
Bade Miyan is least interested in what sells today but is very enthused about sharing the rich history behind the very existence of ittars.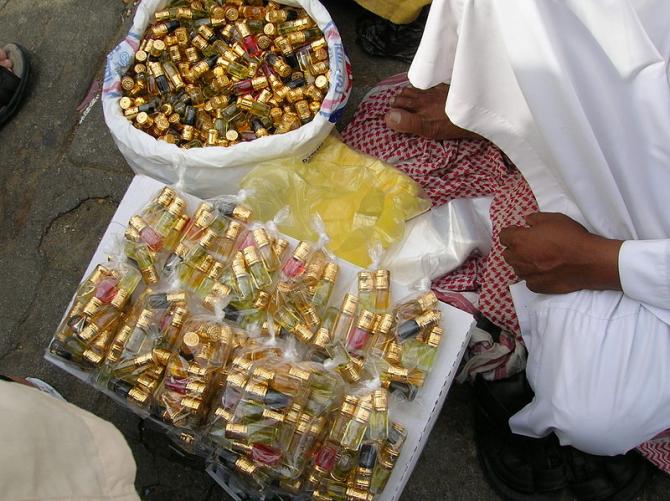 We still don't know whether the art of making fragrances is as old as civilisation or it became prominent in the mughal era ," he says.
He tries to explain the process by which various types of fragrances are extracted.
"The aroma bearing substances like sandal, saffron, Kewra and rose are put in a deg ( copper utensil) along with water and is processed via the bhapka (steam) system.
After heating it for around ten hours, the desired quantity of vapours are condensed through a pipe in a separate vessel.
After a while, water is separated from the extract which is filled in bottles, and the famous ittar is born.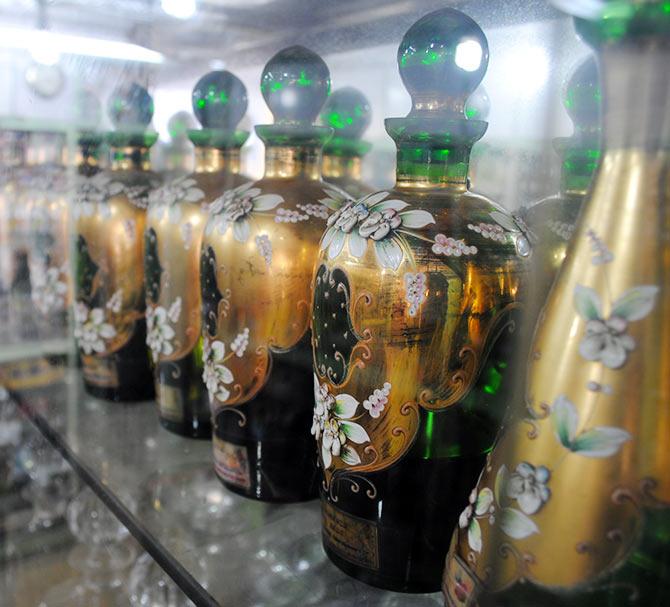 Image: Ancient herbal-based ittars still have a demand in the Gulf region. Photograph: Reuben NV/Rediff.com
Another shop in the same lane called Sana Perfumes has a slightly modern look.
22 year old Anwar Azam Khan is not so easy to talk to but does not mind giving few details about his business.
He has a few customers in his shop as it is the peak hour. Anwar says, traditional ittars are still in flavour and has a global market, though not so big.
He is not bothered about the dying culture of traditional ittars, as he believes in moving with the times.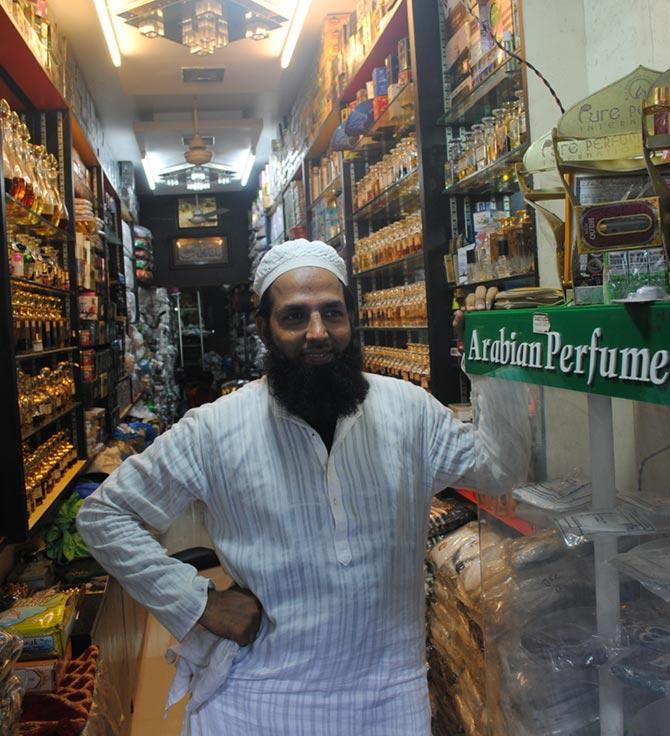 Image: Mohd Sarfaraz owner of Arabian Perfumes says, he constantly innovates to keep pace with the demands of the modern day customer. Photograph: Reuben NV/Rediff.com
Anwar says, he bought this shop seven years ago from someone who was also selling ittars since two generations.
"There is a challenge to constantly innovate as per demand," says Anwar who believes its okay to produce chemical based fragrances which are in demand these days.
These perfumers don't mind sharing minutest of details about their business but are somehow tight-lipped about their sales, which, according to rough estimates, is around at least Rs 25,000 each day per shop.
Mohammed Sarfaraz, owner of Arabian Perfumes said ittars have permanent shelf life and the ones made from original herb extracts smell better as they get old.
Also natural perfume is understood to attract angels and to ward off evil spirits, he adds.
The art of blending perfumes is perfected with each generation, he pointed out.
They certainly boast of a nose for fragrances!