'Research shows that customers want their loans instantly.'
'So the team asked can we reduce the time for approval from 5 days to 30 seconds?'
'It took the company two years of hard work to tear apart our operations and processes and rebuild them through fresh ideas and by leveraging technology.'
'We reduced the time of loan approval to 3 hours and another year to get it down to 30 seconds,' Sanjiv Bajaj tells Surajeet Das Gupta.
Illustration: Dominic Xavier/Rediff.com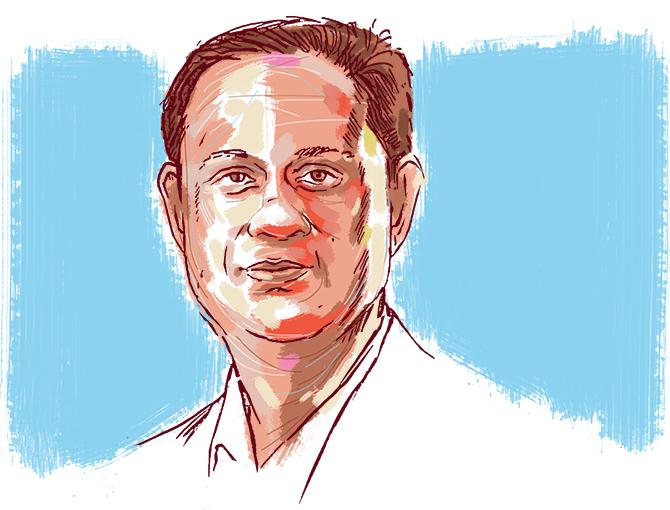 Nearly a decade ago, Sanjiv Bajaj met us for lunch in a spruced up dining room in the Bajaj group headquarters in Akurdi, Pune.
The compound is picturesque -- lined with trees and with a waterfall right next to the entrance that opens into a spacious lobby.
He had just taken on the responsibility of running the group's financial services business, but the business was puny compared to the flagship Bajaj Auto led by his elder brother Rajiv, which churned out most of the profits for the group.
Back then, Sanjiv had predicted that in the next five years, the financial services business would be equally profitable.
The unit's performance has exceeded that expectation and has also become the darling of the bourses.
His companies -- Bajaj Finserv and Bajaj Finance, which had a bull run in the market -- helped catapult the group to the third spot in market capitalisation among family groups in India, leaving the Aditya Birla Group well behind.
This time around, our meeting is scheduled to be held at Viman Nagar, the upmarket commercial centre of Pune, which is the headquarters of Bajaj Finance and some other financial services companies.
His brother Rajiv and father, the legendary Rahul Bajaj, continue to operate from what was once a factory in Akurdi that made rickety scooters.
Sanjiv maintains an elegant but simple dining room, adjacent to his spartan office on the fourth floor where we gather for lunch.
In contrast to the tranquility of Akurdi, this office is bustling with young executives and a sense of energy.
I am told there will be no experimentation on the culinary side -- it will be a home-made pure vegetarian meal -- unlike the last time when the chef added an egg curry to the spread to satisfy my craving for non-vegetarian food.
Sanjiv, who had gone out for his mandatory health checkup, joins us and as we settle down I ask him what is that magic mantra that made him the top player among India's consumer finance companies in less than a decade.
He says it is all about thinking out of the box or what he calls "disruptive innovation" where the focus is not on charging low interest rates but giving value with ease to the consumer.
The second important driver is ensuring that the team learns to experiment and fail early, thereby encouraging them to push the boundaries of what is acceptable.
"You can't be disruptive if you push people with quarterly targets and reward them to play safe," he says.
That sounds completely out of sync with the management style of many family-run groups in India, I say.
He pauses before offering an explanation.
"Research shows that customers want their loans instantly. So the team asked can we reduce the time for approval from five days to 30 seconds? It took the company two years of hard work to tear apart our operations and processes and rebuild them through fresh ideas and by leveraging technology," he says.
"We reduced the time of loan approval to three hours and another year to get it down to 30 seconds. If these guys had the mindset that called for for incremental change, they would never have achieved this."
I am famished after the long drive from Mumbai and heave a sigh of relief when the hot pumpkin soup arrives.
I change tack and probe him about his relationship with his father, who he is extremely close with.
Sanjiv stays with his father in Akurdi while Rajiv has moved on.
Also unlike him, his elder brother has had many public disagreements with their father.
For instance, while Rahul wanted to push Bajaj Auto to re-enter the scooter segment and take on Honda, his son stuck to mobikes.
Sanjiv says he has learnt three things from his father:
Run your business with integrity, be passionate about what you want to do and work hard.
Also, his parents taught by example.
Sanjiv and his siblings went to the same neighbourhood school in which mid-level Bajaj employees sent their kids and grew up eating, playing and studying with them.
They even travelled in the same school bus.
This simplicity is reflected in many of his choices.
For instance, Sanjiv says Goa -- and not some exotic foreign country -- is his favourite holiday destination.
Why?
Simple: Goa is easy to reach from Pune, there are great places to stay and eat and has many beaches where you can chill out and be creative with things like, say, photography.
Sanjiv enjoys photography and gets the chance to hone his skills while travelling.
"I love the capabilities of a nice DSLR though I've recently bought a compact Leica for the convenience it offers and am looking forward to my next vacation."
There is one thing that has not changed over the last decade -- his idea of work-life balance.
His mantra is simple:
Go to work early and don't get home too late, though he says the Pune traffic is becoming a dampener.
Evenings are family time -- reading, having dinner with his father and watching TV.
Weekends are also about family and what he likes the most is jumping into the swimming pool with Buddy, his golden retriever, in tow.
That is perhaps also why Sanjiv does not have a hero; he says that his "gurus" are all in his workplace and amongst his colleagues.
"We learn from each other every day by challenging the status quo," he says.
The food arrives -- there is daal and cauliflower sabzi and hot rotis on the side.
As we dig in, Sanjiv talks about one book which has had a big impact on his life: Mindset: The New Psychology of Success by Carol S Dweck.
The author is a child psychologist and she has written about how individuals and organisations can inculcate the right mindset to facilitate innovation and growth.
The food is simple but tasty; I ask for some more rice.
So what has been his contribution to the consumer finance business?
With evident pride Sanjiv says his is perhaps the only instant loan card in the world with as many as 11 million users -- a third of the total credit card population in the country.
"We are empowering tens of millions of Indians who otherwise won't get a credit card by offering an instant loan card," he points out.
To be able to do that his company used proprietary technology and enabled over 60,000 retail and related outlets to support it.
"We have 30 million customers who take loans from us and we know their credit risk. What we are doing now is offering them a pre-approved loan card so that they can buy phones, grocery, clothes and even get finance for surgery etc... instantly."
Our lunch is more or less over, and Sanjiv asks if I want some sweets.
I decline.
Does he see new technology players like Paytm and Amazon who are getting into the consumer finance space as competition?
Sanjiv says his company has a customer base of over 100 million people (including insurance) which is as big as some of the large online marketplaces.
Second, he says, "We understand the financial requirement of our customer and his credit risk much better than Amazon or Paytm because we have years of capability and experience in this area."
Also, selling a television set or an item of clothing is a one-time transaction, while giving a loan or an insurance policy is a long-term engagement.
It is time to say goodbye as Sanjiv is called for his next engagement.
His parting shot could be a good advertising slogan for his business:
"If you want a coffee and snacks you go to a coffee shop; if you want sea food, you go to Trishna in Mumbai and Royal China for Chinese. If you want to buy garments or TV or grocery, you go to an e-commerce site but if you want to buy financial products, you come to us."