'We have great demographics, and are the fastest growing large economy. And we save.'
'All of which is great for financial services,' Aditya Birla Capital CEO Ajay Srinivasan tells Niraj Bhatt.
Illustration: Domninic Xavier/Rediff.com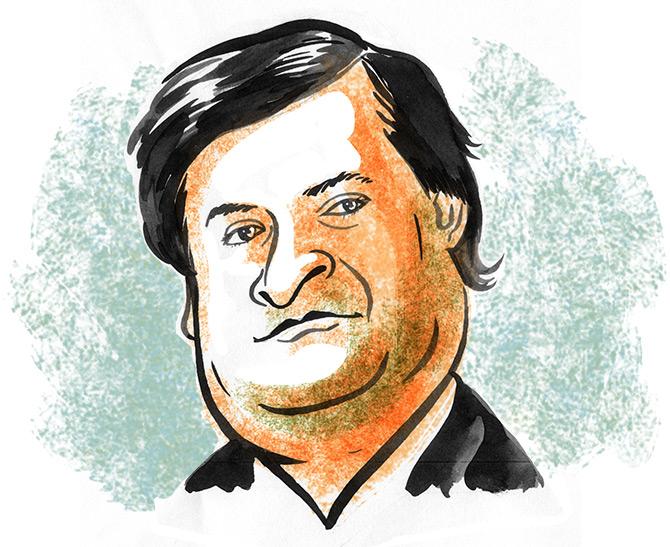 Ajay Srinivasan has started new businesses, entered new countries or grown businesses in India or Asia in his two-decade career as CEO.
But one thing Srinivasan hadn't done so far is deal directly with regulators and investors as the CEO of a listed company, which will soon change as Aditya Birla Group's financial services arm gets listed in the next few weeks.
Aditya Birla Nuvo's subsidiary, Aditya Birla Financial Services, was recently renamed Aditya Birla Capital, and will be separated from the new company that is formed with the merger of Grasim and Aditya Birla Nuvo.
Srinivasan is excited about the next phase of growth for his company and his future when we meet for lunch at By The Mekong, the Chinese restaurant at the St Regis Hotel in central Mumbai.
Srinivasan returned to India in 2007 to head the Aditya Birla Group's fledgling financial services business after a six-year-plus stint at UK's Prudential where he had set up a pan-Asia asset management company.
Aditya Birla had five businesses of modest size when he became CEO; today, it has 12.
"We are among the top five in life insurance, asset management, non-banking financial services, general insurance broking, and our MyUniverse Web site is the number one personal finance portal," says Srinivasan.
Our fresh lime and soda arrives and we order potatoes with shitake mushrooms, crystal vegetable dumplings and som tam salad.
A vegetarian, Srinivasan is an expert on vegetarian food across Asia. Hong Kong is not a difficult place for vegetarians, but Korea and Taiwan are, he says.
After about three years as CEO at ICICI Prudential Mutual Fund, Srinivasan moved to Hong Kong to set up insurer Prudential's asset management business across Asia.
Even as a late entrant, Srinivasan built a $10 billion business across 10 countries in Asia through both organic and inorganic routes.
"When I left we were the second largest retail fund manager in the region," he says.
"I am excited about building something out of nothing and then bringing it to scale. To my mind, it is not only a challenge, but also a great thrill if you can do it," he says.
After passing out of the Indian Institute of Management-Ahmedabad, in 1987, Srinivasan joined ICICI and moved to the ITC Group's financial services division in 1991, where he established several businesses.
In 1995, he moved to the group's mutual fund start-up ITC Threadneedle as deputy CEO.
In 1998, he was appointed CEO of ICICI Prudential, which was ranked 14th. His mandate was to make it the largest private sector asset management company after market leader UTI.
"We got there in a year-and-a-half," says Srinivasan. That is when Prudential asked him to move to Hong Kong.
After running the asset management business for Prudential, he was looking for a more challenging role.
"In 2007 I decided I would come back to India and build a financial conglomerate. The Aditya Birla Group was the perfect place to create such a business as it was a great brand and a great platform. So it was easy to kind of start and build from there."
"That's how this whole journey started," he says.
At Aditya Birla Group, Srinivasan is differentiating his customer base from that of conventional banks and financial services firms.
He is targeting the SME sector in a big way, where the group provides loans, loans against property, general insurance and even wealth management services to the entrepreneur.
In home loans, banks dominate the salaried employees segment, but Srinivasan is targeting the self-employed.
"The opportunity is much larger compared to the salaried segment, which is highly competitive, while this market is under-penetrated."
He has also started the affordable housing business targeting first-time homebuyers.
"We see that as a big growth engine for the business," he says.
The group has also launched its health insurance business since November 2016 and that space is also under-penetrated, says Srinivasan.
He is targeting two extreme segments. One, people, 45 and above, who typically have a pre-existing condition such as diabetes, hypertension, cholesterol etc, and most insurance companies don't cover them.
This is about 40 to 45 per cent of the population that doesn't get covered today because health insurance doesn't cover them.
And then there are the healthy young who don't see value because they will not make a claim.
"Our model tries to cater to these two values, and obviously we cater to the middle, too," says Srinivasan.
"So from day one we will cover someone with a pre-existing disease, and we cover five pre-existing conditions," he adds.
The joint venture partner, MMI Holdings, a South African company, has the intellectual property to address both categories.
It allows you to manage your condition over a period of time using technology like wearables and being connected to gyms, and if the insurer manages the condition, costs come down.
For the healthy person, Srinivasan has a new concept called 'health return'.
If you buy the policy and you continue to remain healthy, up to 30 per cent of your premium is returned to you over and above the no-claim bonus.
Our main course of fried rice and stir fried vegetables is served. His favourite cuisine is Indian -- he loves his dal-roti -- with Chinese coming after Italian.
I ask him how he chose management. "I chose economics over science, but after that a lot of things have been kind of accidental," he says.
His first two choices were to teach economics or join the civil services, but he got through IIM-Ahmedabad.
"I guess I started out in financial services and never moved out of that. A lot of these things happened, I had never thought of them," he says.
He is one of the most experienced people in India's mutual fund industry.
"I have seen the industry from 1993 to now and the change has been phenomenal. I think the acceptance of mutual funds has clearly become much bigger than it has ever been before and the most noteworthy thing for me, though, is the systematic investment plan, which has now become an integral part of the industry."
The other pieces that he is excited about are digital and data analytics. The Aditya Birla Group has an end-to-end digital lending platform and its personal finance portal, which allows users to aggregate their financial information in one place, has 3.5 million users.
With the aggregated data, it is able to provide advice to users on mutual funds. "It then becomes a multi-product platform providing aggregation, advice and transaction," he says.
The company is using data analytics to answer questions like what kind of life insurance agent is likely to be more successful, which parts of the country are most susceptible to fraud, what kind of customer should it avoid etc.
Talent management is another area where Srinivasan is investing time.
"To be able to build a business of this scale and to get scalability in all our businesses we need a talent pool, which is able to grow both functionally as well as in leadership roles. We have a talent council, which I chair, and everybody over a certain level gets reviewed," he says.
These future leaders are trained to step into bigger roles across the group.
Srinivasan is into sports and plays the CEOs cricket tournament every year. He also plays golf and swims and works out regularly.
However, he laments the difficulty in putting together cricket teams for intra-office tournaments as the younger generation is not into playing sports.
We skip dessert, and he says he would like to write a book some day and has many ideas.
One of them is on the mutual fund industry, which he has seen for 25 years, and the other is leadership as he has been "a CEO of CEOs" for a major part of his career.
How does he coach his CEOs?
"It is very different as you have to work through two levels. If you are a CEO you still have some ability to direct things yourself. When you are working through a CEO you are one step away, and it requires a very different set of skills," he adds.
He gives regular and event-based feedback and does not believe in half-yearly or quarterly discussions.
"We have great demographics, and are the fastest growing large economy. And we save. All of which is great for financial services," he says as we leave the restaurant.