'With technology advancing rapidly, the need for branches is declining,' HSBC India CEO Stuart Milne tells Niraj Bhatt and Anup Roy.
Illustration: Dominic Xavier/Rediff.com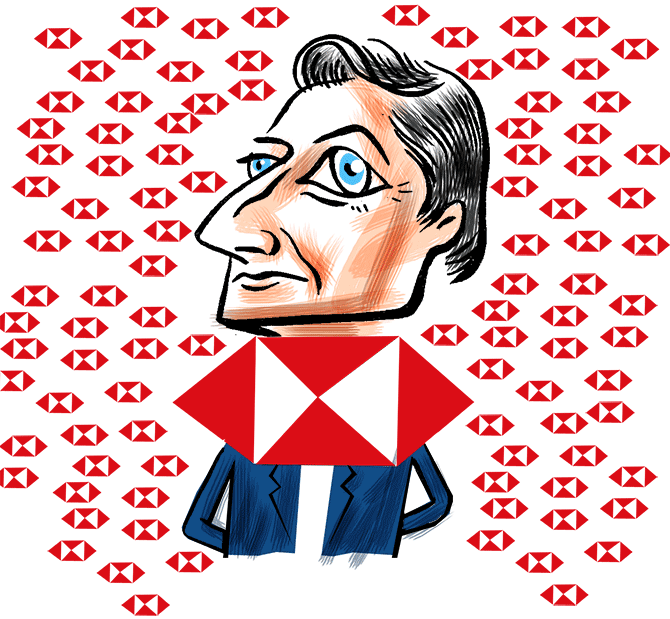 The chief executive officer of one of the oldest foreign banks in India has a unique way of attracting new business. He invites existing customers to his house for dinner and asks them to bring a friend.
"If some of the guests open accounts, it can be quite valuable for us," says Stuart Milne, head of HSBC India.
While his dinner receptions would be lavish affairs, Milne remains a sparse eater, at least when he is meeting us.
"I will only have dimsum," he says over lunch at The Golden Dragon in Mumbai's Taj Mahal Palace Hotel.
We quickly order assorted dimsums and spring rolls and get back to HSBC's strategy to attract retail customers.
Milne says he has a targeted strategy. "We don't use television to advertise because you may reach 20 million people by spending a certain amount, and even if we get those people as customers, it may not be a good match."
Besides the friends of his high net worth customers, he targets the customer base of his choice through online marketing.
In his five-year tenure in India, Milne has taken some tough decisions.
HSBC exited the retail broking business in 2013 and private banking in 2015; and a year ago, it downsized the number of branches from 50 to 26.
HSBC is reducing branches globally because of changing customer behaviour.
"With technology advancing rapidly, the need for branches is declining," he says.
The branches that closed represented less than 10 per cent of customers, most of who have chosen to remain with HSBC through digital channels and phone banking.
Relationship managers go to visit them, and that's just the function of the type of customer base it has, which is typically more upscale.
Milne foresees a future where a few wealthy customers will have access to a relationship manager of some kind, while the rest of us will interact with a robot or a machine.
He believes that the unified payment interface (UPI) is as revolutionary an idea as the ATM was 20 years ago.
HSBC's strategy of growing both corporate and retail banking is interlinked, says Milne.
"HSBC was founded on conservative Scottish banking principles 160 years ago and this is what we fundamentally believe in. You take a deposit of 100, make a loan for 65 and you buy government bonds for 35. That's all banking is," he explains.
The government bonds represent liquidity, which can be sold easily when someone takes his deposit away, and you make a spread between what you pay for the deposit and what you lend.
Indian banks are caught in a perfect storm. The non-performing loan (NPL) problem is not going away quickly, and the growth of the industry in 2017 is not going to be significant.
"The previous assumption was that if you grew fast enough, the historical NPL problem would take care of itself. That's not going to happen," he says.
The shortfall of capital is also going to be material as banks have to meet the Basel III standards by March 2019.
However, for HSBC, it means a big opportunity as it has a liquid balance sheet and its business in India is well-capitalised.
"We have become the group's third most profitable country last year, and we are doing that with a market share of less than one per cent. We don't need to see the market grow in order to grow our business."
HSBC India grew its profit before tax by 22 per cent in 2016 in a challenging year for banks in India.
"We want to see our lending-to-deposit ratio go up. Our loan book is small and I would like it to be three times the current size," Milne says.
A bulk of its lending is to corporations, while its retail lending is primarily unsecured loans by way of credit cards and personal loans.
HSBC is also the leading bank in India for cash management, which brings stable fee income.
"We focus a lot on trade and investment corridors, and last year we handled 25 per cent of the inbound foreign direct investment in India," he says.
At The Golden Dragon, Milne is quite at home. The captain comes and tells him that he had left a packet behind a few days ago, which he could collect.
When our main course of noodles and vegetables in chilli mustard sauce arrives, the waiter persuades Milne to try some of it.
Milne talks about how his family came to West Asia, where he grew up.
His maternal grandfather fought in the Boer War in South Africa, and moved to Iraq, where he lived for 30 years.
His father came after World War II, and was prospecting for oil in the Syrian deserts, between Syria and Iraq.
Milne was born in Kirkuk, Iraq, and grew up in Baghdad, Abu Dhabi, Bahrain and Tehran.
As managing director of an oil company, his father negotiated the terms when Iraq nationalised the country's oil assets.
"Iraq is a fascinating country, it's a beautiful country," Milne says. "Sadly after so many years of war, it is completely devastated. I can't imagine what the people of Iraq have been through," he says.
The family moved to Iran in 1974, and was in Tehran at the time of the Iranian Revolution.
After graduating in Modern Arabic Studies, a result of his affinity for the region, Milne says, "My objective was to find a job outside England. I didn't regard it as home as I had never lived there."
He joined HSBC as he could return to Asia. His first job in the bank was as a teller in Brunei and since then he has worked in Asia, Europe and the US in various businesses.
We ask him how he ended up staying with his first employer for over three decades, and Milne says, he likes the opportunity that HSBC offers to move from place to place.
"It doesn't suit everyone to do that, but it offers a lot of challenge and opportunity working with new clients, new colleagues and a new regulator. So it's almost like within one organisation, you don't need to leave it to find a new challenge," he adds.
HSBC also has a great bunch of people who he has got to know very well over the years. "You invest a lot in relationships that matter," he says.
Talking about roots, Milne says, "I can say I am definitely from Scotland. My father was born in Edinburgh and I was at a boarding school there."
Married to an American, he jokes that his three children are even more confused than he is, as they have both US and British nationality.
Our lunch is coming to an end and we decide to skip coffee as Milne has to head back to office for a meeting.
As we are leaving, we ask him for his views on Brexit.
"To my mind, it is not at all a good idea. In today's world we are looking for more globalisation and not a fracture of the markets," he answers.
It is a rollback of the last 20 years of globalisation, he points out, and there would be potential impact on global trade and the movement of people and goods across borders.
That potentially is damaging for us in India in the long run, too, he adds.