Gone are the days of over-the-top Diwali parties, says Kishore Singh.
This year round, the taxman is the invisible -- and unwanted -- guest at these once extravagant affairs.
Illustrations: Uttam Ghosh/Rediff.com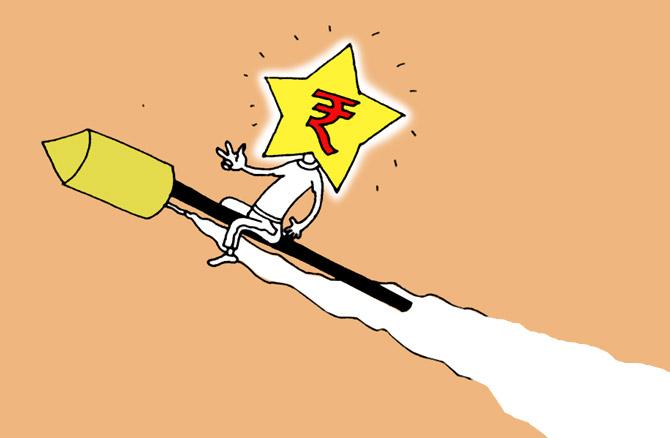 There is no shortage of black humour this festive season.
"Been playing teen-patti?"
"No, I don't have a GSTIN yet."
The Goods and Services Tax is proving a helluva party-pooper as this conversation among guests proves.
"Have you paid advance GST yet?"
"No, I don't expect to win more than Rs 20 lakh this year."
Remember those gaddis of cash that offended you with their excess? Well, they're of the past now.
"How will you pay what you lost at cards?"
"My CA will do an intra-bank transfer, but he wants to know how to calculate the GST, and whether the winner pays the cess or the loser."
"Mine isn't sure if Diwali gambling comes under the category of a 'good' or a 'service'?"
"It's certainly not good -- ha ha! Sorry, lame joke."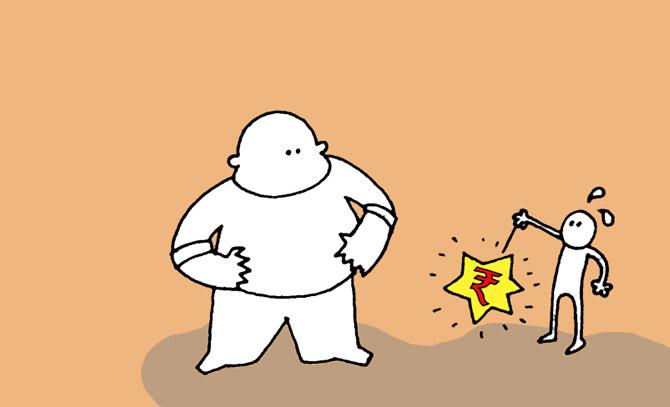 People are throwing fewer parties than before, as a completely unreliable dipstick survey by your intrepid reporter shows.
Hard-working, hard-partying girl (who may or may not be my daughter): "I'm having just one party outfit stitched this year, no one's throwing Diwali bashes anymore."
Inder, the bartender (who is never available sans advance booking at this time of the year): "Kya ho gaya Sir, koi party-sharty nahi kar rahe?"
Eager shopper: "What yaar, everything looks like it's been left over from last year, there's nothing new in the stores."
Employer: "Bonus? What bonus? Keeping your jobs in this market is a bonus!"
Government official (used to receiving cash in petis of fruit, or dabbas of mithai): "Bhai, woh din khatam ho gaye, ab sab kuchh salary mein chalana padta hai."
Okay, so it isn't exactly accurate, people are buying online, but it's harder to spot those intrepid deliverymen from Amazon or Flipkart on the neighbourhood roads -- and they're not deploying drones as yet; so are the numerous advertisements translating into actual business?
E-commerce Web sites not crashing could simply mean they are being supported at the back end by better technology —-- or are orders drying up?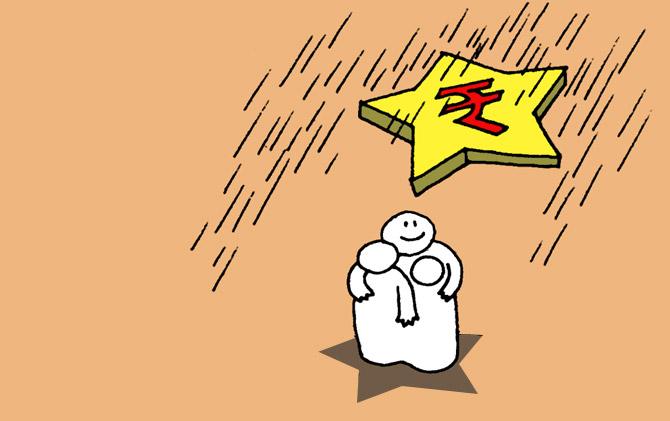 There are fewer invitations on the table, fewer product launches, fewer store openings, fewer restaurant offers, and definitely fewer people loading up their cars and sending off assistants with loads of quite useless gifts across the city, resulting in a diminishing of commerce just when it's expected to be at its peak.
At a party we attended recently -- a BIG party, incidentally -- the sentiment appeared subdued.
People actually spoke to each other instead of boasting of their shopping binges and luxury holidays. The buffet wasn't OTT.
People spread out at a number of card tables but played such low stakes, it was almost laughable.
Rumours floated about a room that was accessible only by a password where the high stakes gamblers were hermetically sealed in.
"Apparently, you have to deposit your mobile phones with a bouncer before being allowed in," whispered Conspirator No 1.
"Allegedly, you have to raise official invoices to claim any winnings," said Conspirator No 2.
"There's nothing like this going on here," said a Sceptic, or maybe he had been planted there to scotch seditious speculation.
"Psst!" said the Bouncer, "I'd let you in, but you don't know the password."
Baseless reports that everything that's selling in the bazaar is stale are palpably false.
I have it on authority from my wife whose investigations have shown that the pomegranates are fresh -- and luscious.
There are dates and nuts, chocolates (well within their expiry date) and cases of packaged juices.
Mithai orders are being processed. But there's no buzz, no whisking out of calculators, no excitement.
"Madamji," the fruitwallah whose stall becomes a department store spilling out on the road at Diwali time, said to her, "The Sharma family that used to order 100 hampers till last year, has asked for only 23. Twenty-three! How will my business run?"
Hotels are no longer advertising baskets loaded with exotic jars of condiments, processed meats, imported cheeses; no Beaujolais, no single malts, not even a bottle of cider from Himachal; no breads from the bakery or cakes ripe with rum and plum.
Some friends we know are travelling overseas on holiday, or to resorts around the country.
Not because they want to, but because it's cheaper to get away from the demands of Diwali as it used to be.
"My husband's refusing to buy me jewellery," one friend's wife lamented, "because he insists the taxman is watching."
"I'm not having a Diwali party," said an ageing socialite whose soirees have always been the talk of town, "because the taxman is watching."
Actually, she did have a party a few evenings ago to which we were asked.
A WhatsApp group of the invited guests requested we keep it "quiet".
A mischievous friend who shall remain unnamed posted a message on the group for a lark.
'Prime Minister Narendra Modi will address the nation on television tonight,' he wrote.
No one turned up for the socialite's quiet party because the last time Mr Modi appeared on television, demonetisation followed.
'At least our lockers are still safe,' some posted on the group the following day.
The hostess, I'm told, is still mad at the prankster, but crossing her fingers that the gossip wasn't true.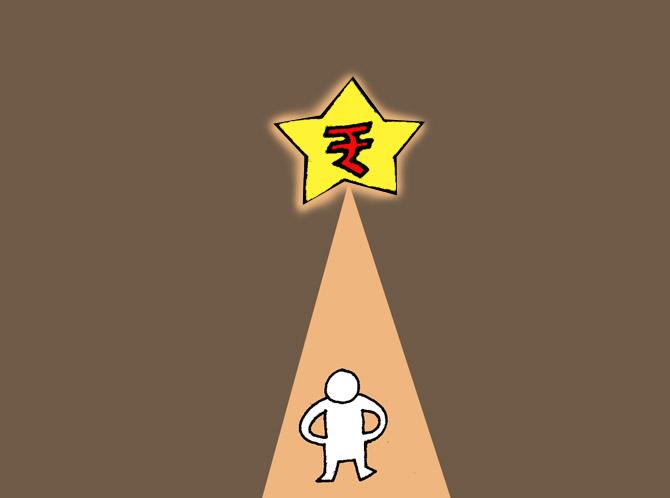 Not all news is as subdued. Firecrackers have been banned, and though some businessmen are unhappy at the loss of business it will cause them, and some kids are upset, the air in the capital promises to be a little cleaner.
We will no longer be playing passing the parcel with repackaged gifts because no one is expecting any this year.
Houses will be lit up by Chinese fairy lights -- yep, they're still cheaper -- and you can expect neighbourly bonhomie as everyone invites each other over for prasad -- and a little whisky-shisky too, of course.
But party hopping? No, that's definitely over, too.
But hope springs eternal in the Indian heart.
Diwali is ridiculously early this year -- and not just because Mr Modi said so in Gujarat a day after Finance Minister Arun Jaitley reduced the GST on khakra from 12 per cent to 5 per cent -- so, with the weather still warm, perhaps it just doesn't feel like Diwali.
Pink paper readers who keep tabs on how many cars were sold in the last quarter, or how many washing machines, TVs, mobile phones or motorcycles will be offloaded this festive season, necessarily have a jaundiced view of the state of the economy, something that is obvious to many of us on the streets where an air of pessimism pervades.
Still, is that reason enough to kill the mojo of Diwali?
It may have become associated with glut and flash, but Diwali, like most other Indian festivals, is essentially a family affair. It marks the Hindu New Year, and it used to be businessmen who prayed to Lakshmi for wealth.
For others, it marked the homecoming, from exile, of Prince Ram to Ayodhya.
Over the years, the lure of lucre has drawn almost everyone to seek Lakshmi's blessing, ousting Ram from the pantheon of prayers.
Maybe it's time to claim the victory of good all over again.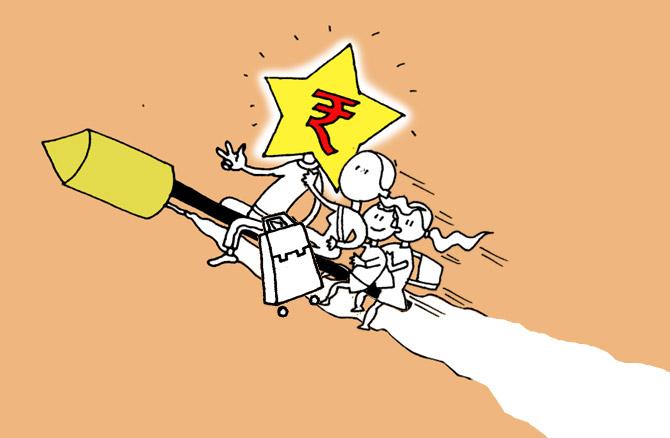 Growing up, Diwali meant new clothes, tables groaning with sweetmeats and festive foods, a break from school and time spent with cousins and sundry aunts and uncles who, once annually, could be tolerated.
Houses were swept clean. Summer wardrobes were exchanged for their winter equivalents, cottons packed away and replaced by silks.
Earthen diyas, bought several days previously and soaked in buckets of water (so they would absorb less oil), were dried in the sun, and cotton wicks of varying thickness were rolled amateurishly between the palms of one's hands.
We mimed the verses of the aarti by heart because there were no iPads from where one could streamline personalised hymns set to music.
No wait was more agonising than the puja to finish so the main activity of Diwali could commence: Firecrackers!
Hard-earned, saved money was blown up on phooljharis and chakris, on 'bombs' and laris that exploded, sometimes unexpectedly early, at other times not at all.
Those who bought very expensive firecrackers were looked condescendingly down upon. Rockets, those that hissed up the sky and landed in neighbourhood balconies, were enthusiastically applauded.
Dinner was a lavish but homemade affair of puris and halwa, black chana and malpua. Everyone overate.
The adults had a flutter with cards. The brash uncle who opened a bottle of whisky was as much admired as reviled, but the men of the house queued up for their tot because it was a tradition and considered 'auspicious'.
Over the decades, and especially post-liberalisation in 1991, Diwali has changed and become, like most things, a marketing opportunity.
Family get-togethers have been consumed by crass commercialism and fallen prey to a surfeit of partying, drinking, gifting and gambling.
Like the Indian wedding, it now requires months of preparation and weeks of celebration.
From corporate houses, Bollywood releases, product launches to shopkeepers, everyone turns to it to spike their earnings.
But here's a chance to turn the clock back and reclaim the joys of a simple Diwali all over again.
Wishful thinking? Perhaps. For now, it's time to buy your loved ones a present or two.
But remember to go easy, your credit card is linked with your Aadhaar number.
Big Brother is watching.
Happy Diwali.