Despite being the prime minister's pet project -- on a par with the Chandrayaan missions -- the Vande Bharat trainset, or Train 18 project, is currently on a very bumpy track, reports Shine Jacob.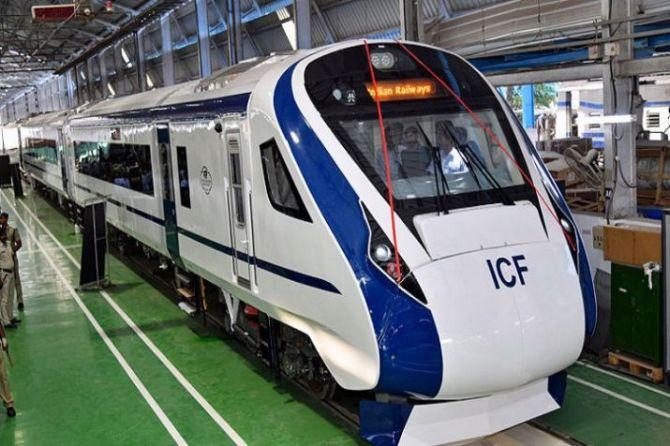 In his Independence Day address this year, Prime Minister Narendra Modi said the Vande Bharat Express was a symbol of people's aspirations in India. "People's thinking has changed. Earlier, they were happy with merely a plan to set up a railway station. Now people ask, 'when will Vande Bharat Express come to my area'," he said.
Despite being the prime minister's pet project -- on a par with the Chandrayaan missions -- the Vande Bharat trainset, or Train 18 project, is currently on a very bumpy track.
In the past six months, two consecutive bulk tenders for propulsion systems were cancelled on technical grounds.
Then, vigilance cases were filed against the men behind the first train. In March, trade union protests erupted at the Integral Coach Factory (ICF) in Chennai over the likely transfer of the project. Finally, the Train 20 project, for high speed long distance trains, has been shelved.
Train 18 -- named for the year of its launch -- was India's first semi-high speed train. Capable of clocking 160-200 kmph, against the average sub-100 kmph speed of India's express trains, it was built at 40 per cent of global prices.
The first Vande Bharat Express from New Delhi to Varanasi, the prime minister's constituency, was launched on February 15. Covering 800-odd km in just eight hours, it has been running successfully. Its maiden journey saw massive receptions in various stations and along the track up to Varanasi, proof of Modi's observations about aspirational Indians.
Train 18 is a showpiece of Modi's Make in India policy: 80 per cent of its components are indigenous, and it took just 18 months from conceptualisation to manufacturing, no mean feat in a country where such projects take decades to materialise.
Following its success, Union Railway Minister Piyush Goyal had announced that 100 such trains would be launched, even with sleeper facilities, soon.
Based on the production programme the Railway Board issued earlier this year, the second trainset was supposed to be on the tracks by April 2019, followed by the third in October 2019.
After that, ICF had lined up one trainset each in every alternate month till March 2020 and one rake each per month from April 2020.
Based on this road map, the plan was to come up with at least 45 trainsets till 2021-22.
All these dreams seem to be a distant reality now. Now the notion of procuring fully-built trainsets from the open market to get best international technology is doing the rounds, defeating the Make in India policy. A scaled-up Train 18 project is still to leave the station.
So what went wrong, considering Train 18 was on a par with the Chandrayaan mission in terms of the national importance accorded to it?
The first sign of trouble started in March when all the trade unions protested against a possible transfer of designing and manufacturing to the Modern Coach Factory in Rae Bareli, Congress president Sonia Gandhi's long-time constituency which the Bharatiya Janata Party hopes to wrest in the next elections.
This crisis was averted after the unions were assured that ICF Chennai would get firm orders.
After this, the first bid for 43 Train-18 propulsion systems were floated. Of this, orders for only three trains were awarded, one for Spanish major CAF and two for the Medha Group, a Hyderabad-based group that supplied systems for the first Vande Bharat train.
The propulsion system is considered the most important part of Train 18, accounting for Rs 35 crore of the Rs 100-odd crore spent on the first train.
So far so good until the government cancelled the first tender on grounds that it was tailor-made to favour the Indian company.
At the same time, the government ordered a vigilance enquiry against some members of the Train 18 team for "violation of procedure" for contract awards.
To this, the ICF officials counter that global majors such as Bombardier and Siemens had participated in the tender as well, and the first two rakes were awarded on an L1 (lowest bid) basis.
The second tender for 37 trains, too, saw participation from CAF, Cummins, Medha, Titagarh, Bhel and CRRC. This was cancelled, too, for not meeting the specifications set out by Research Designs and Standards Organisation (RDSO), the Railways' research arm.
Writing in The Hindu on September 16, K Balakesari, a former member, staff, Railway Board, attributes these failures to the "interdepartmental rivalries and internecine turf wars within the Indian Railways".
Speaking to Business Standard, Railway Board Chairman V K Yadav said one of the major reasons for the delay on bids was the government's effort to improve certain efficiency parameters.
"The energy consumption in Vande Bharat was very high compared to the trains in same category globally. To make it more efficient, we felt it is better to delay further," he said.
The RDSO has already come out with new specification and a fresh bid will be floated before October 15, he added.
Sudhanshu Mani, the mastermind behind Train 18, declined to comment on the issue.
A senior railways official said the project will go ahead despite these hiccups.
"Such roadblocks are natural in all major infrastructure and manufacturing projects. We always keep on updating tenders as and when required, hence cancellation of a particular tender cannot be considered a hindrance for a particular project," he said.
Train 18, he insists, will turn out be a success because the railways minister is constantly monitoring it to ensure that it becomes a reality.