With the government dragging its feet in the matter, e-cigarette manufacturers and sellers are in limbo between an outright ban and a classification that will put them at a disadvantage vis-à-vis regular cigarettes.

Surajeet Das Gupta reports.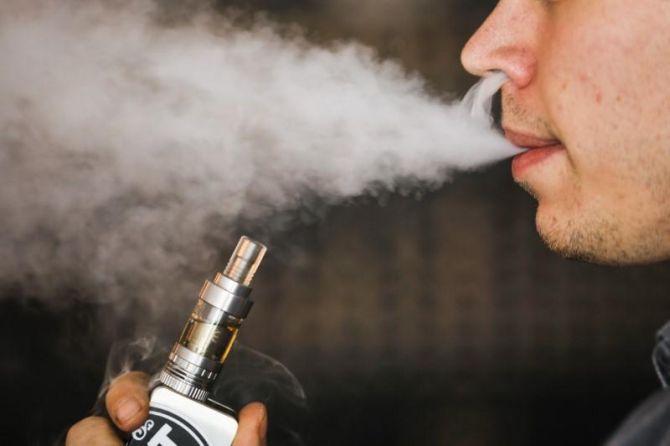 Big tobacco in India is facing a new challenge -- global manufacturers and Indian importers of e-cigarettes, or electronic nicotine delivery systems (ENDS).
At stake is a 110 billion per annum sticks cigarette market.
India is home to 11.3 per cent of the world's cigarette smokers with the market dominated by ITC.
Tough taxation policies have slowed the growth but to be sure, it is still a huge market.
Yet ENDS is not even a Rs 300 crore market -- mostly coming through the grey market -- so many manufacturers of e-cigarettes like Juul and Philip Morris see a large potential.
But regulation has been a tangled web, the result of hectic lobbying and counter-lobbying, that leaves ENDS manufacturers and sellers in limbo between an outright ban and a classification that will put them at a disadvantage vis-à-vis regular cigarettes.
At first, ENDS proponents had lobbied the government for a separate federal regulations on grounds that e-cigarettes (a) did not fall under any specific jurisdiction, central, state or concurrent; and (b) are a different product altogether, far superior to combustible cigarettes -- lacking cancer-causing tar and with a lower nicotine content that could help wean smokers off cigarettes.
Now they want their products to be defined on a par with cigarettes.
If these changing demands have been confusing, the government's reaction has been no less so.
Late last year the health ministry sent an advisory to all states asking them to ban e-cigarettes.
Nearly 14 states complied with the order, which included Maharashtra, Haryana, Uttar Pradesh and Gujarat.
However, consumer forums and individuals went to court against the order in various states where hearings are still on.
In Delhi, ENDS manufacturers got a reprieve when the high court passed an interim stay against the ban.
Though the cases are still being heard, the health ministry sought to reiterate its ban in May this year and went a step further by sending all government health research institutes an advisory not to conduct any research, workshop, or publish articles on e-cigarettes without consulting the tobacco control division.
It also received an endorsement from the ICMR suggesting a ban on ENDS.
Recently, another act in this drama opened with the Drug Technical Advisory Board endorsing a proposal to include ENDS as a "drug" under the Drugs and Cosmetics Act.
E-cigarette makers and importers say this is another way for the government to ban their products without impacting regular cigarettes, which do not come under the purview of this Act.
The Act has two sections (10A and 26A) that give the government powers to prohibit import or manufacture of any drug if it is satisfied that its use will involve risk to life or has no therapeutic value.
So potentially, ENDS can be banned under this.
"Even if it is not, the manufacturers will have to get clearance from the drug controller for the product, sell it only through pharmacies and after a doctor writes a prescription," says a senior executive of a leading ENDS manufacturer.
E-cigarette manufacturers and importers also say this classification is contradictory.
On one hand, the government believes nicotine is bad for health and addictive; on the other, it has no hesitation in considering it a drug, which by definition is supposed to cure or mitigate illness.
"ENDS is a recreational product and is a nicotine consumption choice with less harmful effects than combustible cigarettes.
"It is not a therapeutic product for mitigating disease," says one of them.
He also argues that inhaling nicotine cannot be called a sickness, yet that is how it has been defined under the law.
As he points out, if smoking e-cigarettes is a sickness then how can combustible cigarettes be excluded from the list?
The conclusion ENDS companies have drawn from this latest controversy is that it is a move to kill the fledgeling industry.
But proponents of legislating e-cigarettes under the Drugs and Cosmetics Act say they are merely emulating the US Foods and Drug Administration.
True, the FDA extended its authority to include ENDS, hookah tobacco and pipes.
But the crucial difference is that the FDA also regulates regular cigarettes.
It recently gave Philip Morris, which also makes cigarettes, approval to sell "heated tobacco devices".
The move to declare e-cigarettes a drug would also mean the government overturning its earlier conclusion by the Drugs Consultative committee in 2015 that e-cigarettes cannot be defined as a drug.
Manufacturers and importers are not the only players in this drama.
There are consumers who believe e-cigarettes are healthier and the Association of Vapers India argue that they should be given the freedom to choose.
There is an equally strong but quiet anti-smoking lobby -- for them a ban on e-cigarettes through legislation is the first step to pushing for a ban or severe restrictions on cigarette smoking as well.
Says Praveen Rikhy convener of Trade Representatives of ENDS Devices in India, an association of importers, distributors and marketers of the product: "We don't think that the big tobacco companies in India are lobbying for a ban on us.
"If they ban ENDS through legislation, anti-smoking groups will find a strong legal base to ban combustible smoking too.
"So the big tobacco companies have to watch out too."
Tobacco players blame this strident move by the central government on misguided lobbying by some of the ENDS players.
Their contention that e-cigarettes were a healthier alternative to regular cigarettes positioned the product as something of therapeutic value.
"And now they are saying please treat it no differently from combustible cigarettes, it is as unhealthy. Then you have a problem," says a senior executive of a tobacco company.
Most experts admit regulation is key since an outright ban will only increase operations in the grey market, spur sale of spurious products with no control of their usage by children.
Nearly 69 countries across the world have put in regulation on ENDS.
But the central health ministry is determined to ban e-cigarettes.
And many anti-smoking NGOs endorse the move as they believe that global regulations, such as identity proof at the point of sale to prevent children from buying the product and policing of retailers on compliance, will fail in India.
The issues still lie behind a smokescreen of competing interests.
Photograph: Mark Blinch/Reuters.