'Degrees get you into the room, it is the attitude that counts,' adman Madhukar Kamath tells Viveat Susan Pinto and Arundhuti Dasgupta.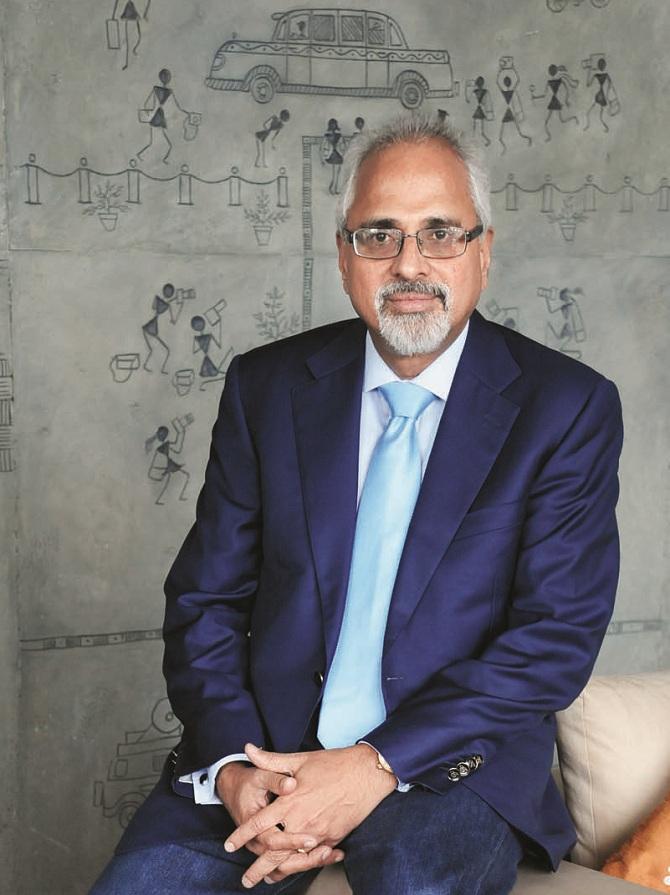 IMAGE: Madhukar Kamath has spent over 25 years -- in two stints -- at the DBB Mudra Group. Photograph: Kind courtesy ddbmudragroup.com
Madhukar Kamath, chief executive officer and managing director, DDB Mudra Group, is racing against time.
The 62-year-old adman, who recently called it quits at the Omnicom-owned agency, has the task of grooming his successors over the next nine months.
Post December 2017, Kamath will be free from the trappings of an agency honcho.
He says he'll spend time travelling -- something he's passionate about -- the 29 states of India.
However, the buzz is that the economics graduate from Loyola College, Chennai, who holds a management degree from XLRI, Jamshedpur, has a few aces up his sleeve in terms of new ventures.
But Kamath, who began his advertising career four decades ago at Clarion, Kolkata, is not revealing anything yet.
"I will save that for later," he says as we sit down for lunch at The China House restaurant located at the Grand Hyatt, Mumbai.
The "project" to ensure smooth transition of power at DDB Mudra is pressing, he says, something that is critical for the future of one of India's top 10 ad agencies.
Kamath, who has spent over 25 years in two stints at the agency, is aware of the responsibility at hand and knows he has his work cut out for the months ahead.
"The process has been long," he drawls.
His sense of timing punctuates every move, including our lunch, which he has rushed to after quickly wrapping up a meeting at office, located opposite the Grand Hyatt.
He arrives sharp at 1.30 pm. "See, I've made it," he says, looking at his watch.
"The advantage of having your office opposite this place is that you can conveniently make it to a meeting here. But the disadvantage is that the proximity often tempts you to procrastinate. I avoid it at all cost," he says, starting off with a glass of "regular water".
"My travels have taught me the importance of keeping things simple," he says. "The moment you say regular water at a five-star hotel, there is no confusion at all, the staff knows exactly what you want."
"I apply that principle to my life as well -- be clear with your choices," he says as he selects a helping of a vegetarian and a lamb and shrimp dim sum and fried soft crab shells.
He looks at us, asking if we would want something less fried and more healthy. But does one ever?
His clarity of thought came in handy when Kamath decided to move on from DDB Mudra, one of four agencies he has spent time in his advertising career.
The others include Clarion Advertising, where he worked for eight years in the 1970s and 1980s.
He was at ASP -- short for Advertising and Sales Promotion, an agency best known for creating the Amul girl mascot and ad campaigns over the years -- for a brief two years in the 1980s; and Bates, which Kamath launched in India in 1999 after acquiring Clarion that year. That was a four-year tenure.
The Mudra period, the first stint of which stretched 13 years through the 1980s and the 1990s saw him work closely with the legendary A G Krishnamurthy, who headed the agency then.
There were other stars, too, who Kamath rubbed shoulders with, including the famed copywriter-art-director pair of Freddie Birdy and Naved Akhtar, adman Kaushik Roy and the popular creative duo of yesteryear, Gangadharan Menon and Nalesh Patil.
By the second stint, however, many of these stalwarts had moved on, including AGK, as Krishnamurthy was fondly called. He retired in 2003, handing over the baton to Kamath.
"You have to be relevant at all times," he says.
The business demands that.
---
Also meet: India's best known admen
---
The idea of retirement first popped up in 2015, two years after Kamath was given an extension to continue as the agency's group CEO and MD by John Zeigler, former chairman and CEO, DDB Asia Pacific (India and Japan).
"I was given a four-year extension, which stretched from 2013 to 2017. By 2015, I was reporting to Chuck Brymer, CEO, DDB Worldwide (following Zeigler's retirement)."
"I broached the subject of my retirement with Chuck then and told him that I would not like to continue once I completed my tenure in December 2017. We had a long discussion and he finally agreed," Kamath says with a broad smile as the first round of dim sums arrives.
A hard-core non-vegetarian, as his team described him to us, Kamath gallantly foregoes an extra helping of the shrimp and chicken steamed dumplings, settling for another helping of the vegetarian version instead.
Talking to Brymer was only the beginning of a long process, which culminated in the announcement last month of Vineet Gupta and Aditya Kanthy as CEO and MD (designates) respectively of the group.
"I first announced my decision (to retire) to my team in January of 2016," Kamath says. "This was an internal announcement, where I told them that the process of identifying successors would involve me, Chuck and DDB's global head of HR Sally Ali. I am satisfied and excited with the journey."
"Vineet and Aditya," he continues, "have complementary strengths."
"Vineet is a great leader, and I liked the way he set benchmarks and goals for 22feet Tribal Worldwide year-on-year, since its acquisition in 2014 by the Omnicom Group. Aditya is knowledgeable, steady and has great confidence when handling clients. I see magic when the two are together."
Gupta, says Kamath, will be the "captain of the ship", while Kanthy will report to him as his deputy. "There is no ambiguity there."
Conversation shifts to his other passions, education to be precise.
The Mudra Institute of Communication, MICA, is an institution Kamath has been closely associated with for years.
"In the last few years, our emphasis has been to project MICA as a B-school that offers education in marketing communication. The idea is to get students based on attitude and the ability to learn. That is a mantra I follow as well when I recruit people."
"Degrees get you into the room, it is the attitude that counts," he says as the servers bring in a deliciously unhealthy looking bowl of fried soft crab shells.
We are sceptical, never having had crabs without getting it all over our clothes and faces before. But Kamath, who has obviously done the dish much justice here, assures us that it is safe to bite in.
Kamath's is a large family -- four children and wife Shalini, an HR professional and CEO coach -- all having their own interests and hobbies that make for an eclectic whole.
He talks about the different passions his children follow. One is a wildlife enthusiast, who is now living on a farm in Uttarakhand; another has trained herself in the culinary arts from Cordon Bleu; one son in the US is part of the corporate landscape and another daughter is starting out as a fashion stylist and writer.
"You can imagine the conversations we have," he says.
Lunch has been done with for a while, but our conversation is not, so we linger over (complimentary) jasmine tea.
Kamath is off dessert for a while and although we are not, we desist.
There have been many highs in his life, he says, but one of the biggest was his retirement announcement at Madison Avenue, a few feet away from the room that the founder of DDB and legendary adman Bill Bernbach sat in, one of Kamath's idols from his early days in advertising.
"Imagine," he says, "what a high."
Please scroll down for related features...