Since its launch in April, helpline 155260 has been able to prevent more than Rs 18.5 million of defrauded money from reaching the hands of fraudsters.
Shivani Shinde reports.
To prevent financial loss due to cyber fraud and build confidence in digital payments, the Union home ministry has operationalised a national helpline number -- 155260 -- to detect and check such fraud.
Under this initiative, the state police and banks will, for the first time, work in coordination to prevent or solve such crime.
The helpline and its reporting platform have been made operational by the Indian Cyber Crime Coordination Centre (14C) with support from the Reserve Bank of India (RBI), all major banks, payment banks, wallets and online merchants.
Among the notable public and private sector banks that are onboard are: State Bank of India, Punjab National Bank, Bank of Baroda, Bank of India, Union Bank, IndusInd Bank, HDFC Bank, ICICI Bank, Axis Bank, Yes Bank and Kotak Mahindra Bank.
All major wallets and merchants -- such as Paytm, PhonePe, Mobikwik, Flipkart and Amazon -- are also linked to it.
This Citizen Financial Cyber Fraud Reporting and Management System, as it is called, is currently active in seven states (Chhattisgarh, Delhi, Madhya Pradesh, Rajasthan, Telangana, Uttarakhand and Uttar Pradesh), covering more than 35 per cent of the country's population.
It will be rolled out in other states and Union Territories eventually.
Since its soft launch in April, helpline 155260 has been able to prevent more than Rs 1.85 crore (Rs 18.5 million) of defrauded money from reaching the hands of fraudsters, with Delhi and Rajasthan recovering Rs 58 lakh (Rs 5.8 million) and Rs 53 lakh (Rs 5.3 million), respectively.
"The reason the effort may bear results is because for the first time a centralised approach is being created to solve the issue of financial frauds," says cyber security lawyer Prashant Mali.
"The officials will need to be alert and cannot sit on complaints anymore."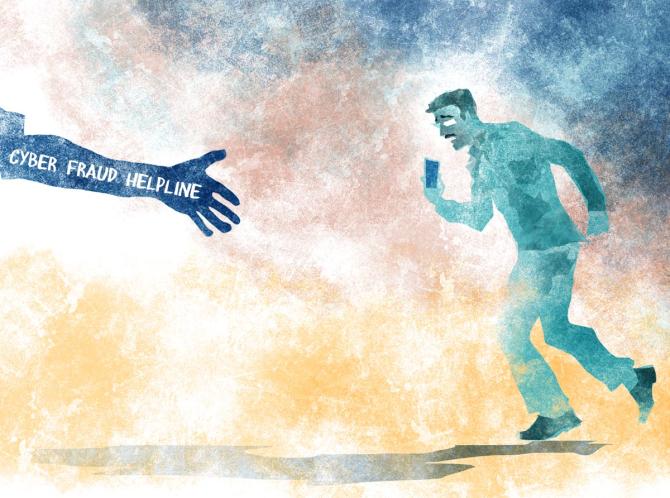 For the system to be effective, users too will need to be alert and immediately call the helpline with details of a suspicious transaction, so that the money can be urgently tracked.
If the money has been transferred into another bank account, that bank can be alerted and the money transferred back.
However, if the fraudster manages to withdraw the money before it can be transferred back to the rightful owner, then the matter will have to be taken up with the police.
The MHA statement specifies this: 'The loss of defrauded money in online cheating cases can be stopped by chasing the money trail and stopping its further flow before it is taken out of the digital ecosystem by the fraudster.'
"A helpline is to help. It does not do away with the need to file an FIR in case of financial fraud," says Pavan Duggal, senior advocate and cyber law expert.
"In a pilot project, the government had created a portal for people to come forward proactively and report frauds. But we found that people are only interested in getting the money back and not stopping such incidents. For that to happen, individuals will have to report the crime, too."
Duggal, however, believes the helpline will be effective as a first point of contact in the reporting system.
According to an RBI notification of July 2017, if a bank account holder's money is siphoned off and the person reports the incident within 72 hours of the crime, then the bank has to credit (shadow reversal) the entire amount to the account holder within 10 working days.
This helpline will expedite the process if the money gets withdrawn from the bank network, say legal experts.
"In most cases, account holders keep running in circles to get the money back even after notifying the bank of fraud. This helpline will be useful in this area," Duggal says.
Feature Presentation: Ashish Narsale/Rediff.com