Niranjan Upadhye, general manager, fraud risk management, Worldline India, tells you how to quickly spot a scam and save yourself from grief.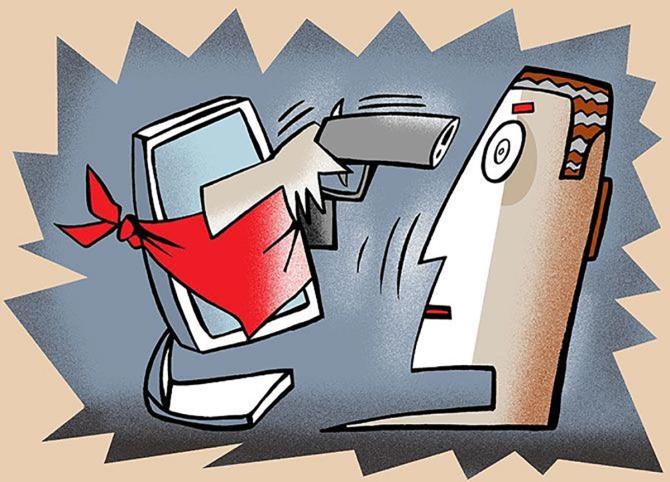 As our lives become more dependent on online services like ordering food, availing best shopping deals on portals, buying/selling pre-owned products, to dating etc, it has brought in new challenges that may involve your privacy and could lead to fraud.
Here are different types of frauds and some advisories for you to avert becoming a victim:
1. Online Exchange/Classified portals frauds
Imagine, you are looking for a two wheeler and come across a vehicle listed at a very reasonable price on some listing portal.
The owner seems to be an army/police officer from his display profile.
You liked the showcased vehicle and go ahead to check the registration details of the vehicle on a portal you trust.
You will find that the vehicle is registered in the name of a woman, ostensibly his wife, right?
You should know that in a very elaborately crafted scam, a lot of people are parting with their money towards sale/ transfer of the vehicle, taxes, shipping charges from these 'sellers'.
The vehicle never arrives and by the time you realise it, you're conned.
How They Do It
Scammers would obtain multiple SIM cards using fraudulent means and would save each number on their phones as 'Army Commando' or something similar.
This ensures that caller identification services or apps will display their names as they want and you might end up dropping your guard when you find out you are dealing with somebody in uniform who is serving the country.
Simultaneously, the vehicle registration details you managed to check online before connecting with the owner seem to be genuine so, in order not to lose the deal, you transfer the money to the scammer and buy yourself grief.
Tip: Verify the owner of the product/service. Don't be fooled by tall talk and promises. Insist on seeing the product and related documents or go to a trusted, registered dealer you know. Seek professional help, if need be.
2. Search Engine Listing frauds
What do we do when we want to order groceries or any product from the neighbourhood supermarket but do not have their phone number?
We do the most common thing -- search for it online in a browser.
Imagine that you place an order for something after calling the number, and the 'friendly shopkeeper' asks you to remit the money -- or worse, sends you a UPI collect request for a far higher amount than that would be the cost of the goods.
But having believed that you are interacting with the shop that you wanted to, you surrendered your caution -- and remit the money to a fraudster.
Tip: Always double check and find out if the listing is authentic. Opt for cash on delivery. Insist on seeing what you are paying for.
How They Do it
They 'claimed' a business on the online search engines. All such platforms work on community collaboration to refine details.
The scammers put their own numbers on the search engine and con people through a confidence trick!
3. Sextortion
Those seeking relationships online may send a connect request to a seemingly attractive profile.
You may soon connect with the person over a few days, and lose inhibitions enough to share very personal videos and pictures leading to extortion demands with a threat to defame the victim.
Tip: Do not share your personal and private information with strangers. Do not put sensitive information on a public platform.
4. Fake Web sites of legitimate brands
Scammers may construct copycat Web sites that even have an https:// in the address bar through Secured Socket Layer (SSL) certificates.
However, some SSL certificates are easier to obtain than others for the creators of a website.
Domain Validation (DV) SSLs are easily obtainable. Even if fraudsters have a domain name deceptively similar to that of an existing company's URL, they would still be granted a DV SSL certificate because the issuing authority would just ensure that you owned that domain.
Remember, for Extended Validation (EV) SSLs, the company requesting the certificate has to prove both the ownership of the domain, and the legitimacy of their business.
So right-click the address bar padlock symbol, and ensure you check the merchant Web site has an Extended Validation SSL certificate.
Tip: If a Web site has EV-SSL protection, the address bar would turn green, in most modern browsers!
5. Prices too good to be true
If a new Web site that you have stumbled upon is offering goods at unbelievable prices, don't believe them.
Go for established Web sites with good customer service/refund policies, as they would sell legitimate stuff and pay attention to customer delight, unlike the fly-by-night operators who would collect your money and disappear.
6. KYC validation con job
Don't fall prey if someone ostensibly calls you from your bank, wallet company or service provider asking you to confirm sensitive or confidential information such as your bank/card/Internet banking/ personal details.
Instead, call a registered and published customer service number of the bank to verify the interaction, or visit an office of the bank.
7. Interface Emulation Scam
Don't let anyone install any file on your laptop or mobile device to verify any details, or to 'repair' it, or to 'increase your data speed to 5G speed levels for free' etc.
Any software that you install would allow the scammers to seize control of your device, get access to your personal and confidential data including 2FA passwords also, and conclude transactions on your behalf.
Remember, there are no free lunches, so never click or forward any link that tells you that you would be rewarded with money or incentives.
These links can install spyware on your device, bringing you grief.
Also, use latest security patches for the operating system and anti-malware for your computers and mobile devices to shut out vulnerabilities.
Avoid downloading cracked/ pirated/digital rights management restrictions removed software as these things can make your computer and devices homes to malware.