The current crisis has forced the government to announce measures to ensure that India becomes self-sustaining for any kind of bulk drug.
The government says India will not depend on any other country for vital key ingredients for drugs within six years, reports Sheela Bhatt.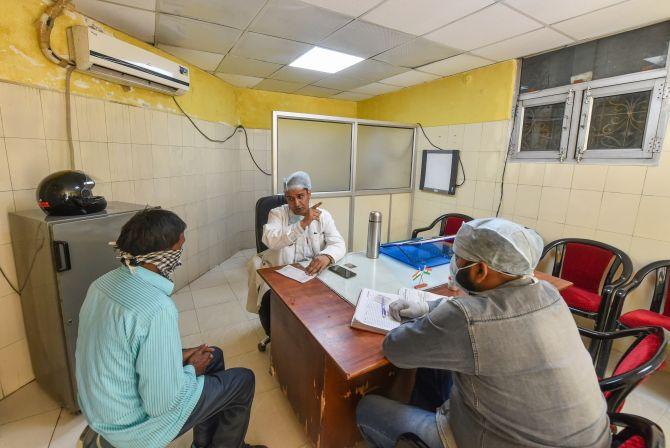 The coronavirus crisis has suddenly raised national drug security at the top of India's national priorities.
Due to its relaxed environmental restrictions and cheaper cost of production, China has produced cheaper raw materials known as active pharmaceuticals ingredients, API, and key starting materials, KSM, to make vital medicines.
For the last 25-plus years Indian drugs manufacturers have been increasingly dependent on China for raw materials to pare the cost of their final products.
A top government source reveals that a shipment carrying API bulk drugs arrived from China a few days ago, indicating that Chinese API manufacturing firms have restarted production sooner than expected.
However, the current crisis has forced the government, a bit late in the day, to announce measures to ensure that India becomes self-sustaining for any kind of bulk drugs.
The government claims that India will not depend on any other country for vital key ingredients for drugs within six years.
Dharmesh Shah, chairman and managing director, BDR pharma, one of the biggest cancer drugs manufacturers, says India has 60% drug security currently.
In the late 1990s, says Shah, Indian drug researchers and technologists were hired by China for 10-fold salaries to work on technologies to make API and KSM drugs.
Eventually, adds Shah, India became dependent on China for around 30% of the supply of KSM and around 20% of API.
"We Indians are responsible for where China is in the drugs industry today," states Shah.
His point: India was always strong on API production and ahead of China, but many years ago, a few Indian technocrats went to China for small gains and taught them forward integration to make API and also taught the Chinesee regulatory aspects.
Today not just India but most countries of the world, small and big, depend on China for bulk drugs for only one reason.
Chinese bulk drugs are 20% cheaper than Indian bulk drugs.
Not only does the Chinese government provide a lax environment and pollution management, but also cheap electricity as result of which Chinese drug manufacturers have been successfully attempting to control the global market.
Notwithstanding the increasing Chinese stranglehold on bulk drugs, Shah says India is fortunate to have the knowhow and capacity to produce enough drugs needed for the covid-19 crisis right now.
Even though dependence on China is decades old, India started thinking in terms of 'drug security' three years ago.
The government formed a task force on drugs which discussed in detail about 53 APIs/KSMs, including 26 fermentation-based bulk drugs, with all stakeholders.
Drug manufacturers wanted to develop all capacities to produce inhouse KSMs, but for which they need special zones with a good treatment plant and common utilities to bring down costs.
Given the current urgency over covid-19, the government has accepted many suggestions of the task force and announced a policy to manufacture bulk drugs and medical devices.
Following the unexpected crisis, the Union Cabinet approved on March 21 a package of Rs 13,760 crores to ensure that India does not depend on imports of any essential raw materials for medical emergencies of any kind.
Mansukh Mandaviya, minister of state for chemicals, pharmaceuticals and fertilisers, told a press conference that India aims to achieve 'national security in drugs' in six years's time.
The government's announcement, in a nutshell, is to give 20% incentive in various forms to overcome competition from China. Three bulk drugs park will be given a grant of Rs 1,000 crore each.
Similar is the case for medical devices. Post-covid-19 the government has announced a medical devices park.
Embarrassingly for India, it imports 85% of its modern medical devices, ranging from advanced X-ray machines to pacemakers to ventilators and dialysis machines, worth more than Rs 38,000 crores.
Again a little late in the day, on March 21, the Union Cabinet announced a Rs 3,420 crore package to boost the domestic manufacture of medical devices.
If bulk drugs and medical devices are made largely in India, then the country can save more than Rs 190,000 crores every year.
Currently the Indian pharma industry is approximately worth Rs 3 lakh crore.
India's domestic drugs consumption is more than Rs 1 lakh crore. Pharmaceuticals are top traded Indian items, with 12,000 drugs manufacturers including 56 giant pharma companies.
However, due to market competition and logistics issues, 40 per cent of the installed capacity in the drugs manufacturing industry is under-utilised.
Covid-19 has given a wake-up call to Indian industry and the government.