'India is too large a place to have just 10 labs performing these Covid-19 tests.'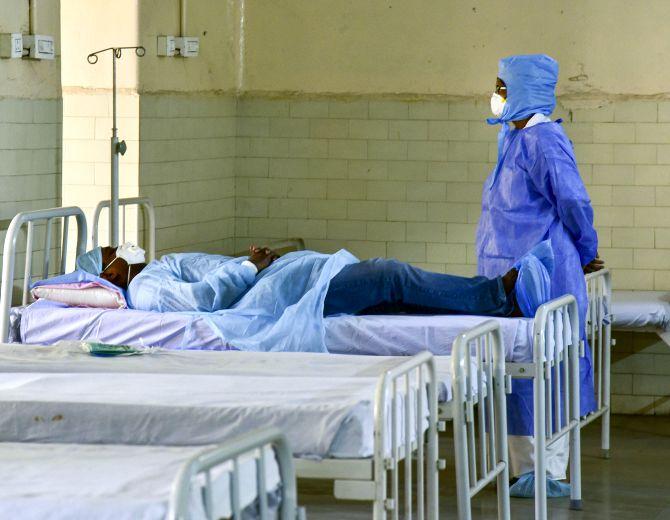 Representatives from three companies, engaged in fulfilling different needs of the testing ecosystem that has now become so crucial to fight the Covid-19 pandemic, talk to Prasanna D Zore/Rediff.com about the challenges -- some created due to the pandemic and some due to bureaucratic bungling -- they are facing as India braces for a 21-day lockdown in its bid to defeat the virus that has resulted in more than 18,000 deaths worldwide.
Dr Ajay Phadke, head, SRL and Dr Phadke Labs
Have you received permission from the BMC (BrihanMumbai Municipal Corporation) or the ICMR, whichever is the concerned authority, for conducting covid-19 tests?
The BMC is telling us to do it, but the government (the Indian Council of Medical Research) has still not given permission to all of us.
While they have given permission to SRL Goregaon (north west Mumbai), permission for our other labs will be coming soon. Actually, there are a lot of e-mails gone to them (ICMR for approving SRL's request to conduct Covid-19 tests).
I think it's difficult for them to go through all the details quick enough.
Which is the central authority that issues permission?
The Indian Council of Medical Research, Delhi (that is the issuing authority).
The way it is happening right now is that they (the ICMR) are going with the National Accreditation Board for Laboratories (NABL)-accredited labs only and we are already accredited. But we need official communication from them (ICMR) saying we can start testing.
So, there is no official communication yet from ICMR for all SRL labs?
Only SRL Goregaon and Gurgaon have got the online authorisation which has been put up on ICMR's Web site.
How many diagnostic centres do you have across India?
(SRL) Dr Avinash Phadke Labs has many collection centres and about 27 labs. ICMR is advising us to do home collection (of samples for performing covid-19 positive tests).
We can do home collection, but the only issue is logistics right now (with Maharashtra being under a lockdown).
That is a big challenge. Half the staff is not coming to the labs. Those who are coming are used to run the machines (that do various tests).
We have a separate team of people who can do home collection. We've trained them and giving them those PPE (personal protection equipment) kits and N95 masks to ensure their safety during the home visits. All that is ready.
How many tests can you perform a day across all your centres in India once you get ICMR permission?
All centres cannot perform it because it's a molecular test. It can only be done at the main centres as per ICMR's current guidelines.
Then there are point-of-care testing devices which will come into the market, I think, by next month. With those devices, tests can be done at many centres.
You can just take the sample and you don't need a full size lab setup. It's like a small box and in that you put the sputum or whatever sample it is (throat or nasal swab), and then load it onto the machine directly.
These boxes will be coming soon to India; we have got emergency (US) FDA approvals or are in the process of getting it. Once that comes, then depending on the supply all over the world, they will send it to India. Currently, ICMR has approved only two Indian suppliers iTona and My Labs.
All three SRL labs together can perform 800 tests a day approximately as of now.
Are you facing any shortage of testing kits because just two labs have been approved? And what is their capacity to supply this testing kit?
They seem to have (the requisite) capacity, but the issue is that if we place the order today they will take about two to three weeks to deliver these kits.
I think eventually all NABL-accredited labs should just be opened up (for testing) because India is too large a place to have just 10 labs performing these Covid-19 positive tests.
What are the main challenges right now facing you as somebody who will be a part of the ecosystem that will help fight the covid-19 pandemic?
Logistics is the biggest challenge right now.
There is a huge shortage of PPE (personal protection equipment) kits. These kits too need to have a price cap because some of the vendors are charging exorbitant prices for it.
We have to also make sure that the disposal of the waste is carried out in a very scientific manner. That's important too.
The logistics, I would say right now is a big challenge. I understand it from the government's point of view because what they have done (curfew) is absolutely right.
The only way to stop this from spreading is to put the city under lockdown. There's no other way to solve this.
We have made arrangements of buses to get our staff back into action. Once I get all the approvals (for conducting covid-19 positive tests) we will talk to the state government and city police to help us make some arrangements to get our staff back to our offices and for home collection of samples.
***
Dr Ajay Warke, Director, Cell Culture and Immunology, Himedia Laboratories
What are the issues that Himedia is facing right now?
The problem is that police has beaten our workers and so they are not able to show up to work.
We are facing an emergency-like situation because the police are not letting our workers get to our factory. So, I have to go to the commissioner's office and get permission from them to get the workers back into manufacturing this kit.
We don't need US FDA approval for our kits. We don't to manufacture (covid-19) test kits; we manufacture a virus sampling kit, which is used for covid-19 tests. We have been making this kit for the last 13 years. The first time we launched the kit was before the swine flu epidemic.
In 2008-2009, the entire country was dependent on our kits; our kit was validated and approved by National Institute of Virology, Pune.
How does this virus sampling kit or VSK help in covid-19 tests?
Swabs are taken from two locations. You can get the swab from the nose, which is a naso-pharyngeal swab, and a flexible throat swab that goes to the back of the throat, and from there, you are able to take the mucosal sample, and suck in the mucosal fluid.
This is then put in a tube, which is the transport medium, and then in this medium the mucus is released along with the virus in it.
After taking these swabs, you put it inside the tube and dissolve it or leave it there. This is then sent to testing labs like at Kasturba Hospital or SRL where they then set up a PCR (Polymerase Chain Reaction), which is USFDA approved or Indian FDA approved or NIV-approved.
So that is how that works. So, what we make right now are the viral transport media or VTM.
These VSKs are supplied to various hospitals as well as private laboratories which can conduct covid-19 tests.
We also supply these VSKs to airport authorities; for example, Dubai airport is also using our kits. But right now we are not able to export anything as we are trying to meet our government's requirements.
Why are your workers not being allowed into your factory?
There are two reasons why epidemics like covid-19 can't be controlled. We have no sense; we will eat paan, gutka, tobacco and spit wherever we like. We will do all these things that we are not supposed to do. This helps in spread of viruses.
Second thing is people lie. So when the authorities plead with us to stay home, don't travel, we do exactly that.
When I met the (Nashik) police commissioner, he was exasperated. He said how can everybody become a doctor or a nurse in one day. At the nakabandi point everybody is saying 'Sir, I'm medical emergency personnel'.
He is very frustrated because all his efforts at enforcing discipline is coming to a naught. People are congregating and taking this curfew for granted. So, today they have become high-handed to enforce this curfew.
Unfortunately, in this melee what is happening is the police doesn't want to listen to anyone, even people like us who are genuine. But I am happy the way the police is handling this curfew because if they don't do this we won't be able to control the pandemic.
How many VSKs can you produce in one day, once you get the workers in?
We can produce one lakh tests kits per day. And we are ramping it up to around three to four lakh kits per day.
Is the demand for VSKs so huge already or are you anticipating an exponential demand for VSKs in the coming days?
The demand is huge. And why?
If you listen in to all the healthcare experts and epidemiologists from Columbia University, Stanford, German epidemiologists, people like Ramanan Lakshminarayanan, believe that it's (the spread of covid-19) is going to be rampant.
It's going to spread to around 20 to 40 per cent of the world population; the estimates are that in India up to 80 crore people might get infected. So, it's not a question of how many but when.
So, when this is happening, we are focusing on scaling up our production. This is needed; the government needs to create an environment for more tests to be conducted. All the government experts, all the epidemiology experts are saying that testing should be enhanced.
Blanket screening should be done and the government is working hard on it. They are getting more test kits, they are allowing Indian companies to come forward and set more PCR testing centres.
To support all these tests, the basic premise is you need more VSKs, which we are making.
If you are not able to take a swab sample from a patient then the chain of testing breaks. So, we are ramping up in a big way because we understand that the government is going to need it.
***
Dr Arunima Patel, Partner, iGenetics Diagnostics
Have you got approvals from the BMC for the xovid-19 test that you had validated a month-and-a-half ago?
We are waiting for it actually as we are stuck between NABL and ICMR.
What's the issue between NABL and ICMR?
ICMR is looking at only NABL-accredited labs. Our lab is (NABL)-accredited. Now the challenge is my certificate is expiring on March 31. And while I have got my certificate renewed, I will be getting that fresh certificate only on April 1 without which ICMR won't let me conduct covid-19 testing. So I'm stuck in that whole bureaucratic procedure.
From April 1, will you be able to conduct covid-19 tests?
Yes. Hopefully.
And what will be the cost of these tests?
The government has capped the tests at Rs 4,500 and so we will charge the same amount.
And you will be able to ramp it up to 500 tests per day?
Yes, that's not a challenge. The capacity is not a challenge.
Are people inquiring about your tests?
Lots of doctors are inquiring about it. At least about 100 doctors have called us specifically to ask whether we can do this or not apart from patients who come for regular checkups.
Who can come and get these tests done?
A general physician should have recommended these tests and they should have had some travel history.
ICMR has issued these guidelines. But the problem is the ICMR keeps changing these guidelines. While earlier they had said that anybody can go for these tests, but now a doctor's prescription is required along with a history of travel.
While earlier anybody and everybody who showed symptoms could have gone for a covid-19 test, the latest is that a person should have travel history.
What is the reason for NABL needing time till April 1 for sending your accreditation certificate?
Our certificate is renewed, we have the accreditation but they will not share the certificate with us. Our renewal letter has come, but they just will not share the certificate with us till April 1. We are losing out on crucial days of testing.
We use kits approved by ICMR and offer our service of testing covid-19 people.
Are these kits available in abundance? There are reports of shortage of kits.
There are shortage of kits right now as ICMR has approved only two vendors which makes these kits: a local vendor MyLabs, a Pune-based company, and Altona, a US-based company.
ICMR is looking to increase the number of vendors who can supply these kits to diagnostic laboratories, which can then do the covid-19 tests.