It may be the season for corporate matchmaking but India Inc's record of managing partnerships is far from impressive, says Shailesh Dobhal.

Illustration: Uttam Ghosh/Rediff.com.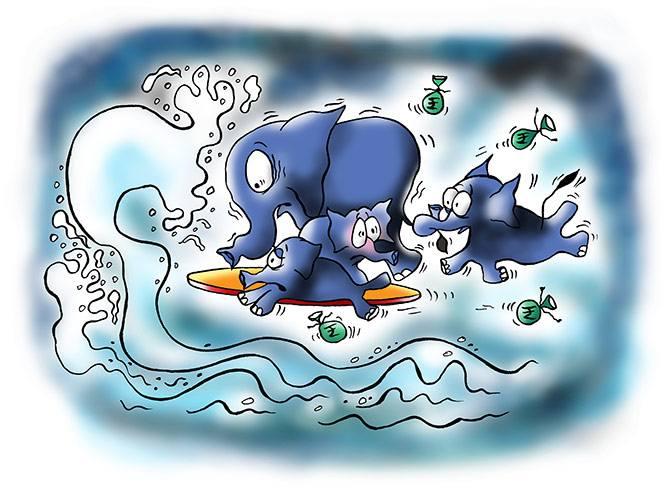 Sniff the air and the spring of corporate partnerships is unmissable.
The biggest, of course, is the proposed cashless, all-share equal merger between one of the world's leading telco's India operations, Vodafone India, and the Aditya Birla Group firm, Idea Cellular.
Then there is the RCom-Aircel merger in the works and, if you were to believe some media reports, Tata Tele too is in the queue to join the combine.
Britannia is back to making joint ventures again, with talks on for one with Greece's Chipita for value-added bakery.
And Tata Motors and Europe's Volkswagen Group are rumoured to be putting a vehicle platform-cum-technology partnership in place.
The country's biggest telco Airtel swallowing the fledgeling Telenor India is different as the Norwegian firm is exiting the country.
Not to be outdone, government-owned firms too are busy with matchmaking.
The country's biggest lender State Bank of India is merging all six subsidiary banks with itself.
There is talk of a mega oil firm -- with some reports saying it may tee off with ONGC in some way -- controlling one of the big oil retailers, namely Hindustan Petroleum and Bharat Petroleum.
And three of the biggest State-owned general insurers -- Oriental, National and United India Insurance -- too may be headed for a three-way merger.
Invariably, all such mergers and partnerships will cause big redundancies across the chain -- from employees, vendors, trade partners, bankers, et al.
Short-term anxiety is understandable and needs to be managed to see that the partnership is consummated.
Already there is speculation on who will head the Voda-Idea combine, India's top telco in the making. Vodafone global CEO Vittorio Colao has reportedly said that it will 'truly be a co-managed company', whatever that means.
Beyond the honeymoon period, what will matter is how two different corporate cultures are reconciled, and whether a new one is allowed to flower and flourish or just wither away.
It is not that India Inc is a stranger to managing partnerships. In fact, it may be painfully aware of what happened with most of them.
Britannia got out of two -- one acrimonious and an other not-too-productive one -- with France's Group Danone and New Zealand's Fonterra.
Tata Motors has dabbled with several -- from a sales partnership with Fiat to a manufacturing one with Mercedes Benz -- only to go solo and reinvent itself after every break-up.
Recollect the tumultuous partnership between Japan's Suzuki Motors and the Indian government at the country's leading car-maker Maruti.
With partners taking turns to appoint the chief executive, handling competing demands became the senior managers's mainstay amidst falling fortunes. It was only after the Indian government exited the firm by selling its stake starting 2001, that the firm regained focus and stabilised its market position.
In telecom, the Aditya Birla Group was a partner in a three-way venture with the Tatas and America's AT&T -- the venture was called Batata (Birla-AT&T-Tata). Competing views on where the business is headed made the partners call it quits, and Birla's Idea Cellular emerged from that partnership.
The Tata group is dealing with a quarrelsome partnership with Japan's NTT Docomo at Tata Tele.
There was a time when a foreign player needed the escort service of an Indian joint-venture partner to navigate the bureaucratic and political labyrinth in India, and we know what happened to all such rent-seeking partnerships once the economy was opened and industrial and capital controls were progressively brought down.
Even technical joint ventures -- some very successful ones at that -- slowly unravelled as technology became easier to source and the ambition to strike independent paths, given the growth of the Indian market, got the better of often decades-old partnerships.
The need to build scale and consolidate small, unsustainable operations against a big competitor may be driving the current rush for joint ventures, but it is instructive to recollect what Infosys founder Narayana Murthy just said the other day, though in a different context.
Recalling his meeting with management guru Peter Drucker to a newspaper, Murthy said Drucker told him that 'culture eats strategy for lunch'.