He has slashed his price by half after retiring.
Now his rates are in line with Amitabh Bachchan or Ayushmann Khurrana.
In 2012 he had 22 endorsements, now he has 40!
Surajeet Das Gupta reports.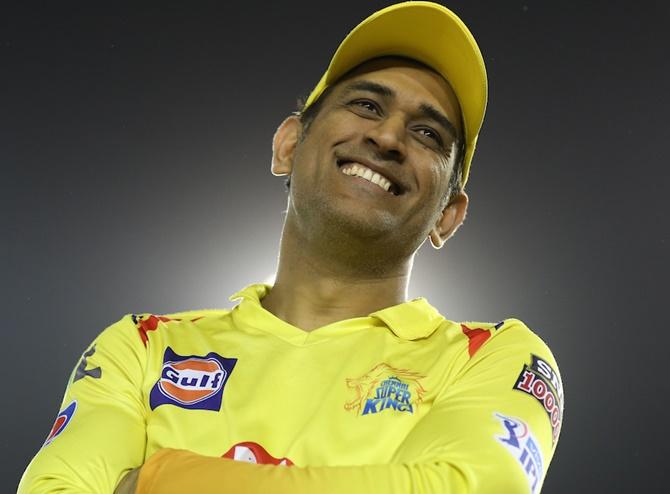 Dubai is in the grip of IPL fever.
Any clothing or accessory bearing the name of Chennai Super Kings, whose captain is none other than Mahendra Singh Dhoni, is in demand.
Leading retail chain stores such as LuLu and Landmark have ordered over $1 million worth of Chennai Super Kings branded apparel and gear.
Arun Pandey, promoter of Delhi-based Rhiti Sports, which has business interests with Dhoni and the man behind the Dhoni brand, can't help beaming.
"The demand for our apparel, footwear and accessories bearing the brand 'Seven', for which Dhoni is the global ambassador, has been unprecedented in the UAE," says Pandey.
"We are the official clothing partner for CSK and my executives are working overtime to fulfill these large orders that we had not expected," Pandey adds.
There is a lot at stake for Dhoni who announced his retirement from international cricket on August 15.
One is whether he can galvanise CSK and lift the IPL trophy for the fourth time.
An even bigger question is how Dhoni as a brand will re-invent itself after his retirement.
For the moment, endorsement offers are pouring in.
Pandey (also a former cricketer) said Dhoni is being signed on by at least another 4 to 5 new brands.
As a result, he will have endorsement deals with over 40 -- brands, cutting across segments.
The number of brands he endorsed doubled from 2012 -- when he was at his peak -- to 2017, when he was going on the backfoot.
"In 2012, he had 22 endorsement deals. Now he is hitting 40. And the price has not fallen, rather in some cases, there is even a premium," says Pandey.
Earlier, when Dhoni was playing actively, he used to give 110 to 130 days a year for brand promotion.
That has now risen to 180 days.
Pandey says Dhoni has already used up 150 to 160 days this year, and would prefer to go slow and not take any more contracts.
But brand experts say the reason he has been able to increase his numbers is because he has cut rates.
Sandeep Goyal, chairman of Mogae Media, said Dhoni's rates earlier were similar to those of Virat Kohli, Ranveer Singh, and Akshay Kumar.
But he has slashed his price by half after retiring.
"Now his rates are in line with Amitabh Bachchan or Ayushmann Khurrana," says Goyal.
Based on earlier trends set by Sachin Tendulkar, Goyal reckons that Dhoni will continue getting endorsements for two years after he stops playing in the IPL.
Some even give him five years.
But Rhiti Sports, which made a film on Dhoni's life, MS Dhoni: The Untold Story, has plans for more than vanilla endorsements for the cricketer.
It is toying with the idea of a sequel.
The only problem is that the death of Sushant Singh Rajput, who played Dhoni, has been a dampener.
Pandey and Dhoni are trying to figure out what can be done.
They are also looking at an aggressive push in the fitness business.
Plan one is to increase the number of fitness centres that they already have through 'Fit 7' from 20 to at least 50 within a year.
Plan two is to go online with fitness and dovetail it with its offline presence.
The online offering -- the slogan will be 'Make everyone's life better' -- will include virtual yoga classes, nutritional advice, advice on mental health by experts, and advice to home-bound people with little free time on how to stay fit.
"Dhoni again will be the brand ambassador for this comprehensive fitness offering," says Pandey.
Pandey also has ambitious plans for Seven, a brand which emerged from the difficulties which Dhoni and he faced in their early days, namely, not being able to afford expensive cricket gear, footwear and clothing.
Their strategy was simple: Price the products at least 30 per cent lower than the big brands like Adidas, Nike, and Puma but with the same quality.
The next move with Seven is to make the items, currently available in only 40 per cent of the country, more widely available in the next 18 months.
Since demand is going up, the two men might also look at their own manufacturing facility.
They might also look at opportunities in the business of sports.
For instance, both have stakes in Hockey India League franchise Ranchi Rays.
Pandey also manages Chennaiyin FC, the Chennai football team in which Dhoni has a stake.
But one area where Pandey plans to venture into alone is sports technology.
"I love running," he says, "and I am working on combining technology with it to bring in new products."