Faced with a clutter of coffee houses and cafes that also serve the brew, the chain that has 119 stores in seven cities in India is looking at ways to differentiate its brand from the rest.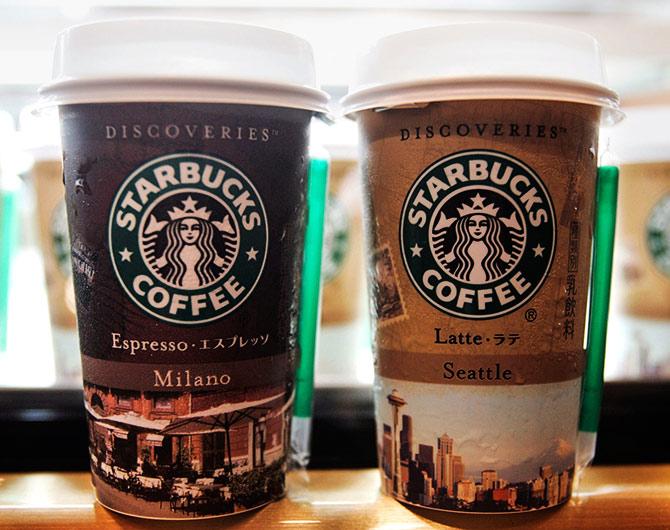 Photograph: Junko Kimura/Getty Images
Will a nitrogen gas-infused cup of coffee pique the interest of the coffee drinking consumer in India, especially the young millennial who hunts down a new café to take her custom to every day?
The world's largest coffee house Starbucks, which has a joint venture in India with the Tatas, is hoping it will.
Faced with a clutter of coffee houses and cafes that also serve the brew, the chain that has 119 stores in seven cities in India is looking at ways to differentiate its brand from the rest.
As a first step, it has lined up an innovative mix of coffee brews that it hopes will attract the adventurous and novelty-seeking coffee drinker.
It has just unveiled the 'Nitro Cold Brew' at select outlets across metros such as Mumbai, Delhi-NCR, Bengaluru and Kolkata, which it expects will generate excitement and bring in customers looking for more than just another place to hang out at.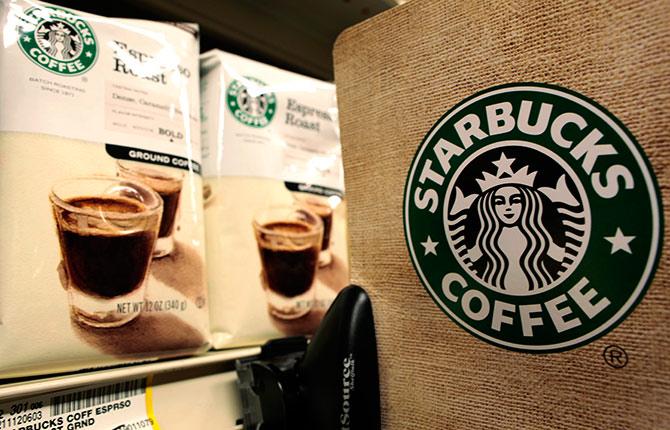 Photograph: Lucy Nicholson/Reuters
The brew is just one of many that the café chain is quietly rolling out at its stores.
Driving the latest round of menu-led innovations to the brand is the fact that the coffee retail market in the country is getting increasingly competitive and the need for differentiation is growing.
For the Starbucks team in India, the different brewing techniques are going to be the biggest brand differentiator.
Some stores include a state-of-the-art manual espresso machine that ensures coffee is smooth and consistent. Or a coffee derived from a vacuum process that flows through glass chambers and uses a halogen light bulb as a heating source.
One more brewing technique is called 'Chemex' that uses an hour glass-shaped vessel made of high-quality and heat-resistant glass.
The coffee flows through special filters that remove oils and solids to produce a clean brew.
Starbucks is investing significantly in these techniques, hoping to produce innovative flavours and drinks that not only generate word of mouth, but also allow for premium pricing.
The brand is also using this as lever online to draw the attention of millennial café goers, an audience most café chains including Starbucks chase aggressively.
Veetika Deoras, head, marketing, category and digital, Tata Starbucks, says millennials are excited about new and interesting flavours and introducing new brewing techniques helps catch their attention.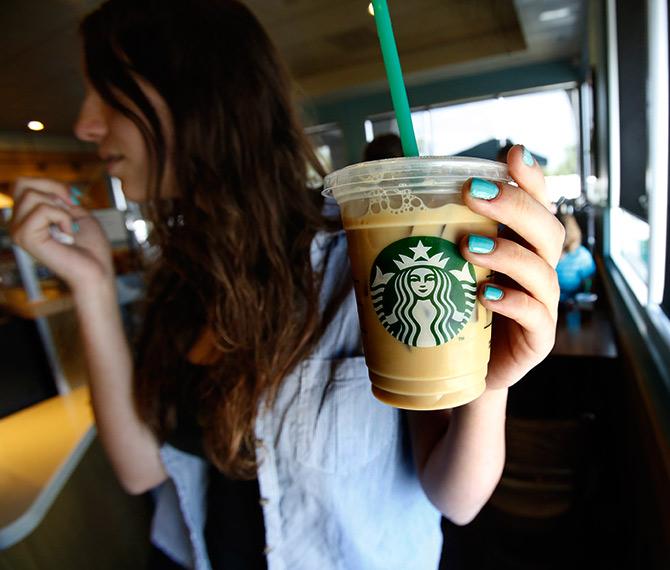 Photograph: Mario Anzuoni/Reuters
Innovation, she says, is at the heart of what Starbucks does.
But given the commoditisation that coffee and the drinking experience has seen in recent times, experts say coffee chains have no other choice if they wish to increase footfalls and revenue.
"The challenge with café chains in general is the similarity in service, ambience and delivery, which is also visible in quick-service restaurants, for instance," says N Chandramouli, chief executive officer, TRA, which comes out with the annual Brand Trust Report.
"The only way out is differentiation either in product, pricing or bringing in greater variety in terms of offerings.
"Café chains are slowly beginning to realise this as the pressure grows to improve sales," he says.
Café Coffee Day, the country's largest coffee chain, for instance, drives affordability aggressively with its service, something that has allowed it to penetrate the market well with over 1,700 stores (as of March 31, 2018).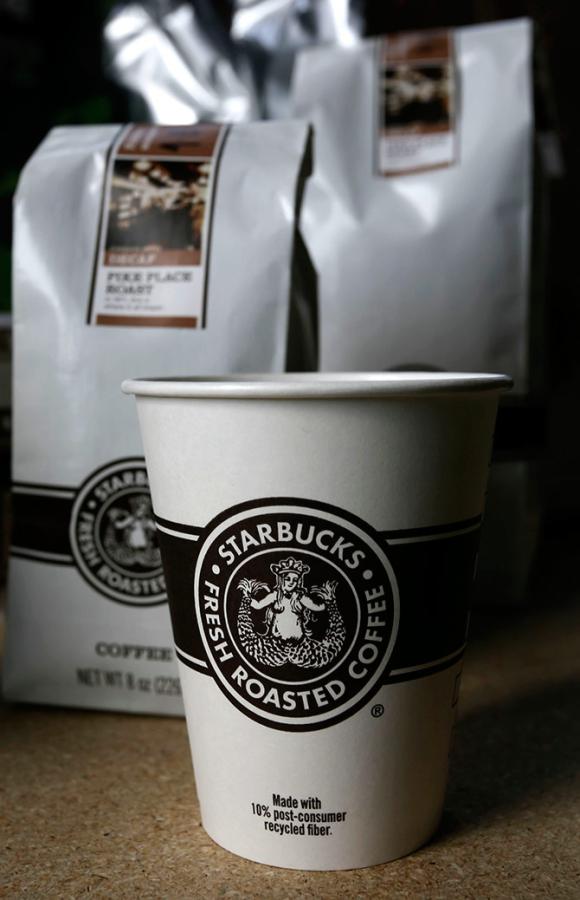 Photograph: Marcus R Donner/Reuters
The plan is to open 130-135 stores this year at an investment of Rs 40 lakh per store, VG Siddhartha, chairman and managing director, Coffee Day Enterprises, said in May.
McCafe, which is part of the McDonald's umbrella, has an innovative food and beverage menu on offer owing to the shop-in-shop format of its cafes.
Simply put, consumers walking into a McDonald's store in Mumbai, for instance, can also pick up interesting coffees or drinks at the McCafe counter nearby.
The result is a win-win combination that helps both brands, sector analysts said.
Amit Jatia, vice chairman, Westlife Development, which runs McDonald's and McCafe restaurants in the west and south of India, said earlier that the company had doubled sales of McCafes in the 2017-18 financial year and that the firm expected to keep its pace of growth in the current financial year as well.
As of March 31, 2018, there were 149 McCafes, which will be expanded further in the coming quarters, he added.
Pushing ahead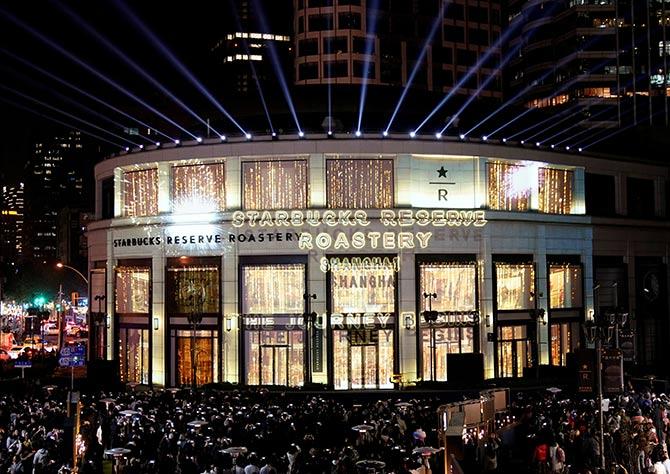 Photograph: Aly Song/Reuters
Starbucks is definitely under pressure to grow faster, according to industry analysts.
It was launched two years before McCafe was introduced in India in 2014, but lags the latter in terms of number of stores.
Tata Starbucks executives however have maintained that the pace of store launches will be determined by the availability of quality real estate at the right price and that growth for growth's sake is not on its agenda.
This acquires even more significance given the struggles faced by brands such as Barista and Costa Coffee in India.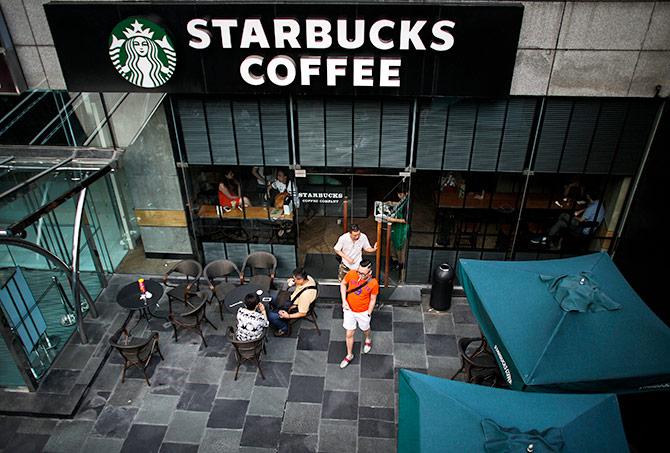 Photograph: Carlos Barria/Reuters
The latter have scaled down operations in the last few years owing to lack of profitability in the business.
The size of the café chain market in India is estimated at Rs 18-19 billion in size, with year-on-year growth pegged at 10 per cent per annum.
A joint report by the National Restaurant Association of India and Technopak says that café chains as a market could touch around Rs 29-30 billion by 2021.
Innovations then are a clear hook for Starbucks, which it hopes will nudge consumers to spend more.