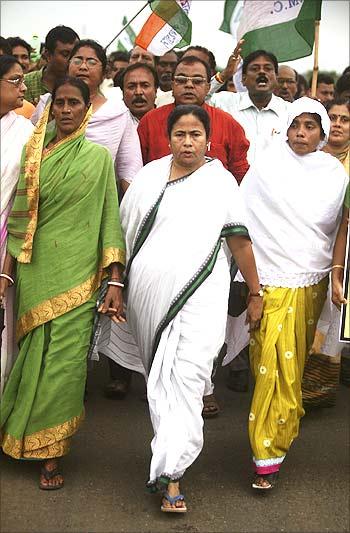 The spectre of Singur and now its verdict is looming large on the future of many of Bengal's projects, especially the state government's industrial parks that are vacant. As many more episodes await, the question uppermost on everyone's minds is, how long will Singur haunt Bengal?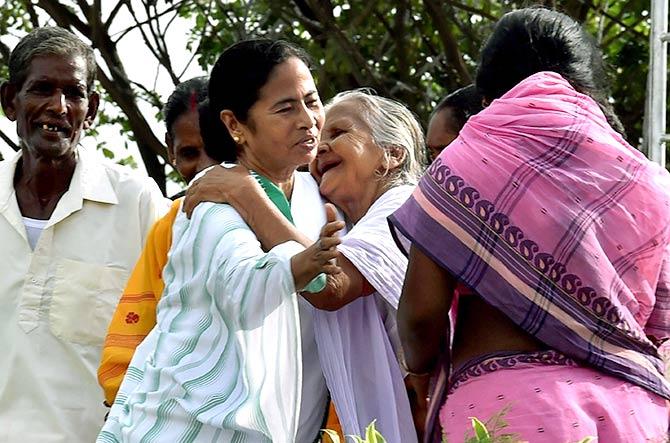 September 14, 2016. The event was Singur Diwas, celebration of the Supreme Court order that directed the state government to return the land acquired for Tata Motors at Singur to its original land owners. Around 150,000 people had gathered to hear Mamata Banerjee speak. She didn't disappoint.
"Land is our asset. Land is our strength. Land is more pure than gold," she said passionately, amid applause and cheers.
Then came a proposal for Tatas that sounded more like an appeal. "Think a little, I am giving you one month, will you set up a factory in Goaltore (West Medinipur)? We have 1,000 acres there."
In the background, the melancholy of twilight, set the perfect tone of a pyrrhic victory. A fortnight ago, the Supreme Court had ruled that the acquisition of land in Singur by the Left Front government of West Bengal in 2006 for Tata Motors' Nano project was illegal as it had violated the procedure laid by the Land Acquisition Act,1894.
May 18,'06 Tata Motors announces first plant for small car to come up in West Bengal
Jan 21,'07 Tata Motors takes initial steps for construction of small car plant
Dec 3,'07 Mamata Banerjee announces indefinite hunger strike
Dec 19,'07 Tata Motors launches the Nano at Delhi Auto Expo
Dec 28,'07 Mamata Banerjee ends fast
Jan 18,'08 Calcutta high court upholds Singur land acquisition
May 21,'08 Trinamool Congress wins majority in panchayat elections
Aug 24,'08 Mamata Banerjee starts dharna at Singur
Sep 2,'08 Tata Motors suspends work on Nano Plant
Oct 3,'08 Tata Motors decides to move out of Singur
May 20,'11 Mamata Banerjee sworn in as Bengal chief minister, announces decision to return 400 acres to unwilling farmers
Jun 9,'11 Takes over 997 acres citing non-performance by Tata Motors
Jun 14,'11 Singur Land Rehabilitation and Development Bill, 2011, passed in the Assembly
Sep 28,'11 Calcutta high court upholds the Singur Land Rehabilitation and Development Act, 2011
Oct 29,'11 Tata Motors challenges the order
Aug 6,'12 The West Bengal government moves the Supreme Court
Aug 31,'16 The Supreme Court quashes land acquisition for Tata Motors
The court ordered the land to be returned to the owners in 12 weeks. The verdict brought the curtains down on a decade-old controversy.
In 2006, the Left Front government had invoked the Land Acquisition Act of 1894 to acquire 997 acres in Singur for the Tata Motors project. However, of the 13,000 project-affected farmers, 2,000 refused to accept compensation cheques. An indefinite agitation backed by Banerjee, then in the Opposition, followed for return of land to farmers, ultimately resulting in Tata Motors moving out of Singur.
Not a clear victory
So far, at least 800 farmers have received part of their compensation. Around 9,917 of the affected farmers have been given back their land deeds. But a happy ending is still far off.
Binoy Khara, 60, is one of the 800 who received a compensation cheque of Rs 42,000 from Chief Minister Mamata Banerjee on Singur Diwas. Khara's share is one-fourth of a total of 1.5 bighas (three bighas make an acre).
Khara, therefore, is relieved after news that Banerjee will continue with her dole of Rs 2,000 per person and subsidised rice for 'unwilling' farmers till their land is made cultivable. The longer it takes, the better it is for Khara and his lot.
The unpaid list of awardees attached with the Singur Act, 2011, that the Banerjee government implemented to vest the entire land allotted to Tata Motors and its vendors, shows that some of the plots are as small as 0.001111333 of an acre, with a cheque amount Rs 892.
But the minuscule size of plots is not confined to Singur alone. "West Bengal has eight per cent of the country's population and less than three per cent of its land," says a bureaucrat involved with the land acquisition in Singur.
The spectacular success of the erstwhile Communist government's land reform initiatives that entailed redistribution of land to three million farmers over 34 years has diminished the size of the plots.
Operation Barga, which registered sharecroppers in the state and then gave them legal rights to land, benefited another 1.5 million farmers. The Communist Party of India (Marxist) has estimated the value of the distributed land to be nearly Rs 130,000 crore.
The resultant effect: 84 per cent of the land in West Bengal is held by small and marginal farmers. But perhaps the worst nugget of information from the perspective of industrialisation is that only one per cent of the land in West Bengal is fallow.
This means that for industry, the use of fertile land is nearly unavoidable.
But Banerjee's stated policy is to stay away from acquiring land for industry. This means that investors have to purchase land from farmers, and possibly from a whole lot of them. Former professor of economics at Indian Statistical Institute, Dipankar Dasgupta, says the small size of the land makes industrialisation imperative for West Bengal.
"The family size has increased since the distribution of land but the land is finite. The only way they can survive is through development of industry," he explains.
Industry on the edge
Banerjee has offered Tata Motors locations other than Goaltore in West Medinipur - Kharagpur (West Medinipur) and Panagarh (Barddhaman).
According to the West Bengal Industrial Development Corporation's website, there are two industrial parks, the Vidyasagar Industrial Park in Kharagpur where 480 acres of land is available and Panagarh Industrial Park that can allocate 454 acres.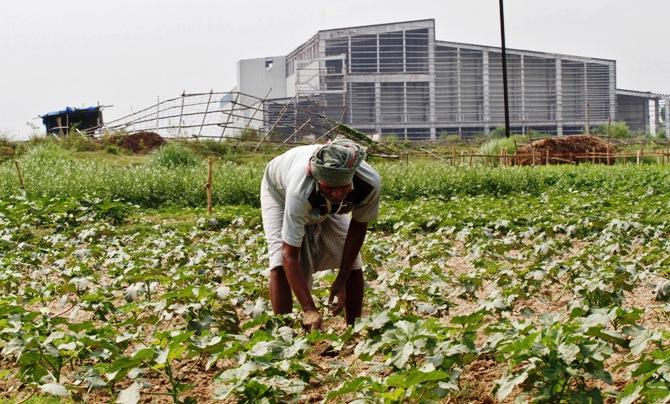 "The land for these industrial parks was acquired in 2008 after Tata Motors pulled out. Initially, we tried to purchase the land after the controversy in Singur because the Left Front didn't want to invoke the Land Acquisition Act of 1894. But it was impossible.
Ultimately, we had to resort to acquisition. Even after Singur and Nandigram, we did manage to acquire about 8,000 acres for several industrial parks," a bureaucrat recalls.
There are several examples of private companies which at that time tried their hands at purchasing land from farmers but ultimately had to seek the Left Front government's help to make it happen.
"Land acquisition is mandatory in nature. That is why it is called acquisition. It means that there are some owners who are unwilling," the bureaucrat points out.
But the spectre of Singur and now its verdict is looming large on the future of many of Bengal's projects, especially the state government's industrial parks that are vacant.
Days after the Supreme Court ordered return of land to the farmers in Singur, in Raghunathpur Industrial Park, Purulia, farmers submitted a petition at the block development officer's office for return of land.
The Left Front government had acquired around 3,000 acres across three industrial parks in Purulia in 2007 for steel, cement and power projects of Jai Balaji Industries, Adhunik Corporation, Shyam Steel Industries and DPSC, respectively. The projects didn't fructify for various reasons and now the farmers want their land back.
The ranks of 'unwilling' farmers are growing by the day. So far, the casualty is a mishti hub (sweets hub), the land for which was acquired in 2007. It has been scaled down and relocated.
This is just the beginning. Protests are being staged in front of the West Bengal Housing Infrastructure Development Corporation office in Rajarhat. Farmers claim that their land was taken by force by the Left Front government at throwaway prices.
As many more episodes await, the question uppermost on everyone's minds is, how long will Singur haunt Bengal?
Photograph: Swapan Mahapatra/PTI Photo and Rupak De Choudhuri/Reuters