While weather forecasters remain divided on how the monsoons will play out in India over the next few months, analysts believe the news at the current juncture – at best – can trigger a knee-jerk reaction in the markets.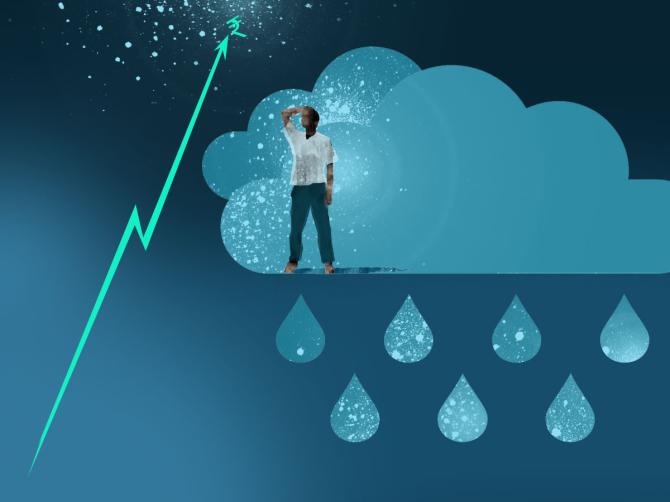 They believe it is too early to say whether the sub-par monsoon on account of El Nino can seriously dent the market sentiment in the short-to-medium term.
"These are just initial forecasts and we will have another round / status update from the weather forecasters a month down the line.
"It is too early to say with certainty that the news right now will have any serious implication for the market and can dent the overall sentiment," said Gaurang Shah, senior vice-president at Geojit Financial Services.
India, according to the Indian Meteorological Department (IMD), is expected to see a normal monsoon this year with a long-period average (LPA) of 96 per cent between June and September.
It also added that El Nino's impact might be felt during the second half of the monsoon season.
Historically, 60 per cent of El Nino years have been normal monsoon years.
Private weather forecaster Skymet, on the other hand, has predicted 'below normal' rainfall this monsoon with an LPA of 94 per cent.
India defines average, or normal, rainfall as between 96 per cent and 104 per cent of a 50-year average of 88 centimeters (35 inches) for the four-month season beginning June.
Typically, if the rains are between 90 to 95 per cent of LPA, it is classified as below normal.
"An analysis of Skymet's rainfall predictions in April month of the year does not inspire confidence.
"The actual rainfall during the past five years has been either much higher or lower compared to the Skymet first predictions.
"The difference ranged from a shortfall of 9.4 per cent in 2018 to an excess of 18.2 per cent in 2019.
"On an average, thus, the actual rainfall has been 4.6 per cent higher than Skymet's April projections," wrote analysts at Motilal Oswal Financial Services in a recent note.
Experts say that the volume of rainfall, its timing and dispersion will crucially influence crop sowing, output and prices.
Since reservoir levels are healthy by historical standards, a mild delay or sub-par monsoon in June 2023, according to Aditi Nayar, chief economist, head - research & outreach at ICRA, may not be very challenging.
"In the event that the monsoon turns out to be below normal, we currently foresee a downside of up to 50 basis points (bps) to our gross domestic product (GDP) growth forecast of 6 per cent for fiscal 2023-24 (FY24)," Nayar said.
From the markets standpoint, the immediate trigger, analysts said, is how the January – March 2023 quarter (Q4FY23) corporate earnings season plays out, commentary by India Inc on the road ahead and other global cues.
"It is too early to say that the monsoon-related developments right now can dent market sentiment.
"That said, irregular rains with poor spatial distribution will have more serious implications for the markets than a deficient monsoon or a delayed monsoon.
"There are several other factors such as interest rate trajectory of global central banks, geopolitical situation and corporate earnings back home that will have a more pronounced impact on the markets in the short-to-medium term," said A K Prabhakar, head of research at IDBI Capital.
Among sectors, fast moving consumer goods (FMCG), auto (entry-level cars, two-wheelers and farm equipment), discretionary spending are some of the sectors, Shah of Geojit feels, will get impacted in case the rainfall in the monsoon season does fall short of expectation.
The latest business conglomerate to enter the financial services segment is Godrej Industries.
In an interview with Manojit Saha, Godrej Capital's managing director and chief executive officer Manish Shah talks about the non-banking finance company's growth plan.
Godrej Capital has two lines of business -- housing finance and MSME lending. What is the loan book size of the housing finance arm?

We have recently crossed an important milestone -- Rs 5,000 crore assets under management (AUM) across both of the companies. While Godrej Capital came into being last year, we commenced our lending business in the housing finance company in November 2020. We expect to close FY23 across both Godrej Capital entities at Rs 5,500 crore.

We had said that an important milestone would be Rs 10,000 crore of AUM at the end of our third full year of operations. Thankfully, we will be crossing Rs 10,000 crore comfortably by March 2024. At the end of March, the HFC has about Rs 4,000 crore AUM and about Rs 1,500 crore will be in the NBFC.

For the housing finance business, which are the segments you are targeting?

So most of our focus is where the homebuyers are. So, we work with about 200 projects in the country across all of the reputed developers. Our average ticket size is between Rs 50 lakh and Rs 55 lakh.

We have seen that our sweet spot, where buyers see most value, has been in the Rs 50 lakh to Rs 1 crore range.

The average ticket size between Rs 50 lakh and Rs 55 lakh means you are mostly concentrated in the metro regions. Which are the cities or geographies you are concentrating on now? And what is the plan to expand to other cities?

We started in five cities and continue to be focused on those five cities as far as your housing loans are concerned. On the NBFC side, we are currently in 11 cities looking to go to 30.

On the housing side is Mumbai, Delhi, Pune, Bengaluru, and Hyderabad. We followed this footprint largely because our starting point was where the group company Godrej Properties had his projects.

What is the medium-term growth road map for the housing finance business?

Of the Rs 30,000 crore balance sheet that we aspire to get to in three years from today, we believe Rs 10,000 crore to Rs 12,000 crore will be from housing finance.

On the MSME lending business, which is done through Godrej Finance, what is the loan book now and what kind of growth do you see over the medium term?

This is going to be a very important focus area for us whether it's SME or MSME, but essentially looking at enterprise. This is the business we mostly started in 2022. We got our first 1,000 customers this year on the small business side, with a Rs 1,500-crore loan.

Going forward in Godrej Finance and specifically looking at SME MSME, this year is going to be a very big area of focus for us where we are going from 1,000 customers to 10,000 customers this year and from Rs 1,500 crore AUM to over Rs 5,000 crore AUM in just MSME-SME alone in FY24.