As the liquidity crunch reaches crisis levels and getting tax refunds remain a big headache, exporters saw orders fall by 15 per cent till October.
Subhayan Chakraborty reports.
Illustration: Dominic Xavier/Rediff.com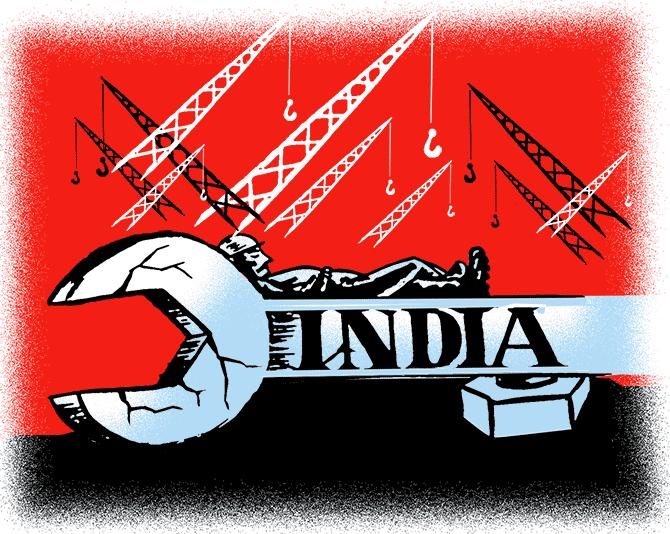 Despite August export figures jumping by 10.3 per cent year-on-year and the country completing 12 straight months of growth, exporters and economists alike remain sure that coming months would prove to be the real challenge for merchandise exports.
That is largely due to niggling tax refund issues under the Goods and Services Tax regime, exporters complaining of crippling liquidity and the rupee expected to climb steadily in the coming months.
"It should be kept in mind that till August 2016, exports were declining and therefore year-on-year comparisons would take place on a low base. From September 2016 exports onwards, started rising and figures for September 2017 would adjust accordingly," said Ajay Sahai, director-general, Federation of Indian Export Organisations.
The sector has continued raising the issue of the refund mechanism for taxes paid under GST being difficult.
Exporters have to now pay integrated GST on import of goods and then claim refunds under the new indirect tax system.
This, they say, is leading to export firms running empty on capital.
As a result, order books have taken a hit of up to 15 per cent across industries and product categories, according to FIEO.
The large drop was for export orders that were meant to be delivered until October, Sahai said, adding that the dip was largely on account of exporters foregoing orders due to lack of credit.
This will be represented in the figures for September, he added.
With the festive season in the United States and Europe starting from November onward, slowing order books are a prime concern for exporters of apparel and other consumer goods.
From the August trade data, it has become evident that exports from labour intensive sectors such as gems and jewellery, readymade garments and handicrafts, which have a high concentration of small and medium players, have been declining consistently or are plagued by marginal growth, a Mumbai-based trade expert said.
Apparel exports grew 0.5 per cent in August after declining for three months while gems and jewellery exports declined by over 25 per cent, a weaker performance than the 22 per cent contraction in July.
On the other hand, more consolidated sectors have seen an upturn.
"Engineering exports have been growing at a respectable pace and the growth is due to a pick-up in base metals. But the rupee value is a cause for concern," said T S Bhasin, chairman, Engineering Exports Promotion Council of India.
The consistent rise of the rupee is expected to dampen export growth as economists predict it will continue to rise in the current financial year.
"According to our calculations, the rupee is expected to appreciate by 2 to 2.5 per cent at the least in the current fiscal. Foreign portfolio investors have pumped in more than $25 billion worth of capital in the economy and that is only expected to go up as China also scouts for investment opportunities," Devendra Pant, chief economist at India Ratings, said.
The fact that ongoing geopolitical issues in Qatar, North Korea and elsewhere haven't affected the free flow of foreign capital bolsters that assumption, he added.
On Friday, September 22, the rupee closed at 64.08 a dollar.
So far this year, the rupee has gained 6 per cent, while foreign institutional investors have bought $6.76 billion and $20.31 billion in equity and debt respectively.
As of issues arising out of the GST, the government has formed a committee headed by Revenue Secretary Hasmukh Adhia.
While it will try to find an institutional mechanism to resolve the problem of exporters, the government has in the meantime tried to douse some fire.
After taxing the sale of scrips for export promotion schemes such as the merchandise exports from India scheme, among others at 12 per cent under GST, it has within a month again reduced the rate to 5 per cent.
Also, it has allowed a decrease in threshold limit of Rs 20 lakh (Rs 10 lakh for specified states) without registration of job worker.